"It's blacker than my soul, and priced right."
"Keep in car for when you have to hide the bodies."
Those are among a series of alarming reviews listed on an Amazon page for products that may have been bought by a suspect authorities say is linked to five killings in South Carolina.
Todd Kohlhepp, 45, was taken into custody Thursday after a missing woman was found chained up in a metal storage container on Kohlhepp's property in Woodruff, southeast of Greenville.
The woman's boyfriend was found in a shallow grave Friday, and authorities said Kohlhepp admitted to killing four people whose bodies were found in 2003. On Sunday and Monday, human remains belonging to two other victims were discovered at additional grave sites on Kohlhepp's property. Neither has been identified, authorities said.
Spartanburg County Sheriff's Office spokesman Lt. Kevin Bobo told reporters Monday that a scaled down search would continue at the property Tuesday, though he did not expect more bodies to be recovered.

The reviews were listed on a page linked to a wish list that belonged to someone identified as Todd Kohlhepp. The Spartanburg County Sheriff's Office did not immediately respond to a message asking whether investigators had confirmed the reviews, but Bobo told NBC News that the sheriff's office was "aware of them."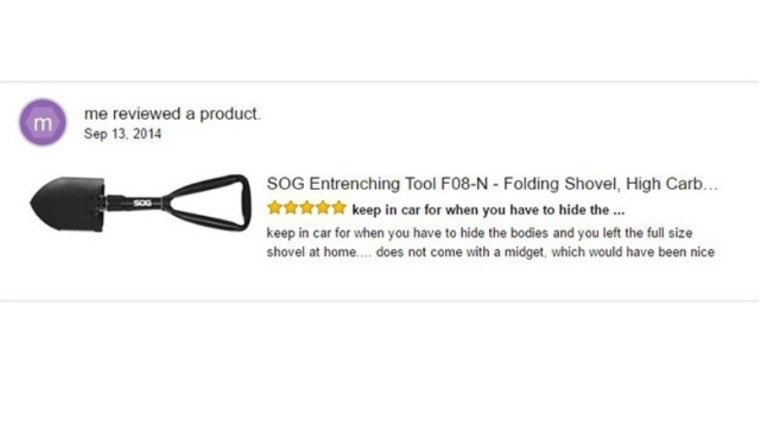 The items and reviews are wide-ranging. They include everything from season six of "The Walking Dead" to a pet feeder, master locks, tactical vests and dozens of other products reviewed May 15, 2014, to Aug. 24, 2016 — the same month that the woman who was found Friday, Kala Brown, disappeared with her boyfriend, Charlie Carver.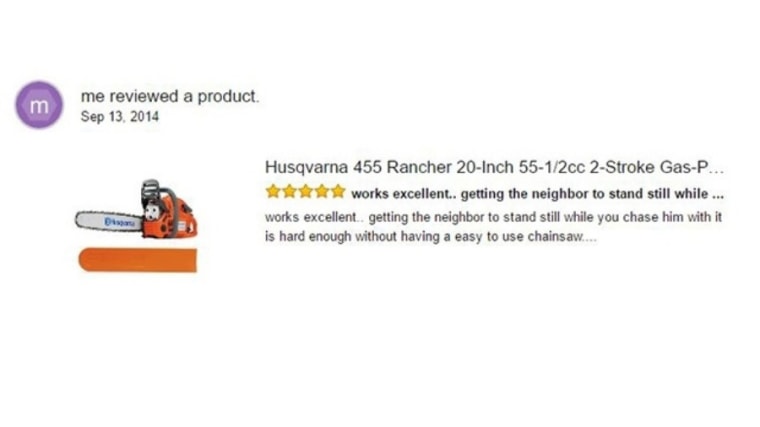 Some of the items appeared to have been removed from the page. (Amazon did not immediately respond to a request for comment.) An SOG brand folding shovel was no longer listed, for instance, nor was a rubber-handled 5-inch knife made by the same brand.

Screenshots of those products and comments were published by NBC station WYFF of Greenville.
"Haven't stabbed anyone yet," the knife review says. "When I do it will be with a quality tool like this."
Still listed, however, was a review for a Master brand high-security padlock.
"Solid locks," the review says. "Have 5 on a shipping container.. wont stop them.. but sure will slow them down til they are too old to care."