Loosely organized under the Twitter hashtag #BlackLivesMatter and other social media campaigns, protests of police killings of African-Americans were underway in major U.S. cities on New Year's Eve.
Police said at least 24 people were charged with various counts related to public order in St. Louis, where about 75 demonstrators affiliated with the activist group Ferguson Action gathered at police headquarters early Wednesday to protest the police killing of Michael Brown, an unarmed black teenager, in Ferguson on Aug. 9.
Protesters, who moved to other parts of the city Wednesday night, told NBC station KSDK of St. Louis that they were also remembering other unarmed African-Americans whom police killed in 2014, including Eric Garner, 43, who died after being placed in a police chokehold in New York in July.
About 100 people carrying banners gathered at San Francisco's Embarcadero transit station about 9 p.m. (midnight ET Thursday) and began a march that was planned to keep going into Thursday morning. NBC Bay Area video showed numerous uniformed police officers flanking the marchers as they made their way along the streets, staying mostly to the sidewalks.
About 100 protesters also headed toward New York's Times Square but were blocked from entering because the scene had been jampacked with New Year's revelers for hours, the FBI said in a statement shortly after midnight.
NYPD Chief of Department James O'Neill said "people have an absolute right to protest" as long as they don't break laws — a message that was reinforced by fliers handed out by police warning marchers that they could be arrested for disorderly conduct if they didn't stay on the sidewalk.
In Boston, nearly 100 people took part in a "die-in" in Copley Square late Wednesday afternoon, ahead of the city's First Night festivities.
"When kids see people dying in in the middle of the square, maybe they'll ask their parents, 'Why is America like this?'" Martin Henson, one of the event's organizers, told NBC station WHDH of Boston. Boston Mayor Marty Walsh said the protesters were welcome as long as they "do it in a respectful manner, to allow people the opportunity to enjoy First Night."
Similar protests were being organized in other major cities, including Atlanta, Cleveland, Detroit, Houston and Los Angeles. Many were being organized by Stop Mass Incarceration, a project of the nonprofit Alliance for Global Justice, which called for a mass march on New York's Times Square.
Cleveland police added extra officers in advance of a planned rally at Public Square in Cleveland to protest the death of Tamir Rice, a 12-year-old boy who was shot and killed by a Cleveland officer last month.
The deaths this year at the hands of police of Tamir, Brown, Garner and two other unarmed black men — Ezell Ford, a mentally ill Los Angeles resident, and Rumain Brisbon, 34, of Phoenix, who was shot during a struggle during which a white officer mistook a pill bottle for a gun — sparked widespread protests and a national discussion over alleged police brutality against African-Americans.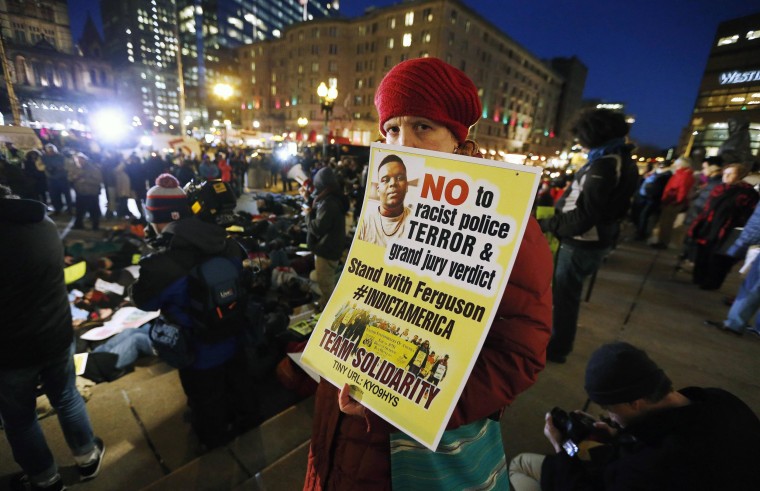 In its annual poll of editors and news directors, The Associated Press last week said the police killings were the top news story of 2014 — ahead of the Ebola virus crisis and the ISIS violence in Iraq and Syria.
The shootings galvanized "all different nationalities, old and young, standing together, fighting for justice," said D'Andre Teeter, an activist with the Stop Mass Incarceration Network in San Francisco, where hundreds of people were planning to gather at the Embarcadero transit station at 9 p.m.
"That's something really impressive, and it does attract a lot of people and that's the kind of society we want," Teeter told reporters Wednesday.