In an all-too-familiar scenario in Southern California, tens of thousands of people have evacuated as a fast-moving wildfire threatened homes in the San Fernando Valley on Friday, triggering the shut down of schools and sections of the freeway. In a separate brush fire in Riverside County on Thursday, flames ravaged dozens of residences in a mobile home park.
The explosive events followed an unprecedented move by utility Pacific Gas & Electric Co. to conduct rolling blackouts affecting up to 2 million people in northern and central California in order to avert wildfires that could start from power lines knocked down by high winds.
With the state plunged into yet another dramatic and deadly wildfire season, experts in land use planning and the environment are raising questions about whether California is prepared in the long term — and in the face of a rapidly changing climate — to mitigate destructive wildfires and the loss of properties and lives.
The blackouts have been criticized as being a short-sighted solution that has only exposed a lack of preparedness.
"Turning off the power to hundreds of thousands of businesses, public facilities and homes during high wind events may be necessary at the moment but it cannot be allowed to become the new normal," Rep. Jackie Speier, D-Calif., said in a statement. "It's not a sustainable, long-term solution for any community. These high wind events will only become more extreme as climate change continues."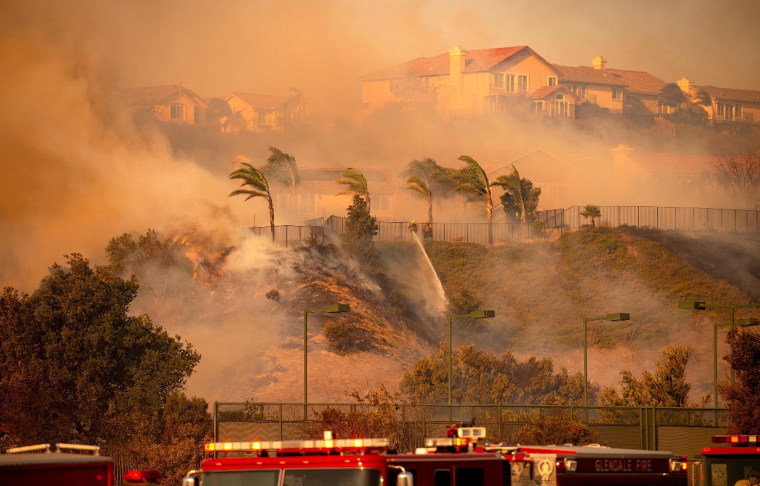 Democratic Gov. Gavin Newsom said during a news conference Thursday that PG&E's decision only shows how the company has failed to modernize the power grid over the years so that it could turn off electricity in certain areas without resorting to forced widespread outages.
The decision was made "to keep our communities safe and reduce the risk of wildfires," Michael Lewis, PG&E's senior vice president of electric operations, said in a statement.
The utility has previously said that its equipment "probably" started last year's Camp Fire in Northern California, which killed 85 people and was the deadliest and most destructive fire in state history.
But the power grid is only one measure of concern, and some say there are more drastic ways that should be considered to ward off future wildfire disasters.
That includes local municipalities weighing whether building is even necessary in wildfire-prone lands — much the same way coastal communities must decide whether to allow new development along low-lying areas.
"How much are people willing to sacrifice to be in a place where they really want to live?" asked Alexandra Syphard, an ecologist and chief scientist with Sage Underwriters, a wildfire insurance company for homeowners. "People think it's beautiful and it's a desirable place to be, but they don't always think about the risks."
In California, most of the wildfires over a three-decade period have taken place in so-called wildland-urban areas, according to research published this year by a U.S. Department of Agriculture Forest Service scientist and the University of Wisconsin-Madison. Such areas are places with ever-expanding housing developments.
"You're not going to have houses burning down if those houses are never exposed to fire in the first place," Syphard said.
Dan Silver, executive director of the Endangered Habitats League, a nonprofit that focuses on ecosystem protection and sustainable land use, said he would support a moratorium on new construction in areas identified as most vulnerable to wildfires.
But he worries that California's affordable housing crunch is being used as leverage to keep building, and that local elected officials, who have broad authority over development, may be swayed by housing industry lobbyists. In some cases, fire officials have been called to testify in favor of new housing developments during public hearings, undercutting arguments by opponents.
"There's a deep, deep cultural bias where it's our fate, it's our duty, it's our destiny to keep expanding into wildlands," Silver said.
That message was underscored earlier this year, when Newsom told The Associated Press that he doesn't want to stop the building of homes near forested areas at high risk for wildfires.
"There's something that is truly Californian about the wilderness and the wild and pioneering spirit," he said. "I'm not advocating for no (building)."
His stance runs counter to Ken Pimlott, the previous director of the California Department of Forestry and Fire Protection, known as Cal Fire, who told the AP last year that "we owe it" to homeowners, firefighters and communities "so that they don't have to keep going through what we're going through."
Silver said Friday that "gubernatorial leadership is needed, and it's been absent."
Newsom's office could not immediately be reached for comment.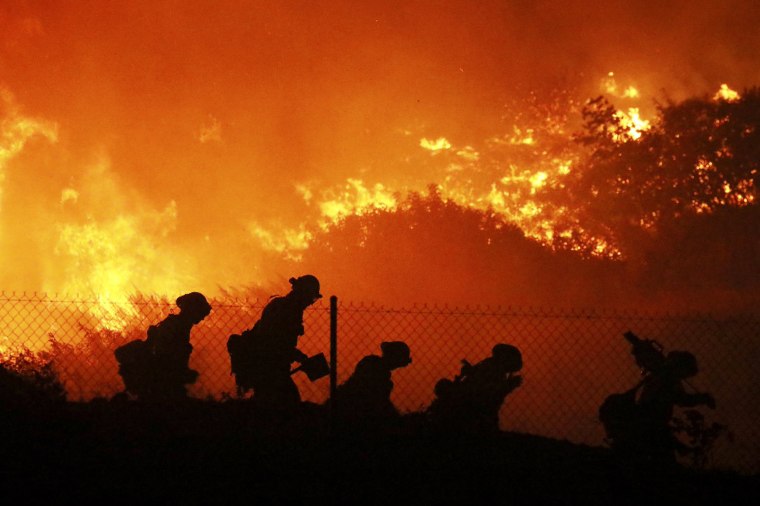 State fire officials have used preemptive burning of vegetation to protect lands against wildfires, although a study from September co-authored by Syphard found that vegetation removal was less of a factor in a home catching fire than the dangers presented by wind-driven embers.
J. Keith Gilless, the chairman of the state's Board of Forestry and Fire Protection on Cal Fire's policy board, stressed that while some people may be against development in wildfire-prone lands, there are already more than 2.7 million Californians who live in high hazard areas.
He said it's a balancing act to ensure their homes are retrofitted to best withstand the fires, while the environment is being protected and safety measures are installed so people know what to do before and during evacuations.
"Anyone that says there's a simple failure point in anything that didn't go right doesn't understand the complexity of getting the Office of Emergency Services, state, local and federal authorities, and police and fire agencies responding all on the same page," said Gilless, a dean emeritus and professor of forest economics at University of California, Berkeley.
The devastating Camp Fire provided a major lesson for officials following a failure in emergency communications. It was later revealed that several cellphone towers were damaged in the fire and local authorities also notified residents in the town of Paradise and surrounding communities to evacuate by way of a phone call — as part of a service that not everyone signed up for — instead of an Amber Alert-type message.
If anything, that has put a spotlight for the need for coordinated messaging, although Gilless warned that effort will be a slow process.
"You've got a lot of agencies to coordinate," he added, "and that means it's not a simple fix."