Eighteen people were hurt when a natural gas leak triggered an explosion that completely leveled a strip club in Springfield, Mass., and damaged 12 other buildings, officials said Friday.
The blast blew out all windows in a three-block radius, and prompted emergency workers to evacuate a six-story apartment building that was buckling.
People were knocked off their feet by the blast, NBC affiliate WWLP-TV reported.
Those injured in the blast included nine firefighters, four gas company employees, two police officers,  one water and sewage employee and two civilians.
Two hospitals treated the injured people, though none were in critical condition, officials said.
"It really was a miracle on Worthington Street that no one was killed," Lieutenant Governor Tim Murray told reporters at a news  conference in Springfield Friday night.
The blast, which leveled the Scores Gentlemen's Club, was was heard for miles.
Fire Marshall Joe Conan told reporters at the press conference that the call reporting a strong gas odor came in at 4:20 p.m., and the explosion took place at 5:25, about 15 minutes after the gas was shut off.
The club had been evacuated by the time gas leak ignited. 
A dancer at the club told The Springfield Republican that she was on stage when the evacuation order came.
While she was gathering her clothes, she said, the manager came up and told everyone, "I don't care if you're (expletive) naked or not, get out."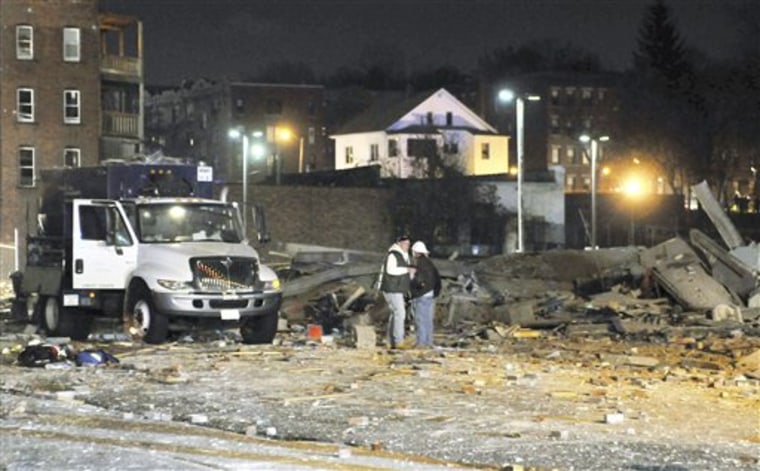 "I feel lucky we got out," said the dancer, identified only as Debbie. She said all her work clothes were lost.
At a restaurant two blocks away, waitress Stephanie Simmons said the blast shocked customers.
"It rocked us so hard the windows smashed," she told The Springfield Republican. "It felt like an earthquake or a large explosion. There was pretty much chaos."
Officials at the news conference said that teams of inspectors would be sent to look at damaged buildings on Saturday, and there would likely be controlled demolition of those that were badly damaged to make the scene safe.
Meantime, the Massachusetts Emergency Management Agency was assisting the city to provide shelter for people displaced by the explosion, Lt. Gov. Murray told reporters at the press conference. 
Springfield is the largest city in western Massachusetts with a population of about 150,000.
NBC News' Kari Huus and The Associated Press contributed to this report.
More content from NBCNews.com: