This live coverage has ended. Continue reading Covid-19 from December 14, 2020
Hospital systems nationwide should expect the first shipments of Pfizer's Covid-19 vaccine to arrive Monday, Gen. Gustave Perna, chief operating officer of Operation Warp Speed, said Saturday.
Within the next 24 hours those boxes will move from Pfizer's manufacturing facility to UPS and FedEx hubs, where they will be delivered to 636 predetermined locations nationwide, he told a media briefing.
An estimated 2.9 million doses will be distributed within the first week. That number is expected to ramp up significantly in the coming weeks, to as much as 40 million doses by the end of 2020.
New Zealand to allow quarantine-free travel with Australia
New Zealand on Monday agreed to allow quarantine-free travel with Australia in the first quarter of 2021, nearly a year after it locked down its borders to protect its population from the global coronavirus pandemic.
Prime Minister Jacinda Ardern said the cabinet had agreed in principle for the Tasman, quarantine free travel bubble pending confirmation from the Australian cabinet, and no significant changes in circumstances of either countries.
"It is our intention to name a date ... in the New Year once remaining details are locked down," Ardern said at a news conference in the capital city of Wellington.
New Zealand has virtually eliminated Covid-19 by enforcing a tough lockdown and keeping its borders shut to all foreigners for most of the year.
Nonprofits across the country face soaring costs, demands for help
SEATTLE — The American spirit of generosity this holiday season may be no match for nonprofits dealing with the coronavirus.
Despite record amounts of charitable donations this year, nonprofits across the country are being suffocated by the effects of the pandemic as organizations face soaring costs and demands for help, yet are largely without their own support systems, including volunteers and in-person fundraising events.
December is generally the most important month for nonprofit revenues, as Christmas and end-of-year tax deductions typically drive a flood of charitable giving. All that might not be enough.
There have been efforts to encourage more giving since the coronavirus took hold of modern life in March.
The IRS is urging the public to utilize a special $300 tax deduction that can be claimed next year for cash donations in 2020 to tax-exempted nonprofits. The initiative allows non-itemized filers to get the tax break only for 2020, as part of the Coronavirus Aid, Relief and Economic Security Act passed by Congress last spring.
Vaccine begins arriving in Canada
TORONTO — Prime Minister Justin Trudeau says the first of many freezer-packed Covid-19 vaccine vials have arrived in Canada.
Trudeau tweeted a picture of them being taken off a plane. Canada's health regulator approved the vaccine made by U.S. drugmaker Pfizer and Germany's BioNTech last Wednesday.
The Canadian government recently amended its contract with Pfizer so that it would deliver up to 249,000 doses this month. Trudeau says it is good news, but he is urging Canadians to continue to wear masks, avoid gatherings and to download a government app that lets users know if they've come in contact with those who have tested positive.
Los Angeles County breaks record for hospitalizations again
LOS ANGELES — Los Angeles County has again broken a record for coronavirus hospitalizations, fulfilling the county public health director's dire predictions in just days.
Figures released Sunday afternoon show that more than 4,000 people were hospitalized for COVID-19 in the nation's most populous county.
That breaks the previous record set only the day before, with 3,850 patients in a hospital, and follows the trend of hospitalizations increasing nearly every day since Nov. 1.
The L.A. County health director warned on Monday, when hospitalizations were near 3,000, that the county could see the statistic to climb to 4,000 within two weeks.
More than 325,000 doses of a COVID-19 vaccine are on their way to California.
'There's finally a beginning to the end:' Michigan residents watch Covid vaccine roll out of Pfizer plant
Italy surpasses U.K. for highest Covid-19 death toll in Europe
Italy on Sunday eclipsed Britain to become the nation with the worst official coronavirus death toll in Europe.
Italy, where the continent's pandemic began, registered 484 COVID-19 deaths in one day, one of its lowest one-day death counts in about a month.
Still, those latest deaths pushed Italy's official toll up to 64,520, while Britain's stood at 64,267, according to a tally by Johns Hopkins University.
Both numbers understate the true toll of the pandemic. Counting criteria differ in the two countries, and many coronavirus deaths, especially early in the pandemic, are believed to have gone undetected, including those of elderly people in nursing homes who were not tested for COVID-19.
Among the reasons cited for Italy's high death toll was it that was the first country in Europe to be slammed in the pandemic, leaving health workers to grapple with a largely unknown virus. Italy also has a lower ratio of medical staff to patients compared to other European nations.
Germany, a nation much bigger than Italy, has a death toll one-third of Italy's or Britain's. A little more than half of Italy's known COVID-19 deaths were registered in the first surge. On Sunday, Italy reported another 17,938 coronavirus infections to raise its official tally to 1.84 million.
Doctors in rural Texas facing challenges as Covid cases explode
Some recovered Covid patients may need heart screening before exercising again
With Covid-19 linked to heart muscle inflammation known as myocarditis, doctors are concerned about patients returning to physical activity safely. Exercising with myocarditis can lead to irregular heartbeats and sudden cardiac death, a well-documented worry with athletes.
But which people who've had Covid-19 are at risk? And who should be screened with a battery of heart tests before being cleared for exercise?
Those questions were a main focus of a recent virtual sports medicine conference sponsored by the American College of Sports Medicine, the American Orthopaedic Society for Sports Medicine and the American Medical Society for Sports Medicine.
Doctors want to ensure that athletes and recreational exercisers who've had Covid-19 can return to physical activity as safely as possible after their recovery, but much still needs to be learned about this new virus, Dr. Carrie Jaworski, director of the division of primary care sports medicine at NorthShore University HealthSystem in Chicago, said at the conference on Dec. 5.
CDC Director signs off on Pfizer vaccine recommendations
The Centers for Disease Control and Prevention have officially given its recommendations for Pfizer's Covid-19 vaccine. 
CDC Director Robert Redfield signed off on the suggested use for the inoculation on Sunday, hours after vaccines left Pfizer's Michigan facility to be delivered to hospital systems across the country.
"As COVID-19 cases continue to surge throughout the U.S., CDC's recommendation comes at a critical time," Redfield said Sunday. "Initial COVID-19 vaccination is set to start as early as Monday, and this is the next step in our efforts to protect Americans, reduce the impact of the COVID-19 pandemic, and help restore some normalcy to our lives and our country."
The CDC recommends the vaccine for people ages 16 and up and said pregnant women should consult with their doctors before getting it. People who have had serious allergic reactions to other vaccines should not get the vaccine. 
The vaccine should be offered to people who have already had Covid, whether they had symptoms or not. The vaccine is also recommended for people with underlying health conditions or with weakened immune systems, such as cancer patients or who have a chronic disease.
NIH director asks Americans to leave 'conspiracy theories' behind on vaccines and 'look at the facts'
Dr. Francis Collins, the director of the National Institutes of Health, made a direct appeal to Americans Sunday to "hit the reset button" on skepticism of approved Covid-19 vaccines, stressing that the independent nature of the approval process and the strong safety measures that should give the public confidence.
In an interview on "Meet the Press," Collins said that mistrust of vaccines continues to be a source of great concern to public health officials, insisting that anyone who wants to "look at the facts" surrounding the vaccine's development, testing and safety record should "be very reassured."
"I would like to plead to people who are listening to this this morning to really hit the reset button on whatever they think they knew about this vaccine that might cause them to be so skeptical. The data is out there now," he said.
First trucks with Covid-19 vaccine roll out of Pfizer plant in Michigan
Trucks departed the Pfizer plant in Portage, Michigan, on Sunday morning with the first batches of the company's long-awaited Covid-19 vaccine, en route to 636 predetermined locations.
Pfizer is expected to deliver an estimated 2.9 million doses this week via UPS and FedEx, Gen. Gustave Perna, chief operating officer of Operation Warp Speed, said on Saturday. The vaccines leaving Portage — a city just south of Kalamazoo — have U.S. Marshal protection to ensure they arrive safely at the hospital systems selected to receive the doses, some as early as Monday.
Pfizer CEO Albert Bourla said the company was leveraging manufacturing plants in Michigan, Missouri and Massachusetts to produce and distribute the vaccines quickly.
"I couldn't be prouder of my fellow Pfizer colleagues and partners at BioNTech," Bourla said in a video statement. "Their historic science-driven effort has delivered a vaccine with the potential to help bring an end to the most devastating pandemic in a century."
Rural doctors face vaccine distrust and conspiracies. They have a plan.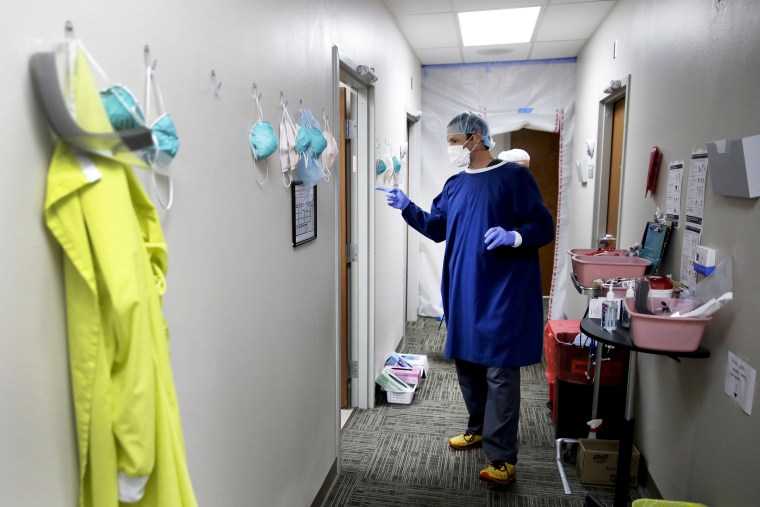 On Thursday night, Dr. Thomas Huth, vice president of medical affairs for Ried Health in Richmond, Indiana, plans to become the first person to receive a coronavirus vaccine shot at his rural hospital, which will be one of the first to receive the Pfizer vaccine in the country.
His decision comes with two goals: to prevent potentially spreading the virus to his elderly patients and to communicate to the surrounding rural communities that the vaccine is safe and available.
"We plan to do that on camera in a very public way to help people feel comfortable with the vaccine," Huth said. "It's important that as a health care leader in this area, we're also leading the way on this important initiative."
U.S. surpasses 16 million Covid-19 cases
More than 16 million Covid-19 cases have now been recorded in the U.S., according to NBC News' tally.
It took just five days for the number to jump from 15 million to 16, the data shows  the shortest time for 1 million cases to be recorded in the country. 
In December 2,425,625 cases have been counted, as have 28,230 deaths and this month This month's total has already eclipsed that of every other month except November.
Saturday the U.S. reported 2,376 deaths and 210,574 cases. These states set single-day records:
Alaska, 18 dead
Delaware, 1,058 cases
Massachusetts, 300 dead
South Carolina, 3,572 cases
West Virginia, 1,514 cases