Three suspected boat thieves led the Coast Guard on a 345-mile high-speed chase lasting nearly 20 hours before they were eventually captured off Mexico, officials in Florida said Sunday.
The trio fled towards international waters in a stolen 36-foot powerboat after law enforcement officers were alerted to a boat theft in Fort Myers Beach on Christmas Eve.
A sheriff's office vessel was rammed at the start of the chase, which began at about 2 a.m. ET Thursday.
"It was like something out of a James Bond or Mission Impossible movie," Lee County Sheriff Mike Scott told the Fort Myers News-Press.
The stolen boat, equipped with three 300-horse power engines and capable of speeds of up to 75 mph, was pursued by Lee County Sheriff's Office for approximately five miles into the Gulf of Mexico but was "able to outrun sheriff's office and Coast Guard vessels at first," the department said in a statement Sunday.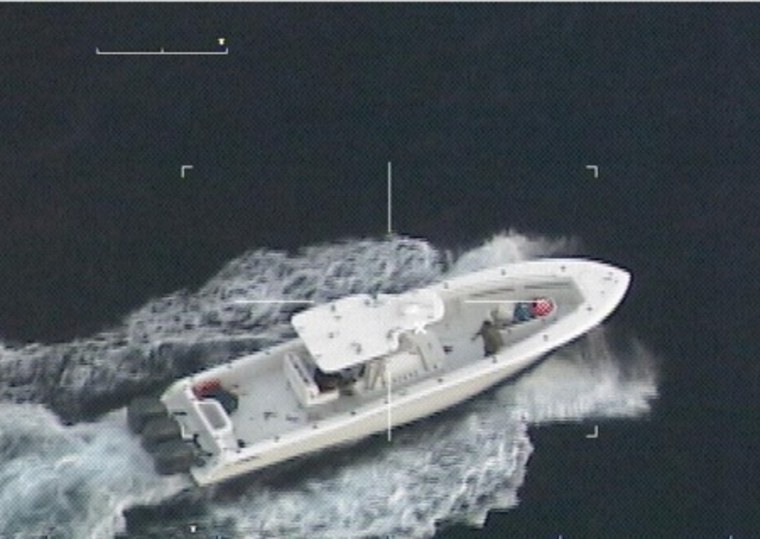 A full sea and air search was launched, spanning more than 345 miles and using three Coast Guard aircraft, a small-boat crew from Station Fort Myers Beach and the Coast Guard Cutter William Trump, the Coast Guard said in a news release.
The chase only came to an end on the morning of Christmas Day when the vessel stopped approximately 125 miles east of Cancun.
"A small boat crew from the William Trump apprehended the three suspects without incident," the Coast Guard said. "The three suspects were later transferred aboard the Coast Guard Cutter Marlin for transit back to authorities in Fort Myers."
The stolen powerboat was being towed back to Florida, it added.
David Llanes Vasquez, 33, of Miami, Vidal Farfan-Ramirez, 23, of Mexico, and Raul De La Vega Sauri, 25, of Homestead, Fla., were arrested on multiple charges including burglary and larceny. Vasquez was additionally charged with reckless pollution and assault with intent to commit a felony.