Fox News gave "The Five" co-host Bob Beckel the boot Friday for making a racist remark to a black IT worker.
The embattled network, which has been dealing with a swirling sex harassment scandal and is still reeling from the death Thursday of founder Roger Ailes, gave only a bare bones explanation for why it was parting with the 68-year-old pundit.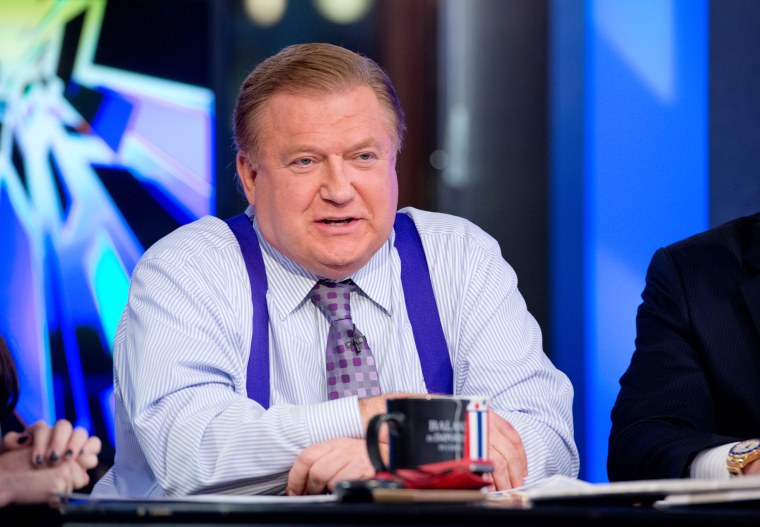 "Bob Beckel was terminated today for making an insensitive remark to an African-American employee," a spokesperson said in a statement.
Attorney Douglas Wigdor, who is representing the IT worker and nearly two dozen other Fox News employees who have sued the network for racial discrimination, said Beckel couldn't handle having a black man fix his computer.
RELATED: Bill O'Reilly Career Comes to an End at Fox News Amid Sex Harassment Claims
"Mr. Beckel stormed out of his office when our client, a black IT employee came to service his computer, telling our client that he was leaving his office because he is black," Wigdor said in a statement. "To make matters worse, after our client lodged a complaint about Mr. Beckel's racist behavior, Mr. Beckel, in front of Chief Human Resource Officer Kevin Lord, attempted to intimidate our client and persuade him to withdraw his complaint."
When the IT worker refused to back down to Beckel, Fox "leaked the story on a Friday to minimize the attention drawn to Mr. Beckel's racist behavior."
"Fox also neglected to inform the media of what was actually said, as well as the attempt to convince our client to withdraw the complaint," Wigdor added. "As with our other 22 clients, we intend on holding 21st Century Fox accountable for these actions and will be filing multiple other complaints in other matters next week."
RELATED: Roger Ailes Built an Empire. Then Came the Demons
In an email to NBC News, Wigdor said he will release the name of the IT worker "when we file."
Fox has previously denied the allegations behind the suit. And later Friday, the network released a fuller statement about the Beckel incident in response to Wigdor's assertions about Tuesday's racially-charged incident, including a denial that anybody tried to pressure the IT worker into not filing a complaint.
"No one tried to persuade Mr. Wigdor's client to withdraw his complaint," the statement said.
In fact, Lord launched an investigation "within seven minutes" of the IT worker making the complaint.
"Today, Fox News delivered that message to Mr. Beckel and facilitated an apology from Mr. Beckel to the employee minutes after he was terminated," the statement said.
Wigdor confirmed Beckel apologized.
"Sadly the head of human resources permitted Mr. Beckel to try and convince my client into withdrawing his complaint in an effort to sweep this entire matter under the rug," the lawyer added. "In my years of practice I have never heard of a human resources executive permitting this to happen."
There was no immediate statement from Beckel, but this was the second time he was fired by Fox.
Beckel was canned in June 2015 after the network revealed he had been treated for addiction to prescription pain medications. He was rehired by Fox in January after a brief stint with CNN.
A former member of the Carter Administration, Beckel wrote candidly about his battles with the bottle and cocaine in his 2015 memoir, "I Should Be Dead: My Life Surviving Politics, TV, and Addiction."