The bodies of two people missing after two float planes collided in mid-air over Alaska on Monday have been found, bringing the total confirmed deaths to six, authorities said.
Search-and-rescue teams recovered the remains of two people who were missing after the collision over George Inlet, the borough of Ketchikan said in a statement Tuesday evening.
Four deaths had previously been confirmed in the crash, which occurred Monday afternoon about eight nautical miles from Ketchikan, Alaska, at the southeastern end of the state, the Coast Guard and other officials have said. The planes were conducting sightseeing tours for cruise ship passengers.
Ten people were rescued, the Coast Guard said. Before the two bodies were found, the Coast Guard had said it and others were looking for two people.
A Coast Guard helicopter crew located the remains and directed the Ketchikan Volunteer Rescue Squad to the area, the Coast Guard said Tuesday.
"This is not the outcome we hoped for and extend our deepest sympathies during this very difficult time," Capt. Stephen White, Coast Guard Sector Juneau commander, said in a statement.
A de Havilland DHC-3 Otter float plane and a de Havilland DHC-2 Beaver float plane were involved in the crash, the Coast Guard said.
There were a total of 16 people on the planes: Ten passengers and one pilot on a Taquan Air plane and four passengers and a pilot on a Mountain Air Service plane, officials said.
The borough of Ketchikan said in the statement that of the 10 injured, three remained at a local hospital in fair condition and three patients were discharged Tuesday.
Four patients were taken to Harborview Medical Center in Seattle, and that hospital said Tuesday that one person is in intensive care in serious condition but showing signs of improvement, and three patients are listed as being satisfactory.
The two planes, an Otter owned and operated by Taquan Air and a Beaver owned and operated by Mountain Air Service, were both inbound to Ketchikan and collided between 3,200 and 3,300 feet around 12:20 p.m. Monday, National Transportation Safety Board Member Jennifer Homendy said Tuesday.
The pilot of the Taquan Air plane survived, Homendy said.
Alaska State Troopers identified the dead as: Randy Sullivan, 46, a pilot from Ketchikan; Simon Bodie, 56, of New South Wales, Australia; Cassandra Webb, 62, of St. Louis, Missouri; Ryan Wilk, 39, of Utah; Louis Botha, 46, of San Diego; and Elsa Wilk, 37, of Richmond in British Columbia, Canada.
The NTSB has launched a team to investigate, but Homendy noted Tuesday that the information about the mid-air crash is preliminary at this point.
There were no cockpit voice recorders of flight data recorders on either plane, and neither plane was required to have them, Homendy said. Investigators will be looking at terrain, weather conditions, and other factors, she said.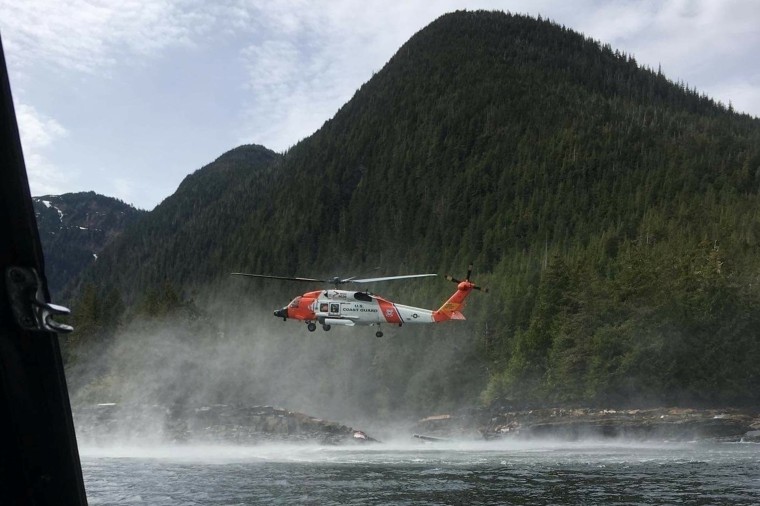 "Our community is heartbroken over this tragedy and its devastating impact on so many families," Ketchikan Gateway Borough Mayor David Landis said in a statement Tuesday.
The float planes were carrying passengers from the Royal Princess on a seven-day roundtrip cruise out of Vancouver, according to Princess Cruises.
Princess Cruises said in a statement that "All of us at Princess Cruises are deeply saddened by this tragic news and we are extending our full support to the investigating authorities as well as the traveling companions of the guests involved."