Two body cam videos of the fatal police shooting of Milwaukee man Sylville Smith won't be released until after an investigation into the killing is over, Wisconsin Attorney General Brad Schimel said Monday.
Smith, who was armed with a loaded handgun, was fleeing a traffic stop on foot when a 24-year-old officer fatally shot him.
The 23-year-old's death sparked violent protests in which shots were fired at police and several buildings were burned in the Sherman Park area of the city. Gov. Scott Walker activated -- but did not deploy -- the National Guard, and the city's mayor initiated a curfew.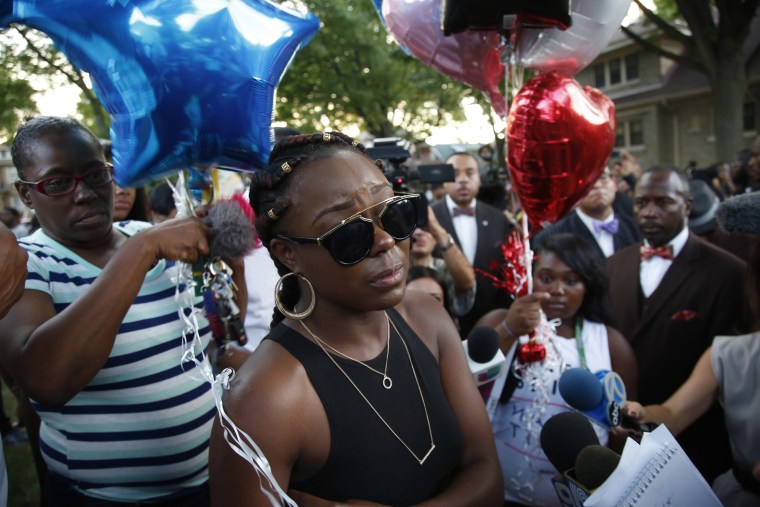 Schimel said releasing the two body cam videos of the shooting "would compromise the integrity of the investigation," adding, "It is sometimes necessary to confront witnesses with information they didn't know or they didn't know we know. I cannot have witness statements colored or tainted by what they are seeing from other sources."
The videos are "just one piece of information among many" and give "only a narrow and incomplete version" of events, he told reporters.
"Viewing body cam videos will not answer all of the questions" that people have, he said, later explaining that the recordings were unclear because the officers were running and the footage needed to be slowed down "a great deal." There is also 30-second delay before audio starts on the recordings because of a setting on the devices.
"The search for the truth is better served by not showing the video [now]," he said, adding that the videos would be released promptly if no charges are brought against officers.
Related: Caught on Camera: The History of the Police Dashcam
Schimel repeatedly urged "patience" and said it was important that "the investigation is expedited but not rushed."
A dispatch recording from the time of the incident is also being examined, he said.
Schimel also revealed that Smith's body had been released to his family and expressed his sympathy for them.
"No matter what the end result … it is a terrible tragedy to have lost a loved one," Schimel said. "We will leave no stone unturned to get to the truth in this. The vast majority of law enforcement officers serve honorably and with integrity and commitment every day. The use of deadly force is a traumatic act they hope to avoid."