The three-day search for a well-known outdoors writer who went missing while hiking on Mount Rainier took a grim turn Saturday, when a body was discovered in rough terrain off the trail where she was last seen.
The body has not been officially identified to be that of Karen Sykes, 70, an author who penned the "Hike of the Week" column for the former Seattle Post-Intelligencer.
Sign up for breaking news alerts from NBC News
But Sykes' daughter, Annette Shirey, told NBC News officials informed her that the body found was her mother's. There are no reports of anyone else missing on the mountain, a park official said.
"She always said that if her life was going to end she would want it to end in the mountains — she wouldn't want to be anywhere else," Shirey said. "She could bring out the beauty she saw and share it with the world."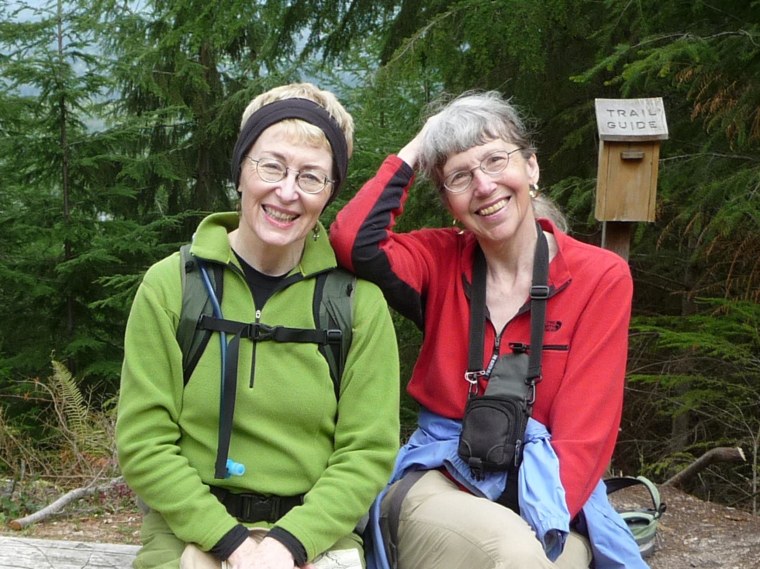 Sykes went missing on Wednesday when she left her partner behind to explore a snowy part of the Owyhigh Lakes trail about 5,000 feet up and never came back. Shirey said it was a familiar routine: Sykes would often trek ahead to a more difficult part of the trail to take photos, and he would wait for her to return.
Rescue teams on the ground and in helicopters scoured the area around the trail for days until a ground crew discovered the body just before 3 p.m., Mount Rainier National Park spokeswoman Patti Wold said.
"It is very steep terrain, very rough," Wold said. "It's a cross-country area, an area where people don't normally go."
Sykes planned on writing about the hike for Visit Rainier, a tourism website to which she contributed. A native of Seattle, she has been hiking for 35 years and is the author of two books on the subject.
Shirey thinks her mother would be happy if her writing helped others discover nature.
"She wanted people to find the things she found, to find the beauty she found," Shirey said.
In May, six climbers attempting to reach Mount Rainier's summit were lost and are presumed dead. Conditions have been too dangerous to recover those bodies.
— Phil Helsel