A body found in North Carolina on Tuesday is believed to be that of a 13-year-old girl who was abducted from outside her home more than three weeks ago, officials said Wednesday.
"We are absolutely devastated," Lumberton Police Chief Michael McNeill said. "I wish we had a different outcome for Hania's family, for the community that she lived in and for the hundreds of law enforcement officers and searchers who put everything, everything they had into finding her and bringing her back alive."
Hania Aguilar was abducted from outside her home at the Rosewood Mobile Home Park in Lumberton on the morning of Nov. 5, minutes before her family was to drive her to a school bus stop, officials have said.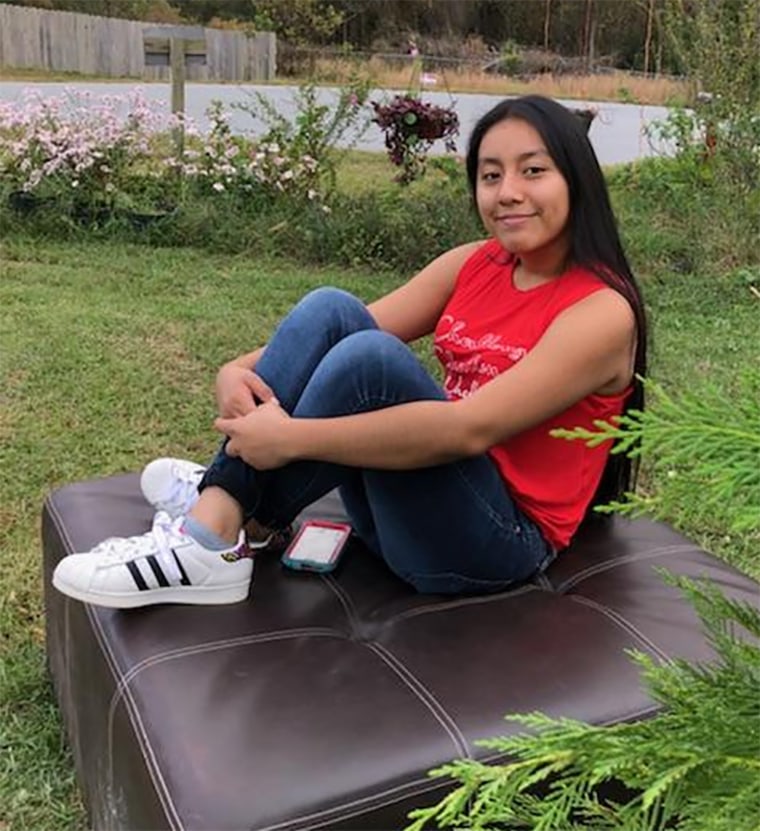 The sad discovery was made Tuesday in a body of water at around 4:45 p.m. ET in an area off Wire Grass Road in Robeson County, authorities said.
On Wednesday the state medical examiner said preliminary tests indicate that the body that was found is Hania's, McNeill said, but final confirmation will be done using a dental records comparison.
"Please continue to pray for Hania's family and each other," McNeill said.
Witnesses reported hearing the girl scream and a man dressed in all black with a yellow bandanna across his face force her into the family's sport-utility vehicle and drive away, authorities have said.
The stolen SUV was found three days later, on Nov. 8. The area where the vehicle was found in some woods is about 10 miles from where Hania was abducted, NBC affiliate WRAL of Raleigh reported.
McNeill said that an autopsy would be conducted to determine the cause of death.
"Our work is not over. We will not stop — we will not stop until we find the person or persons responsible and we bring them to justice," he said. "We will not stop until we do that."
Investigators do not have a person of interest at this time, FBI Supervisory Senior Resident Agent Andy de la Rocha said. There was evidence at the scene as well as tips that have been called in and other evidence previously released, he said.
"To include what we have found last evening, all of it is going to help us piece together what happened to Hania," he said.
The area where the body was found is not visible from the road, de la Rocha said. Asked if the body was buried under debris, he said: "it was not something that was obvious."
He described the area as a body of water but not formally a pond.
The FBI said last week that law enforcement has followed close to 800 leads and conducted hundreds of interviews in the case.
The FBI has offered a reward of up to $25,000 for any information leading to the arrest and conviction of the person responsible for her kidnapping. Gov. Roy Cooper has also announced a $5,000 reward for information that would lead to Hania's location.
De la Rocha asked the public to contact authorities with any information, like surveillance video of the area. He also urged people to stop speculating on the case on social media, saying that by putting out things that are "blatantly false" they are compounding the tragedy for the girl's family.
"We want to do everything possible to hold the person or persons accountable who committed this horrific offense," de la Rocha said.