The body of a hiker who had been missing in Maui for more than a week was found Wednesday, the man's family said in a statement.
Searchers in a helicopter located the body of Noah "Kekai" Mina, 35, about 300 feet below a fall line in the summit region of Mauna Kahalawai in Maui.
Police and fire personnel had been looking in the area of Kapilau Ridge Trail, which is also known as the Saint Anthony Cross in the Wailuku area, on the northwest side of the island, Maui police have said.
"We are so very sorry that Kekai has passed from this realm, he meant the world to us as a son, brother and friend," a statement from Mina's father, Vincent, mother Irene, and sister Kahanulani, that was posted online to a Facebook group dedicated to the search for him, read.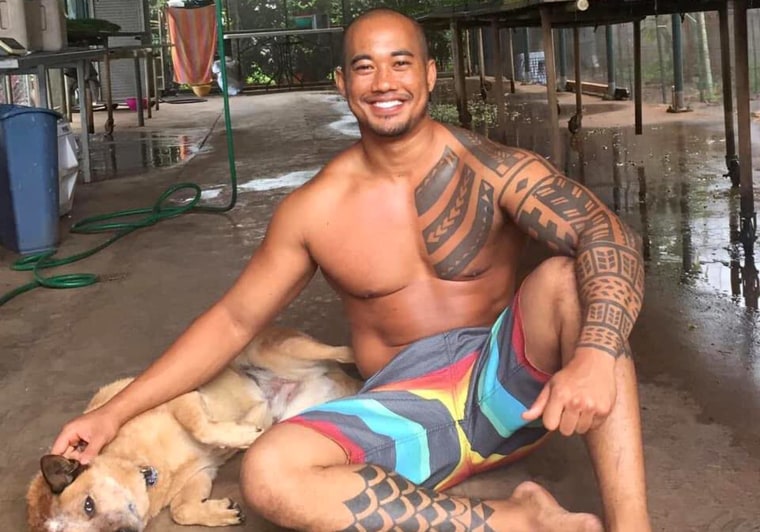 Mina was reported missing May 20, police said.
Maui Police Lt. Gregg Okamoto said in an email Wednesday night that the body was found at 6:35 a.m. during a search made up of West Maui watershed employees, Division of Forestry Wildlife personnel and a pilot from Windward Aviation.
He said the body was preliminarily identified as that of Mina, but confirmation will be made following an autopsy.
The body was found approximately 400 feet below a steep ridge, and the area was accessible only by helicopter and Maui Fire Department Rescue crews needed to be dropped in to retrieve the body, Okamoto said.
The discovery comes days after rescuers found missing hiker Amanda Eller alive. She spent more than two weeks lost in Maui's Makawao Forest Reserve.
Two of the men who helped lead the search for Eller were also involved in the search for Mina, NBC affiliate KHNL of Honolulu reported.
Mina's family said in the statement that they were fortunate to have known him, and they thanked everyone for their support. "Take a moment to love and hold those that are dear to you a moment longer than you would normally do," they said.
"We brought our son, brother and friend home today, just not the way we would have wanted and prayed for," Vincent Mina said on the Facebook page dedicated to finding him, which has been verified with a family spokesperson.
"We ask that you continue to live life to the fullest, in sharing your hearts with others you love, and hug a little longer your sons and daughters tonight and beyond!" he said.