Searchers looking for victims of a devastating mudslide that struck in the Montecito, California, area last week have found the body of a mother whose child was also killed in the disaster, the sheriff's office said, bring the number of confirmed deaths to 21.
The body later identified as that of Faviola Benitez Calderon, 28, of Montecito, was found at around 10 a.m. Saturday, the Santa Barbara County Sheriff's Office said in a statement.
Her 10-year-old son, Jonathan Benitez, that boy's cousin Kailly Benitez, 3, and Kailly's mother, 27-year-old Marilyn Ramos, were also killed in the mudslide and their bodies were previously found, the sheriff's office said.
"The Sheriff's Office wants to express our deepest condolences to the Benitez family," the sheriff's office said in the statement.
The mudslide struck the Montecito area on the morning of Jan. 9, after a storm dumped a large amount of rain in a short time on areas burned in the massive Thomas Fire which raged in the region for weeks in December, officials have said.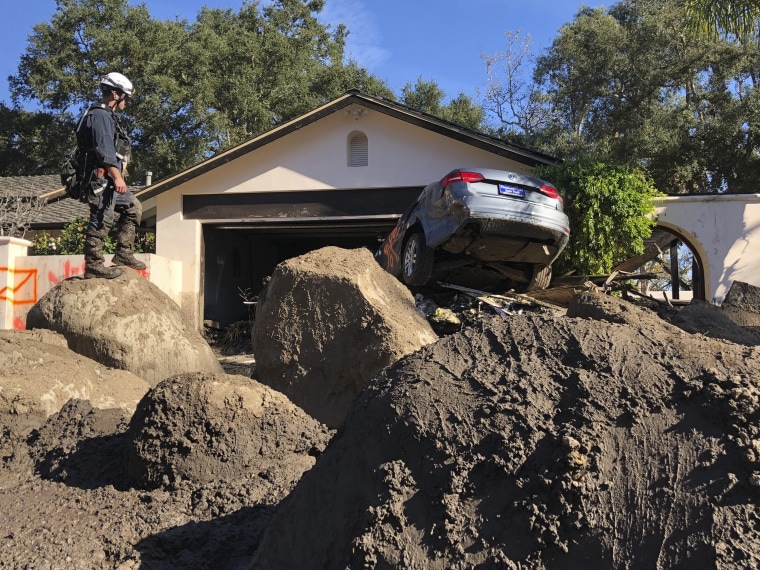 The Thomas fire burned more than 281,000 acres and destroyed more than 1,000 acres in Santa Barbara and Ventura counties since it broke out on Dec. 4, and the fire was only 100 percent contained last week, officials said.
Related: Montecito homeowners sue utilities, alleging negligence before deadly mudslide
Two people remain missing in the wake of the mudslide. They are old Lydia Sutthithepa, 2, and Jack Cantin, 17, the sheriff's office said. Crews are continuing to work to find them.