Bomb-sniffing K-9 teams at 10 major U.S. airports have failed tests that check how accurately they can detect explosives, according to an NBC News investigation.
New records obtained by KXAS through a Freedom of Information Act request call into question whether those dog teams are training enough to stay sharp and keep bombs out of airports and off planes by screening baggage, cargo and passengers for potential threats.
K-9 teams funded by the Transportation Security Administration have failed annual certification tests at 10 large airports 52 times between Jan. 1, 2013, and June 15, 2015, the most recent detailed numbers TSA provided. Some teams failed to find explosives, while others had too many false alarms that could cause unnecessary airport evacuations.
Dog teams failed 21 times at Los Angeles International, and 10 times at Dulles International Airport outside Washington, D.C., during the same time period. Teams at Chicago's O'Hare, Reagan National in D.C., JFK in New York, San Diego and Bradley International in Hartford, Connecticut, all failed from one and three times.
At Love Field in Dallas, K-9 teams assigned to protect the airport failed four out of 14 tests with a failure rate of nearly 30 percent over two-and-a-half years. In 48 tests over the same time period, teams at Dallas/Fort Worth International Airport failed five times, or 10 percent of the time.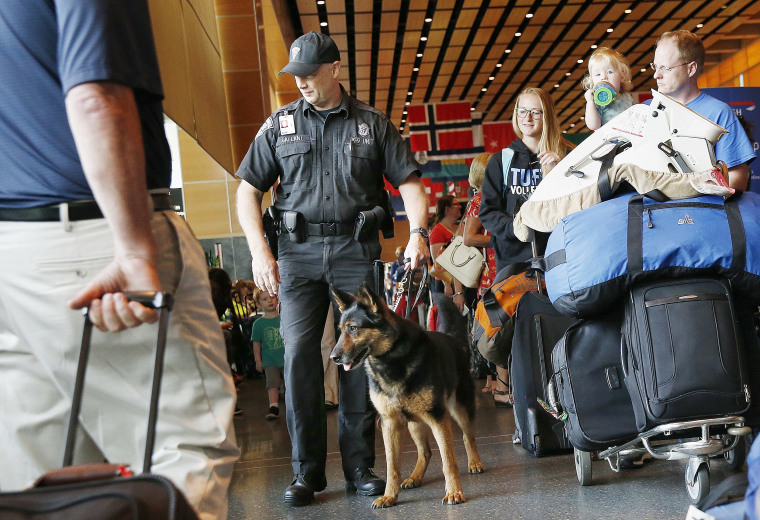 The nation's busiest airport, Hartsfield-Jackson Atlanta International Airport, however, had only two failures in 75 tests (3 percent) over the same two-and-a-half year time period. All K-9s managed by the Atlanta Police Department passed while two TSA managed teams failed.
Overall, in the records provided by TSA for 10 major airports, dog teams passed 87 percent of their tests, or 350 out of 402. KXAS asked for more comprehensive national figures from TSA but has not yet received them.
K-9 teams that fail are pulled out of service and cannot work in airports again until they can pass the test, but experts KXAS spoke with say clusters of failures at some airports raise concerns about how well those teams are being managed.
"We rely on K-9 teams more now than we ever have in the history of aviation security."
The TSA said the failures are just a normal part of upholding high standards. But the multiple failures in some cities raise questions about whether those teams have been training enough to maintain the highest level of readiness.
In a statement, the TSA told KXAS, "If a team does not meet TSA's rigorous guidelines, it is decertified and restricted from working."
"The team must successfully meet certification standards before returning to search duties. Dog teams that are unable to return to TSA's high standards are subject to removal," the TSA said.
The agency said teams performed better in the latter half of 2015 — with a 93-percent passing rate nationwide. But the agency would not share any detailed records for that time period or for 2016, so it's unknown if there are still some airports with clusters of failures.
"We rely on K-9 teams a lot more now than we ever have in the history of aviation security," said airport security consultant Jeffrey Price.
Price said the lives of passengers depend on how well the dog teams perform.
"Dogs have always been considered the gold standard in explosive detection. So when you're considered the best, you better be the best," said Price.
To better understand why K-9 teams failed, KXAS went to Alabama to one of the nation's top K-9 training centers at Auburn University and AMK9.
AMK9 works with the university training dogs in explosive detection for agencies across the country.
"You need to convince that dog that there's a reason to work," said John Pearce, who used to help oversee training for the TSA.
Pearce said the main reason some dogs fail certification tests is the people in charge of those K-9 units don't always set aside enough time for constant training. He sees a direct relationship between the quality of the training and the success the dogs have on tests.
"Our primary job is to find an explosive, as a dog team, but that dog believes its primary objective is to get that toy that's in the handler's pouch," said Pearce.
In airports, dogs rarely find explosives, so unless they practice locating test explosives frequently, they may lose interest.
In addition, handlers also need constant practice to accurately recognize the dog's cues.
Pearce said handlers need to train daily.
"Train, train, train and train as if you're going to work," said Pearce.
KXAS wanted to know if the people in charge of the K-9s at Love Field and D/FW Airport are spending enough time training.
Some of the teams are managed directly by the TSA, but many are run by D/FW Airport police and Dallas police that get their dogs, training and funding from the TSA.
Dallas police declined an on-camera interview and would not answer any questions about their teams at Love Field.
When asked about the teams decertified at D/FW Airport, a spokesman sent a short statement saying, "All of the canine teams maintained by the D/FW Airport Department of Public Safety are currently certified and active."
In Los Angeles, airport officials say trainers made changes and all teams passed more recent tests.
"The reality of it is humans are fallible — K-9's are fallible but we've got to work every day for 100 percent compliance," said Patrick Gannon, LA World Airports deputy executive director.
In 2013 the investigative arm of Congress, the Government Accountability Office, found "some K-9 teams were repeatedly not in compliance with TSA's monthly training requirement."
Since then, the TSA has made changes, including a new program starting Oct. 1 to hold local airport police departments more accountable for training and to enforce higher training standards.
Multiple failures at some of the nation's largest airports make some experts wonder if supervision and training is needed in a business where there may not be a second chance.
"Lives depend on the proficiency of the teams," said Price. "You don't get a do over in real life. If that team misses an explosive, then that's a device that can end up on a plane."