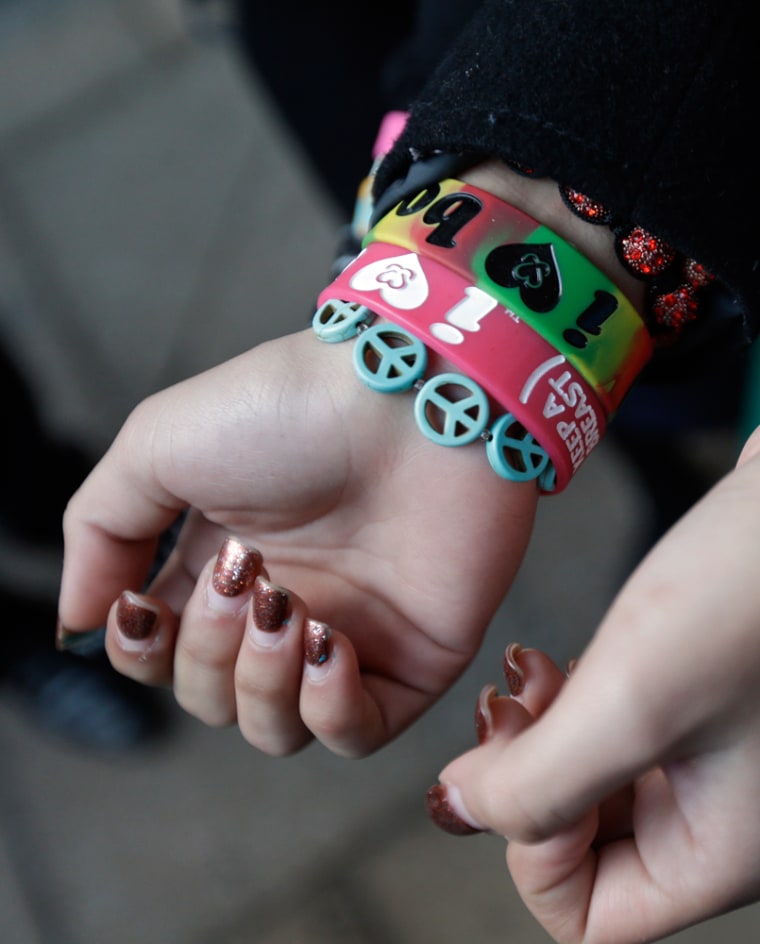 The court battle between two girls and their Pennsylvania school over "I (heart) Boobies!" bracelets could be settled by the U.S. Supreme Court. 
The Easton Area School District board voted 7-1 Tuesday night to appeal a federal appeals court's decision that rejected its claim the bracelets are lewd and should be banned from school.
The case started in 2010 when two girls, then ages 12 and 13, challenged the school's ban on the bracelets designed to promote breast cancer awareness among young people.
The students, Brianna Hawk and Kayla Martinez, said they merely hoped to promote awareness of the disease at their middle school. They filed suit when they were suspended for defying the ban on their school's Breast Cancer Awareness Day.
In August, the 3rd U.S. Circuit Court of Appeals upheld a lower court's decision in favor of the girls, saying also that the district didn't prove the bracelets are disruptive.
Superintendent John Reinhart told The Express-Times of Easton he supports the board's decision.
"The Third Circuit Court has compromised administrators' abilities to intervene in what is and what is not appropriate in school," he said.
In court sessions, Reinhart had called the bracelets "cause-based marketing energized by sexual double-entendres."
An attorney for the American Civil Liberties Union, which helped the girls challenge the rule, said Tuesday night the school had been hinting that it would petition the Supreme Court.
"I'm just really surprised that they're so determined to fight this speech case of all speech cases," said Mary Catherine Roper. "(The bracelets) didn't cause any problems in the school."
School district solicitor John Freund said the district had the backing of the National School Boards Association and the Pennsylvania School Board Association. He said they and other organizations are "concerned about the implications of a hyper-sexualized environment," The Express-Times reported.
The lone board member to vote against the appeal said the district should just drop the matter.
"I think we should be done with it. Let it go. We lost 20, 30 times, I don't even know anymore," Pintabone said.
Easton is one of several school districts around the country to ban the bracelets, which are distributed by the nonprofit Keep A Breast Foundation of Carlsbad, Calif.
— The Associated Press
Related: