SIERRA VISTA, ARIZONA—On a steep and rugged road along the U.S. border, Cochise County Sheriff Mark Dannels pointed to a well-worn foot trail leading from Mexico into Arizona.
It's a path, he said, that is frequently used by smugglers to ferry immigrants and drugs into the United States.
Dannels noted that the international border fence there, which stands only a few feet tall, is clearly no deterrent to traffickers who in recent years, he said, have become more aggressive and dangerous to anyone standing in their way.
Sign up for breaking news alerts from NBC News
"This is not just Cochise County's or Arizona's problem. This is America's problem," he said.
With the White House and Congress unable to agree on comprehensive immigration reform and on a heightened border-security plan, Dannels insisted border-related safety threats continue to plague his county.
He strongly disagreed with administration officials who have said in recent years that the U.S. border is safer than ever.
"I deal with the phone calls every day in my office—every day—about the burglars, people breaking into their homes, smugglers coming through their properties and damaging their properties, and the assaults," he said. "It's living in fear."
Dannels argued that the biggest cause of his county's problems, ironically, is the federal government's plan in the 1990's to greatly strengthen security measures for the U.S. ports of entry and the southwest border cities, including San Diego, Yuma and El Paso.
In those highly-populated areas, authorities erected tall, layered steel fences; placed surveillance cameras and assigned increased numbers of U.S. Border Patrol and Customs agents.
Dannels conceded the border cities have greatly benefited from the plan and enjoy much lower crime rates than in the past.
But, an unfortunate consequence, he claimed, is that Mexican smugglers have been funneled now into the rural areas along the border that are much less protected, including parts of Cochise County, which shares an 85-mile-long border with Mexico.
"That traffic has directly been put here, that criminal activity, the drug smuggling, the human smuggling, the money laundering, you name it, the stolen vehicles, because we are an open part of the border," he said.
Eighty percent of Cochise County, which has more than 6,200 square miles, is agricultural with vast stretches of land sparsely populated by ranchers and farmers.
To make his point that rural frontier security is inadequate, Sheriff Dannels recently took visitors to a section of the Cochise County border where an 18-foot-tall steel fence suddenly becomes a low-lying barrier extending for miles, easy for smugglers to scale.
During the several-mile-long trip, only one Border Patrol agent was spotted monitoring that stretch of border.
"This needs to be fixed," Dannels said. "We are hung out to dry."
"The closer you get to the border, the more unsafe it is."
Smugglers typically enter the county on foot, herding groups of immigrants or marching single file carrying heavy bales of marijuana on their backs. Other drugs--heroin, cocaine and methamphetamine--are usually hidden in cars or trucks and driven through U.S ports of entry.
Dannels said many of the assaults or burglaries committed by smugglers occurred after they dropped off their human or drug loads and were headed back to Mexico.
Concerns about border safety in Cochise County ratcheted up last August when a 60-year-old park maintenance worker was found brutally beaten at the Chiricahua National Monument.
Hidden surveillance cameras have shown the mountainous area to be an active drug-smuggling corridor.
Authorities said Karen Gonzales was found covered in blood after her attacker pummeled her with a rock and left her unconscious on the floor of a remote bathroom before stealing her truck.
Months after the attack, authorities arrested 33-year-old Gil Gaxiola and charged him with attempted first-degree murder, theft and other crimes. Cochise County officials described Gaxiola as a convicted felon and a previously-deported Mexican immigrant, who was once again illegally in the United States.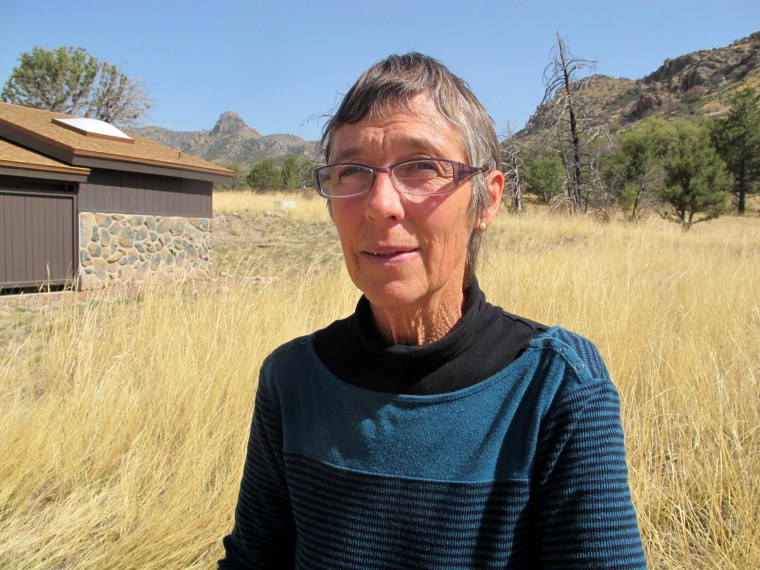 Gaxiola has pleaded not guilty and is awaiting trial this summer.
Gonzales has struggled with her recovery and now walks with a cane. She was physically unable to keep her job at the park, but considers herself lucky to still be alive.
"Until I knew he was arrested, I was constantly afraid," she said. "My courage is coming back, but I've lost my nerve."
When asked about the security of the Mexican border, she said, "It's not that safe. The closer you get to the border, the more unsafe it is."
"What am I going to do if they come to the house at 11:00 at night?"
Just a few weeks after the assault on Gonzales, investigators said, an unrelated ambush shootout between rival drug gangs broke out in tiny McNeal, Arizona. More than 80 shots were fired and three people were wounded.
Early this year, a bloody gangland fight between traffickers in Agua Prieta, Mexico, just south of Douglas, Arizona, left at least eight dead. Authorities in neighboring Cochise County went on high alert and warned border-area ranchers and homeowners to be cautious.
Twenty five miles north of the border, near the town of Benson, cattle rancher Larry Dempster said he's had several encounters with smugglers and others crossing his property. "They are armed, I've seen them armed."
One time, he said, a man confronted him and demanded food, water, money and Dempster's cell phone after climbing into his truck with him.
Another time, a group of about seventy smugglers carrying large backpacks startled Dempster while he was tending to one of his horses.
"Do I try to scare them? Are they going to shoot me if I fire a shot?," he wondered. Eventually, the group moved away.
Earlier this year, Dempster watched a group of about 15 people crossing his property late at night as he sat nervously in his living room holding a shotgun.
"I could see their flashlights coming up behind the house, " he said. "It's a dilemma not knowing what am I going to do if they come to the house at 11:00 at night?"
Always in the back of his mind, Dempster said, is the murder of fellow Cochise County rancher Robert Krentz, who was shot to death on his own land in 2010. The case is still unsolved, although authorities believe the killer was likely a smuggler.
Dempster is critical of the federal government for what he believes is its failure to protect the rural border area and those who live there.
"The border is not secure and anybody that says that is lying. Lying or incredibly ignorant," he said. "I'd say they are derelict in their duties to protect the American citizens."
"My opinion is that we're abandoned down here."
On a huge tract of land in southernmost Cochise County, cattle rancher John Ladd tends to the property that's been in his family for 118 years.
He shares a 10-1/2 mile-long border with Mexico, and has a big metal fence erected by the federal government running the length of his property. But he feels far from secure.
"Our whole ranch operation and my family's life are changed to the point that we can't relax anytime."
In the last 28 months, he said, Mexican smugglers have used saws to cut large holes in the fence and have driven 46 trucks loaded with marijuana across his property.
Only one of those trucks, he said, was seized by the authorities--after it broke down and was abandoned by the traffickers.
Ladd claims he has seen fewer immigrants crossing his land recently but has seen a big spike in drug trafficking. "In the last five years, the drug problem has increased a thousand percent down here," he said.
Ladd joined other ranchers and Sheriff Dannels in complaining that not enough Border Patrol agents actually stand watch right on the border to prevent smugglers from crossing private land.
Too many agents, he claimed, position themselves miles north of the border, along roads or at checkpoints waiting to catch the smugglers there.
Even with the federal government's increased use of border cameras and other surveillance technology, some of it placed on his property, Ladd still feels ranchers are inadequately protected.
"The philosophy from Washington is that technology is the answer. But that isn't the answer, it's got to be people on the border," he said. "My opinion is that we're abandoned down here."
While ranchers, the Sheriff and others in Cochise County often criticize Border Patrol policy, they express admiration for the individual agents and the hard work they do in dangerous terrain.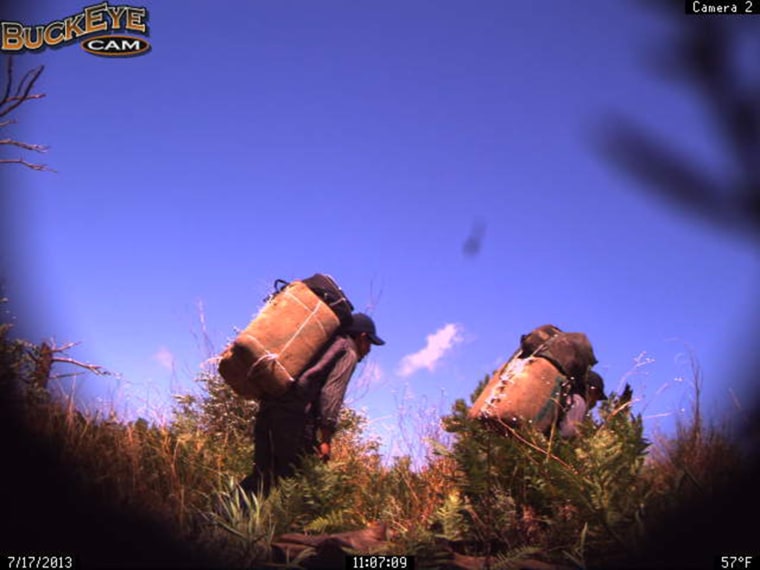 In response to a request for comment from NBC News, U.S. Customs and Border Protection issued a statement describing how agents are stationed in border counties: "The Border Patrol uses a multi-tiered enforcement strategy consisting of three basic agent deployments; line-watch operations, roving patrol operations and traffic checkpoint operations. The strategy is designed so that each tier complements each other and provides the best approach to border security in Arizona. That said, there are more agents on the physical border in Arizona today, than at any point in history," the statement said.
The CBP response goes on to say that since 2009, the U.S. Department of Homeland Security "has deployed unprecedented levels of manpower, technology and tactical infrastructure to the Arizona border," resulting in a steady decline in the apprehension of immigrants crossing the border illegally—a drop of about 24 percent across Arizona this year alone compared to last.
Although U.S. border security is a federal responsibility, Sheriff Dannels has created his own units specializing in ranch protection and border drug enforcement, and has received widespread praise from landowners.
He also travels with a security detail now after receiving what he said is a credible death threat from a suspected Mexican drug cartel associate.
Dannels said ranchers and others in Cochise County have become "numb" to what he described as a lack of attention and understanding of their plight from Washington. He hopes the Administration and Congress will finally agree to fill in what he described as wide security gaps along the rural border.
"This is a part of America," he said. "Why is it different here? It shouldn't be. And it's gonna get worse."