A U.S. Border Patrol agent in Texas fatally shot four sex workers in the head and assaulted a fifth, according to court documents obtained Sunday by NBC News.
Juan David Ortiz, 35, who was arrested Saturday, was being held on four counts of murder, aggravated assault with a deadly weapon and unlawful restraint. His bond was set at $2.5 million.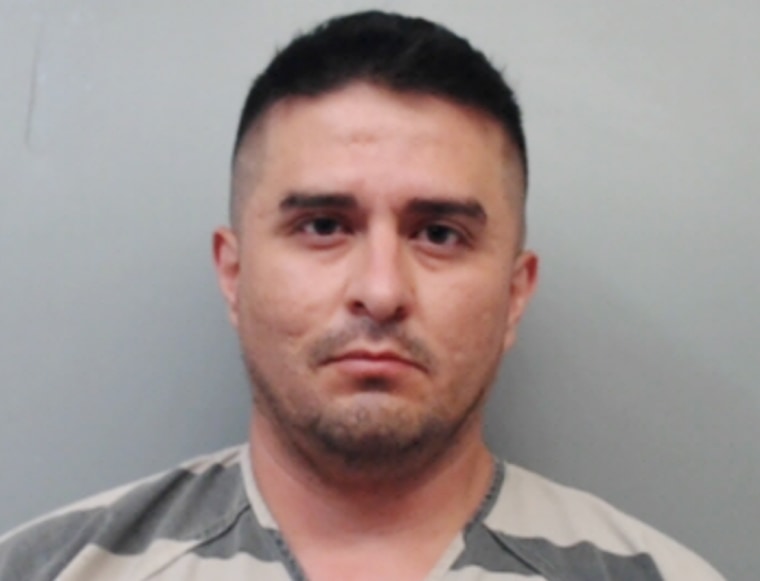 The slayings of the three women and one man and the assault occurred between Sept. 3 and early Saturday morning, authorities said in an arrest warrant and affidavit. The victims were described as sex workers by Webb County District Attorney Isidro Alaniz.
On Friday night, a woman identified as Erika Pena told authorities a man she knew as "David" picked her up on a street in Laredo, Texas, and took her to his house, according to the records.
After Pena began talking about a woman she knew, Melissa, who had been found dead the previous week, the man began "acting weird," she said. Later, after they left the house and drove to a gas station, Pena and the man began talking about the dead woman again, when he pointed a pistol at her and grabbed her, she told authorities.
She tried to get away but the man grabbed her shirt to prevent her from leaving. She pulled the shirt off and fled his pickup truck, running to a state trooper who was filling his vehicle at the gas station, the documents state.
When authorities found Ortiz at a different gas station a few hours later, he ran, but they were able to locate him 1½ hours later hiding in a hotel parking garage.
Investigators believe Ortiz picked up and fatally shot two more victims — a man and a woman — after Pena got away.
During an interview at the sheriff's station, Ortiz confessed to the assault on Pena and the slayings of four other people, according to the documents.
The bodies of two of the women, Melissa Ramirez and Claudine Ann Luera, 42, of Laredo, had already been found on roadsides before Ortiz was arrested, authorities said.
The other woman's body was found later Friday on near a highway overpass and the man's Saturday behind gravel pits outside Laredo after Ortiz told officers where to look. A single spent casing was found near the man's body.
A spokesman for U.S. Customs and Border Protection said in a statement Saturday that the agency's Office of Professional Responsibility was cooperating with investigators but it did not discuss.
"While it is CBP policy to not comment on the details of an ongoing investigation, criminal action by our employees is not, and will not be tolerated," spokesman Andrew Meehan said in the statement.