Prosecutors in Texas will seek the death penalty against a U.S. Border Patrol agent accused of killing four women after a grand jury returned a capital murder indictment on Wednesday.
The agent, Juan David Ortiz, is suspected in the killings of four women and the kidnapping of a fifth in rural Texas, Webb County District Attorney Isidro R. Alaniz said at a news conference Wednesday afternoon. Ortiz is being held on a $2.5 million bond.
Ortiz, 35, was indicted on one count of capital murder, aggravated assault with a deadly weapon, unlawful restraint and evading arrest, the district attorney's office said in a statement. An arraignment hearing is pending.
The grand jury upgraded the charge against Ortiz, who had faced four counts of murder.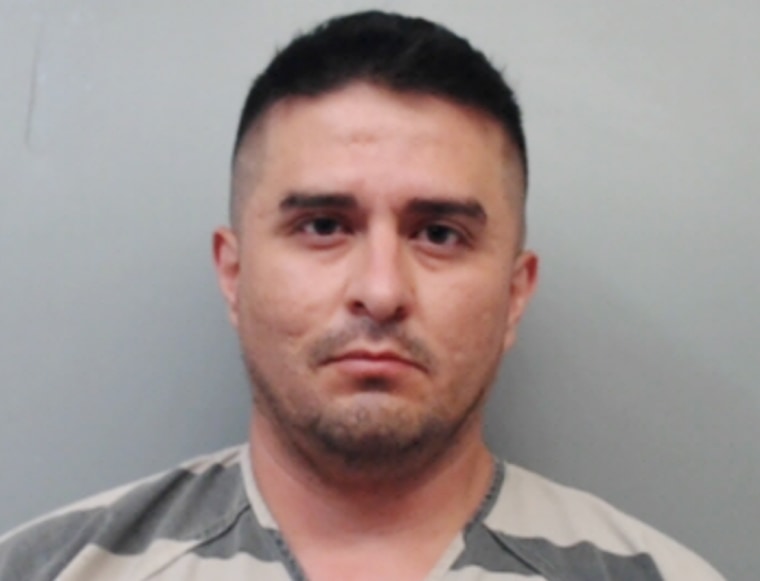 In describing why the indictment was for just one capital murder charge instead of four murder charges, Alaniz said a person "commits capital murder if the person intentionally or knowingly causes the death of more than one individual during different criminal transactions but pursuant to the same scheme or course of conduct."
"The scheme in this case from Ortiz's own words was to clean up the streets of Laredo by targeting this community of individuals who he perceived to be disposable, that no one would miss and that he did not give value to," he said.
Alaniz said the victims all had issues with drug use or were involved with sex work.
Ortiz is accused of picking up his victims in his truck on or near San Bernardo Avenue before shooting and killing them over the span of two weeks in September.
Alaniz said prosecutors were seeking the death penalty because of the "horrific nature of the murders, his complete disregard for human life, his vigilante mentality."
"He violated his oath to his country and to his agency," he said.
"Ortiz preyed on the weak, the sick, the vulnerable," he added. "San Bernardo was his hunting ground."
Ortiz, who had been with Border Patrol for 10 years and is a Navy veteran, was arrested after a woman he allegedly tried to kidnap escaped from his pickup truck and sought help from police in September.
The woman's story prompted an investigation that led authorities to believe Ortiz was responsible for four killings within the span of about two weeks.
Prosecutors say Ortiz has confessed to the killings.
The victims have been identified by authorities as Melissa Ramirez, 29, who police say was killed on Sept. 3; Claudine Ann Luera, 42, who police say was killed on Sept. 6; Guiselda Alicia Hernandez, 35; and Janelle Ortiz, 28, a transgender woman whose birth name was Humberto Ortiz. Police say they believe the last two victims were killed around Sept. 14.
Hernandez was shot twice in the neck but died from blunt force trauma to the head, Alaniz said Wednesday. The other three victims were killed by a gunshot to head.
Alaniz said that at least two or possibly three of the victims "knew" Ortiz or had "seen him before," but he would not elaborate on the nature of their relationships.
"The investigation continues but I can say that at least two of these people knew him by the name of David," he said.
Authorities said in September that Ortiz had an arsenal of weapons at this home and that he may have wanted to die in a confrontation with police.
"He had numerous, numerous weapons — he was loading up all these weapons thinking that DPS was going to confront him and he was looking at a confrontation. Thank God that didn't happen," Webb County Sheriff's Chief Deputy Federico Garza said, referring to Texas' law enforcement agency, the Department of Public Safety, at a news conference on Sept. 17.
Ortiz was spotted at a gas station by state troopers and confronted before fleeing to a nearby hotel and hiding under a pickup truck in the parking lot, Garza said.
"He was going to try to commit suicide by cop. He tried to use his phone to make it look like it was a weapon," Garza said. "It didn't happen. He was arrested without incident."
An official with Customs and Border Protection told NBC News on Wednesday that "Mr. Ortiz has been suspended without pay since his arrest, CBP will continue to support other law enforcement agencies conducting the investigation related to this case."