The bosses of National Security Agency director Admiral Mike Rogers, who has been floated as a potential pick for national intelligence director under the Trump administration, asked the Obama administration to fire him just last month.
U.S. officials with knowledge of the situation told NBC News that the heads of the Pentagon and the nation's intelligence community want Rogers out over perceived failures fighting ISIS and lax security keeping.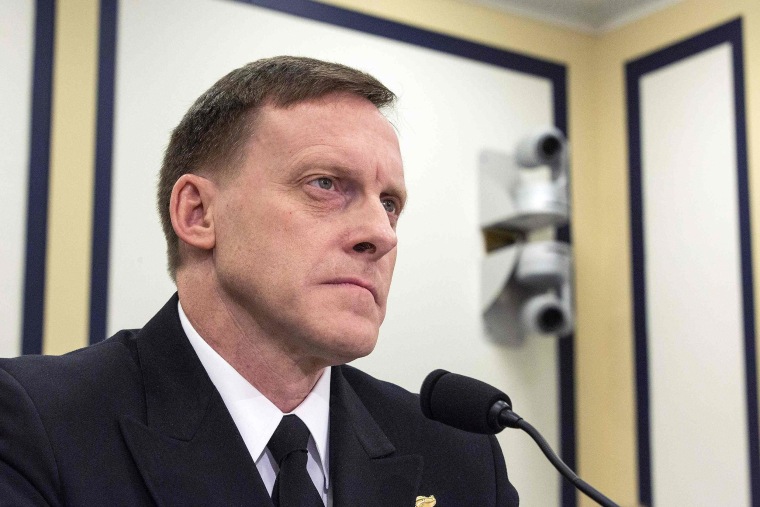 Those agency officials declined to comment on the recommendation, which was first reported by The Washington Post on Saturday.
Rogers' bosses — Defense Secretary Ash Carter and Director of National Intelligence James Clapper — advised the White House that he be removed last month, before it was reported that Rogers was meeting with President-elect Donald Trump on Thursday in New York City.
Related: Romney May Be in, Gingrich Out of Trump Cabinet
Rogers is also the head of U.S. Cyber Command. Those close to the situation say Carter has long been unhappy with Cyber Command's secret hacking operations against ISIS, which he views as less aggressive and effective than they should be. Carter warned Rogers last year that he wanted to see more cyber operations against the terror group in Iraq and Syria, officials said.
Another official confirmed The Post's account that Clapper was unhappy about sloppy security discovered during the investigation of Hal Martin, the NSA contractor charged with removing a huge amount of classified information from the NSA, some of it after the Edward Snowden affair.
Devin Nunes, chairman of the House Permanent Select Committee on Intelligence, asked for further explanation of the reports in a letter to Carter and Clapper Saturday. He said he will convene a hearing at the earliest opportunity.
"Since Admiral Rogers was appointed as NSA Director in April 2014, I have been consistently impressed with his leadership and accomplishments," Nunes said in the letter, adding "I know other members of Congress hold him in similarly high esteem."
Current and former intelligence officials have previously told NBC News that Rogers is extremely unpopular among the NSA workforce because of a re-organization he has implemented, and also because he is frequently away from the office. Morale at the spy agency, which was crushed by the Snowden leaks, slipped further over the last year, say people familiar with the situation.
The NSA director took personal leave and traveled to Manhattan on Thursday, where he met with Trump at Trump Tower. Afterward, The Wall Street Journal reported that he was a leading candidate to be the next director of national intelligence.
Related: Top Officials Want to Split Cyber Command From NSA
NBC News has reported that Carter and Clapper are in favor of a plan to split NSA from Cyber Command. It's unclear whether the Obama administration will seek to carry out that split in the time it has remaining.
While the CIA gets more attention, the majority of intelligence that goes to the president each day, officials have long said, comes from NSA eavesdropping and hacking around the world.