A survivor of the Boston Marathon who lost a leg in the bombing said she'd finally overcome her fear of the surviving alleged attacker on Tuesday while sitting across from him at the first day of his trial, noting it "was somehow the crazy kind of step forward that I needed all along."
Rebekah Gregory was with her son, Noah, and then-boyfriend, Pete DiMartino, at the finish line of the iconic marathon on April 15, 2013, when Dzhokhar Tsarnaev and his older brother allegedly set off two bombs, killing three people and wounding more than 260 others.
Gregory, 27, of Richmond, Texas, underwent 17 surgeries aimed at salvaging her left leg, which was severely damaged in the attack. But she decided to have it amputated last November after the pain became too much and doctors said she wouldn't likely re-gain the ability to walk as she once had.
In a letter posted to her public Facebook page, Gregory wrote a letter to Tsarnaev: "I have seen your face not only in pictures, but in almost every one of my nightmares. … Because you have undoubtedly been my source of fear since April 15th, 2013."
Gregory said her palms were sweaty before she entered the Boston courtroom and noted she cried while testifying. The trial's long opening day included an admission by Tsarnaev's defense lawyer that "it was him" in surveillance videos dropping a bomb-laden backpack on crowded Boylston Street; Tsarnaev faces the death penalty if convicted.
"Today ... I looked at you right in the face....and realized I wasn't afraid anymore. And today I realized that sitting across from you was somehow the crazy kind of step forward that I needed all along," she wrote. "And if your eyes would've met mine for just one second, you would've also seen that what you 'blew up' really did blow up. Because now you have given me (and the other survivors) a tremendous platform to help others, and essentially do our parts in changing the world for the better."
Gregory, who worked in corporate housing before the bombing, is now doing motivational speaking about surviving and recovering from a life-threatening attack.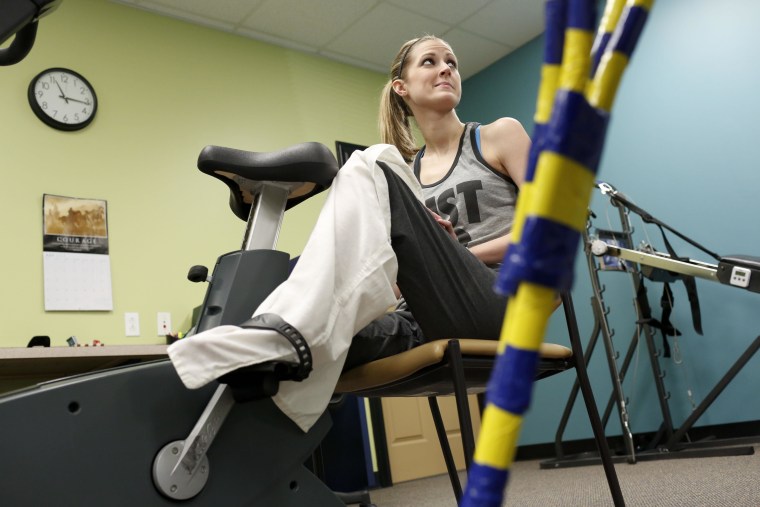 IN-DEPTH
SOCIAL