Prominent South Carolina attorney Alex Murdaugh coldly killed his wife and youngest son at close range with a shotgun and an AR-style rifle, prosecutors alleged Wednesday in their opening statements at his murder trial.
Creighton Waters, the state's lead prosecutor in the case, highlighted that neither Murdaugh's wife, Margaret, 52, nor the couple's youngest son, Paul, 22, had any defensive wounds — "as if they didn't see a threat coming from their attacker."
Paul Murdaugh was shot with buckshot from a 12-gauge shotgun in the chest, shoulder and finally the head, which did "devastating damage," Waters said. Margaret Murdaugh was shot with the rifle in the abdomen and leg before being shot in the head.
The details of the injuries are horrific, Waters said, and their description will be tough to hear.
"It's going to be gruesome," he told the jury.
It did grow gruesome as Murdaugh's lawyer, Dick Harpootlian, in his opening arguments detailed the grisly state of Paul and Margaret's bodies after they were shot. Alex Murdaugh sobbed as Harpootlian described how the family scion, who he said enjoyed a loving relationship with his wife and son, discovered Paul "laying in his own blood with his brain lying at his feet."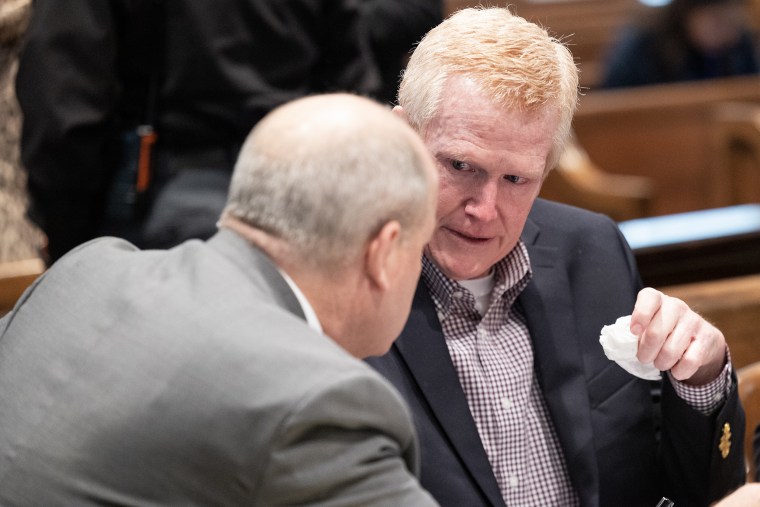 "I want you to hear that 911 tape, a man hysterical and in grief," said Harpootlian, who insisted there were numerous holes in the prosecution's case, built on the attorney general's "theories, his conjectures."
Harpootlian said that police and prosecutors concluded at the scene that Murdaugh was guilty "without forensics, without cellphones — without any of that," adding that they had tried to fit "a square peg in a round hole" to build their case.
"He didn't do it, and you need to put any thought that he did from your mind," he told the jurors, noting that Murdaugh did not have any blood on his shirt or pants despite tests by the prosecution.
Waters, who spent about 30 minutes laying out a detailed timeline of the crimes, maintained that prosecutors had built a case on a large amount of forensic evidence. That evidence includes cellphone data that Waters claimed would show Murdaugh was at the scene of the crime just minutes before his family members' cellphones would "go silent forever."
The state's case would also include a video that Paul Murdaugh sent to a friend just before the shooting, which picked up his and his parents' voices, despite the fact that Murdaugh "told anyone who would listen he wasn't there."
Police also found a "wadded up" raincoat that was "coated with gunshot residue" inside Alex Murdaugh's parents' home, Waters said.
Murdaugh stands accused of murdering his wife and son in June 2021. Both were found shot to death on the property of the family's rural home, about 65 miles west of Charleston, after Murdaugh called 911.
The longtime personal injury lawyer has maintained his innocence and pleaded not guilty to two counts of murder and two counts of possession of a weapon.
After just two and a half days of jury selection at the courthouse in Walterboro, South Carolina, lawyers on both sides whittled down the number of jurors from hundreds to 12 — six white women, two Black women and four white men. The six alternates include two Black women, three white men and one black man.
Members of Murdaugh's family, including his older son, Buster, 26, and his brothers John Marvin and Randy Murdaugh were all present for the opening statements on Wednesday. They sat behind Murdaugh and entered shortly before lawyers gave their remarks, and he thanked them for coming after the opening statements concluded.
Murdaugh used a suit jacket Wednesday to cover his handcuffs.
The patriarch of a South Carolina legal family is also facing another case that includes numerous alleged fraud schemes, which prosecutors claimed he pursued to keep financially afloat.
South Carolina prosecutors alleged at a December hearing that Murdaugh killed his wife and son to try to cover up a decade of financial crimes in a desperate attempt to "escape the accountability." He faces more than 80 financially related charges of stealing approximately $8.5 million from more than a dozen victims.
Murdaugh's cash troubles allegedly began in 2007 and 2008, when land deals he was involved in went belly up.
His troubles grew worse when his son Paul was involved in a deadly boat crash in 2019, which led to the death of 19-year-old Mallory Beach. Her family filed a wrongful death lawsuit against the family.
Issues appeared to have spiraled further when Murdaugh was arrested last year in connection with millions of dollars that were missing from a settlement involving the death of the family's housekeeper.
Due to technical problems playing body camera footage from the first responders to arrive at the scene, both sides agreed to wait until Thursday morning to proceed with the case.