A 12-year-old suspect was arrested Friday in connection with an alleged plot to kill Louisiana police officers after the fatal shooting of black man Alton Sterling by cops.
The boy, who has not been identified because he is a juvenile, is being held on charges of simple burglary and theft of a firearm in connection with a pawn shop robbery last Saturday in which eight handguns and a BB rifle were stolen, Baton Rouge police said.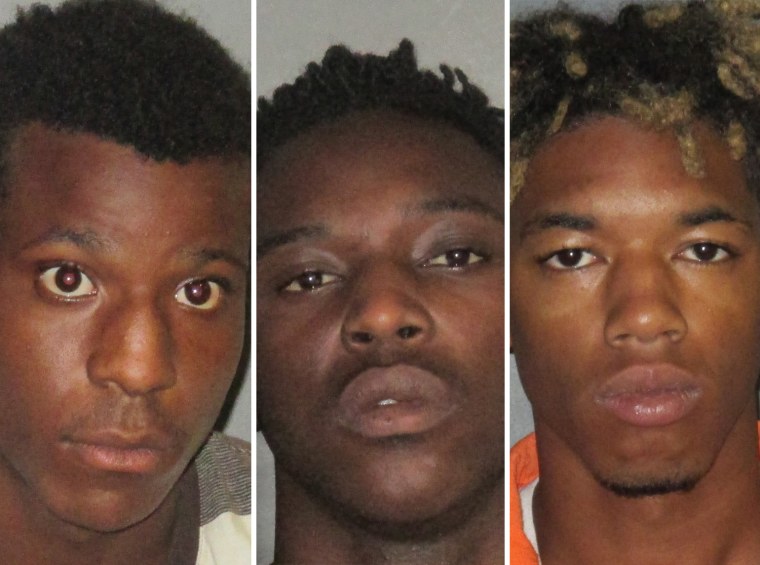 Antonio Thomas, 17, and Malik Bridgewater, 20, were arrested last week in connection with the robbery. A 13-year-old male was also arrested and charged with simple burglary and theft of firearm.
A fourth man, 23-year-old Trashone Coats, was charged with possessing one of the stolen guns but not in the burglary.
Police said at the time that Thomas was arrested from the roof of the pawn shop with a handgun and a BB rifle. He "stated that he and three other suspects stole the firearms and were going to get bullets to shoot police," according to police.
Police said Monday that a fifth suspect was also on the loose and was thought to have two of the stolen handguns.
Those weapons weren't recovered when that suspect, the 12-year-old, was caught, Baton Rouge police spokesman Sgt. Don Coppola Jr. told NBC News.
East Baton Rouge Sheriff Sid J. Gautreaux III said Tuesday that the alleged plot, which he called a "very real" and "viable" threat, was the reason that officers were being tough on demonstrators protesting the police shooting of Sterling, 37. Nearly 150 protesters were arrested last weekend.
Two police officers, both of them white, are on administrative leave pending an investigation into the July 5 shooting. The U.S. Justice Department has opened a separate investigation of possible civil rights violations.