An 11-year-old boy who was handcuffed to a porch with a dead chicken draped around his neck was found by a deputy searching for a loose pig, authorities said Saturday.
A Union County sheriff's deputy had responded to a complaint of swine roaming a resident's yard in Monroe, N.C., when the deputy saw the boy handcuffed and shivering. The child was discovered around 9:30 a.m. local time in frigid temperatures, Capt. Ronnie Whitaker told NBC News.
Dorian Lee Harper, the boy's foster parent, emerged and asked the deputy why he was there, Whitaker said. The deputy asked the 57-year-old man for identification. Another child opened the door, releasing several dogs that chased the deputy back to his cruiser, Whitaker said.
By the time back-up units arrived and the dogs were secured, the man had removed the 11-year-old boy from the porch, but left the dead chicken on a nearby barrel, Whitaker said.
Deputies searched the house and found five children, ages 14, 13, 11, 9 and 8. The children were taken from the home and the man was placed under arrest.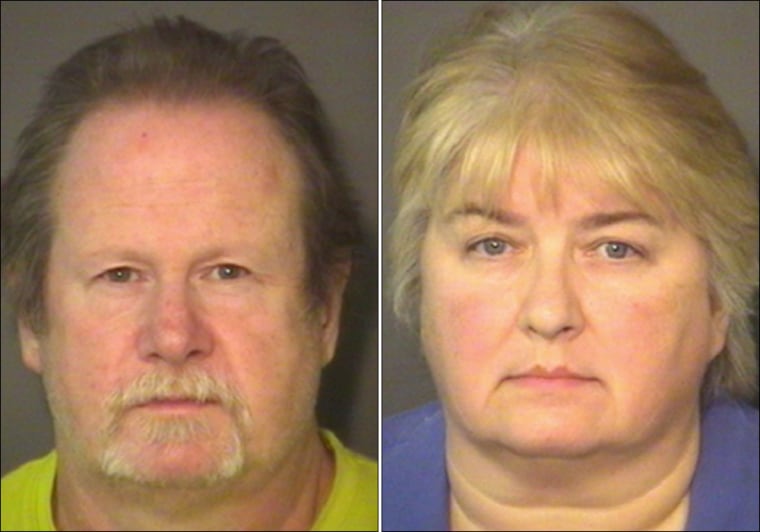 A second foster parent, Wanda Sue Larson, 57, was not home at the time of the incident, but was arrested when she arrived later at the sheriff's office. 
Both are charged with intentional child abuse, inflicting serious injury, false imprisonment and cruelty to animals, according to a police report.
Larson is a supervisor with the Union County Department of Social Services, and Harper is an emergency room nurse.
Larson is accused of being complicit in mistreatment of the children. She also was charged with willful failure to discharge her duty as a public official.
Carolina's Healthcare System confirmed Saturday that Harper has been placed on administrative leave, NBC station WCNC of Charlotte reported.
Whitaker said that because of the investigation he could not disclose whether Harper could explain why the boy was handcuffed to the porch and a dead chicken was hanging on his neck.
Harper and Larson adopted four of the children. The pair had been fostering the fifth, the child handcuffed to the porch, WCNC reported.
Sheriff Eddie Cathey called the case "shocking."
"I can assure you that we have only just begun our investigation into what has happened, and we will pursue it to its fullest extent," he told WCNC.
Harper and Larson were being held in the Union County Jail. Harper's bail was set to $500,000, and Larson's was set at $525,000. The five children are with an undisclosed social services agency outside of the county.