Leaders of the Boy Scouts of America will take the first tentative steps Thursday toward considering whether to add more opportunities for girls in an organization that has been primarily for boys since it was founded 107 years ago, according to scouting officials.
The subject will be discussed at a meeting of chapter representatives and other leaders at the organization's headquarters in Irving, Texas, the officials said.
"It's a meeting on how to meet the needs of today's families, which include dual earners and single-parent households," said Effie Delimarkos, spokeswoman for the Boy Scouts of America.
An official described the meeting as a chance to hear from the scouting community about whether to move ahead on creating more places for girls to participate.
Girls are currently part of four scouting programs already: Venturing and Sea Scouting, which is oriented toward outdoor activities; Exploring, a career-oriented mentoring program; and STEM, which focuses on science and math.
Related: Boy Scouts of America Votes to Allow Gay Scout Leaders
"A single parent with a boy and a girl wants to be able to take them to the same place at the same time for scouting activities," said one local Scout leader. "That's what they mean by meeting the needs of families."
At Thursday's meeting, scouting leaders will discuss whether to open up more programs to girls and even whether to create some girls-only programs within the Boy Scouts, according to one scouting official. Some local scouting leaders said they thought admitting girls to most other scouting programs might also be discussed, including whether to allow girls to earn the highest rank of Eagle Scout.
A scouting official, however, said that Thursday's meeting is not intended to consider making the entire program coeducational.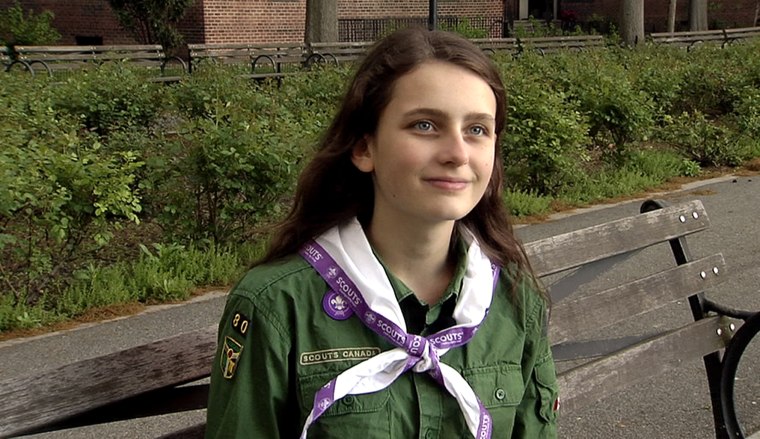 Earlier this year, the National Organization for Women urged the Boy Scouts to admit girls into the entire program, supporting the efforts of a New York teenager, Sydney Ireland, to attain the rank of Eagle Scout, as her older brother did.
"High-level scouting creates opportunity, and with opportunity comes a chance at success in the global community," she wrote in a Change.org petition started last August. "Unfortunately for me and half the country's population, we are excluded from most of these amazing opportunities for no reason other than that we are female."
In England, where the scouting movement has its roots, girls have been allowed in all age groups since 2007 — and Sydney is a member of Canada's Venture Scouts program, which went co-ed in 1998.
The subject of admitting girls to the BSA has been a hot topic on social media and websites devoted to scouting.
"BSA has been awesome for my son. It would be awesome for my daughter, too," said one parent.
But another said, "Co-ed does cut out the very heart of the program ... which is to help BOYS become better MEN."
After decades of refusing to adjust its membership rules, change has been in the air for the Boy Scouts. The current president of the organization, AT&T CEO Randall Stephenson, told its annual meeting last year that it must adapt in order to grow.
"We have one purpose — develop leaders by teaching them the scout law. That's the end game. And I believe very strongly that we're going to have to change if we're going to succeed in that purpose," he said, in a 12-minute address that offered no specifics about how scouting should change.
A request to AT&T for comment from Stephenson for this story was referred to Boy Scout headquarters.
A spokesman for the Girl Scouts of the USA said it could not speculate on the decisions of another organization but said their single-gender environment for girls offers unique benefits.
"Research supports our premise that many girls learn best in an all-girl, girl-led, and girl-friendly environment where their specific interests and needs are met," said Andrea Bastiani Archibald, a psychologist who helps guide the Girl Scouts.
"We are unparalleled in our ability to build great female leaders who contribute to society at every level," she said.
Meanwhile, the past five years have brought several high profile changes to the Boy Scouts after intense debate inside the organization. Local troops were permitted to admit gay children and gay scoutmasters. And earlier this year BSA began accepting applicants based on their gender identity, allowing transgender boys to join.