The Boy Scouts of America will limit the maximum age of youth in its programs to 18 years old in 2015, down from 21, the organization told NBC News late Tuesday.
The move means those young men from 18 to 20 years old currently participating as youth members in Scouting will have to meet adult membership standards, likely by next spring, BSA spokesman Deron Smith said in an email. Those standards include barring "open or avowed" gay adults from joining and have been at the center of a controversy that has roiled one of America's most popular youth organizations for years.
The BSA's National Executive Board in February made the decision in a resolution lowering the eligibility age in such programs as the high-adventure co-ed Venturing program, Sea Scouts and the Order of the Arrow, the Boy Scouts' National Honor Society, Smith said. Some 220,000 youth – or 8 percent of the Boy Scouts youth membership - participated in Venturing in 2012, according to BSA data.
The BSA's signature program, Boy Scouts, already has its youth age limit set at 18. After last year's controversial ballot to allow gay youth, gay Boy Scouts believed they could continue on from that program at 18 to Venturing or the Sea Scouts program and remain a member in the organization.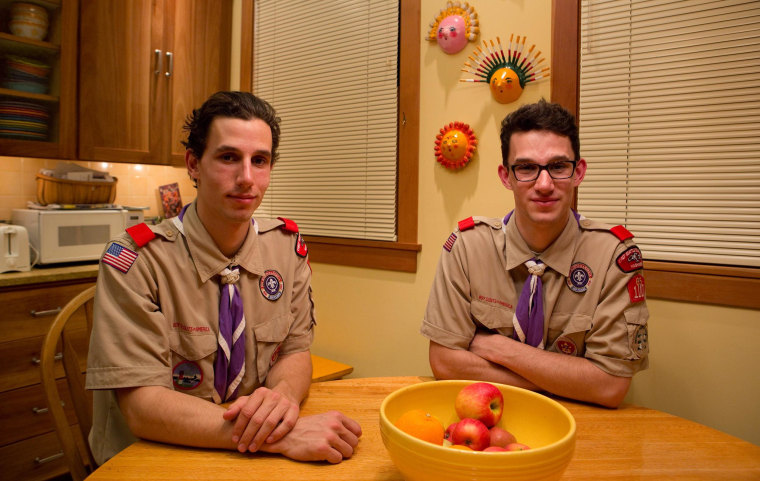 "The BSA is currently considering how to establish consistency in the age requirements for registration across its various programs including Boy Scouts, Sea Scouts, Venturing and Order of the Arrow," Smith said from Nashville, where the organization opens its annual meeting on Wednesday.
Smith noted this change would not be discussed at the meeting nor would any action be taken on it.
Implementation of the new age requirement will likely occur in spring 2015, he added. After that "young people who are 18 but not yet 21, will be required to register as adults but may still participate in those programs," he said.
The Boy Scouts have grappled with their policy banning gays for years. In a live webcast just before the ballot to allow gay youth was held last May, BSA leaders said gay teens could still participate in the programs that define older boys as up to, but not yet, 21.
And then, the National Council voted to accept the new youth membership standards which said participation was "open to all youth who meet the specific membership requirements to join the Cub Scout, Boy Scout, Varsity Scout, Sea Scout, and Venturing programs. … No youth may be denied membership in the Boy Scouts of America on the basis of sexual orientation or preference alone."
Smith, the BSA spokesman, said the need to streamline the age requirements across programs came "well before" the 2013 ballot. "Obviously, the membership policy change last year highlighted the need for consistency, but it wasn't the only, or even first, factor," he said.
The resolution -- obtained early Tuesday by NBC from a well-placed Scouting source -- to change the age requirement was not made public after it was approved by the executive board in February.
That resolution stipulates: "That effective as soon as can be practically implemented in the judgment of the Chief Scout Executive (BSA's top professional leader), that any person age 18 or older seeking to register as a member of the Boy Scouts of America or any program offered or sponsored by the Boy Scouts of America shall be subject to the BSA adult membership requirements pertaining to, youth protection, criminal background checks and membership standards."
Liam Easton-Calabria, an 18-year-old openly gay Eagle Scout in Venturing said the decision was "like a slap in the face."
"That just makes me really mad because they offered us a glimpse of hope as to them being an inclusive organization when they let us in, the young ones," he said by phone from Seattle. "It's a letdown, for sure. I just expected more from them I guess. I thought they were moving in the right direction. But this seems like they're rolling backwards."
Zach Wahls, co-founder of Scouts for Equality, which advocates for inclusion of gays in Scouting, said his group was "deeply disappointed in this decision and fear for the gay youth who thought they were safe and will now be removed from Scouting under this new, ill-advised rule."
"In changing the definition of what constitutes an 'adult' in Scouting programs, the Boy Scouts of America has broken the very first tenet of the Scout Law, that a Scout should be trustworthy," he said in a statement.