PHOENIX -- Garrett Bryant said he did everything he could to keep his sexual orientation from the Boy Scouts, the organization he first joined as a third-grade Bear Cub, rising through the ranks to earn the coveted Eagle award.
Under Scouting policy, gay youth are welcome, but gay adults are not. As a 19-year-old college freshman, Bryant knew that his chance to work again at a Boy Scout camp this summer — and hold any other future leadership position — depended on how well he hid his status as a gay man from his friends and colleagues in Scouting.
But with one Facebook post, Bryant was out — out as a gay adult in Scouting and, according to three sources in local Scouting, out of that summer job.
He thought the post was vague enough: In a moment of exuberance last month over meeting his first boyfriend, Bryant changed his Facebook status to "in a relationship," adding no comment or details. But the status change prompted revealing, congratulatory comments from non-Scouting friends who knew his sexual orientation, such as "Oh, good for you, man, what's his name?'"
Bryant panicked and said he deleted the comments that had been posted overnight while he slept. But he feared the damage had been done. He was Facebook friends with people in Scouting, and none of them knew he was gay.
The Scouting sources say Bryant was in line to be hired for the second summer in a row at the BSA's Camp Geronimo, about 90 miles northeast of Phoenix. But one week after the Facebook post, Bryant said he was told by a camp leader that he wouldn't be extended a job offer this year because of the social media posts suggesting he engaged in "homosexuality."
"I viewed my sexuality as something I was going to keep private. It was my private life. I wasn't going to share it with the BSA," Bryant said, noting he did that because he loved Scouting and didn't want to leave the program. "They made an issue of my sexuality. I was perfectly content with staying in the closet with the Scouts."
For Bryant, who started attending the summer camp as an 11-year-old Boy Scout, being dropped has been hard. "It's like you're a part of a family and you're being disowned from it," he said.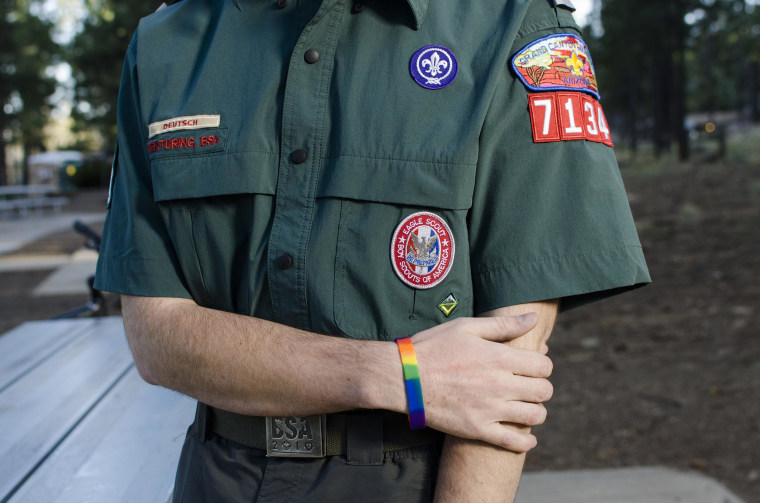 The Boy Scouts national organization and the local Grand Canyon Council declined to respond to several questions posed by NBC News, saying they could not comment since the matter was "related to an employment issue."
"They made an issue of my sexuality. I was perfectly content with staying in the closet with the Scouts."
In a statement, the national organization said the local council had determined that Bryant, who had worked on the camp's rifle range last year in the same level of job he would have had this summer, "did not meet requirements for employment." Officials did not respond to NBC's request for elaboration on those requirements.
The council's top professional official, Larry Abbott, told NBC News by phone that no letter of employment was issued to Bryant this year, "so everything else is conjecture on this."
He declined comment several times on the matter, saying an employer couldn't speak to the media on employee issues. When asked if Facebook was a factor in the hiring process, Abbott said, "I'm not going to get into the employment practices. That's not appropriate for us to do."
"The way we look at it, we want to be a safe haven for kids and that's where we're at," he continued. "And we don't want sex of any type in camp, either heterosexual or homosexual or anything."
The Scouting sources told NBC they didn't know Bryant was gay until the Facebook fallout. When asked how Bryant could lose the potential job when he wasn't public in Scouting about his sexual orientation, Abbott said: "Going to the media sounds like he did that kind of deal."
Bryant's case exposes potential complications with the BSA's implementation of its controversial membership policy. Last May, the organization's National Council voted to soften its guidelines – which had banned gay youth and adults – and allow gay teens as of Jan. 1, 2014.
Some observers viewed the policy shift as BSA's attempt to find middle ground, but many opponents and supporters of the change were left dissatisfied.
The new policy also put gay youth like Bryant in a bind. He can continue to participate as a member in one of Scouting's programs – Venturing, a high-adventure, coed group that defines youth as 14 to 21 years old. But at age 18 he would be considered an adult in BSA's other programs, like Boy Scouts. That means adult volunteers and workers must meet the adult membership standards, which prohibit "open or avowed" homosexuals from participating.
Ed Henderson, who has more than 25 years' experience on BSA summer camp staffs and is webmaster for Scoutcamp.org, said some youth coming out as gay at or before 18 now "are going to find the welcome mat rolled up for them being on camp staff." The teens were likely to have a social media trail that could reveal their sexual orientation, he said.
"How will they (BSA) even know these people are gay unless they start digging into people's Facebook posts? It's going to create a witch hunt," said Henderson, who is gay.
Bryant's story comes one month after the Boy Scouts revoked the membership of a gay man serving as a troop Scoutmaster in Seattle. But there were some key differences: The troop leader, Geoff McGrath, said he was open about his sexual orientation in Scouting, while Bryant said he was not. Also, McGrath's position was unpaid, while Bryant would have received about $1,500 for the ten-week job he planned to apply toward his college tuition.
In the BSA's dismissal of McGrath, spokesman Deron Smith told NBC the organization's policy was not to ask people about their sexual orientation and that it didn't become "an issue until they deliberately inject it into Scouting in an inappropriate fashion."
Smith reiterated that position last Thursday, noting the group doesn't "proactively" inquire about the sexual orientation of anyone in Scouting.
"We don't want sex of any type in camp, either heterosexual or homosexual or anything."
But Bryant questioned those statements.
"I'd like to know how I was injecting it (being gay) into the Scouting program and how they were respecting my privacy," he said.
Brad Hankins of Scouts for Equality, which pushes for inclusion of gay adults in the Boy Scouts, said a heterosexual Scout could go about their personal lives "without worry of anyone finding out about their girlfriend" while gay Scouts still can't really be out in this new era.
"Under the BSA's new policy a gay Scout must be constantly aware and careful to not out themselves or they risk being kicked out when they turn 18," he said in a statement. Despite trying to hide being gay, "he (Garrett) was still denied a leadership position because he was outed by a third party. For all the years of leadership training he went through, it's a shame his talents aren't being put to use by the organization that instilled those values in him."
The sources in Scouting told NBC that after Bryant's Facebook relationship update, a camp leader said the teen couldn't work there because his sexual orientation was known to higher ups in the BSA council.
Meanwhile, Bryant's mother said her son would call her daily from school in Flagstaff to ask if he'd received his letter of employment from the camp. Since he'd been told he would likely have a job there, Bryant was instructed by camp staff to call a Geronimo official who gave him the news (that official declined to comment).
"I broke down, and I was crying for a good two hours," Bryant said. But then he got mad over being "told that I am inferior, I am not fit to be a leader, I am not fit to be involved in this program because a few people don't feel comfortable with who I am."
His mother was also incensed. A former troop treasurer, she has attended Camp Geronimo with her son almost every summer since 2006. She has a few shelves in her office dedicated to photos, plaques and awards from their time in Scouting.
"You've never seen a prouder mother," she said. "When he made Eagle, there are no words for how wonderful that felt. And I take it very personally that BSA now is telling me that my son is not worthy to lead."
Holding a photo of her with her son at his first Cub Scouts annual banquet, she became misty-eyed. "It took him years to come out to me even though he knew I was a safe haven," she said in an interview at a Phoenix diner.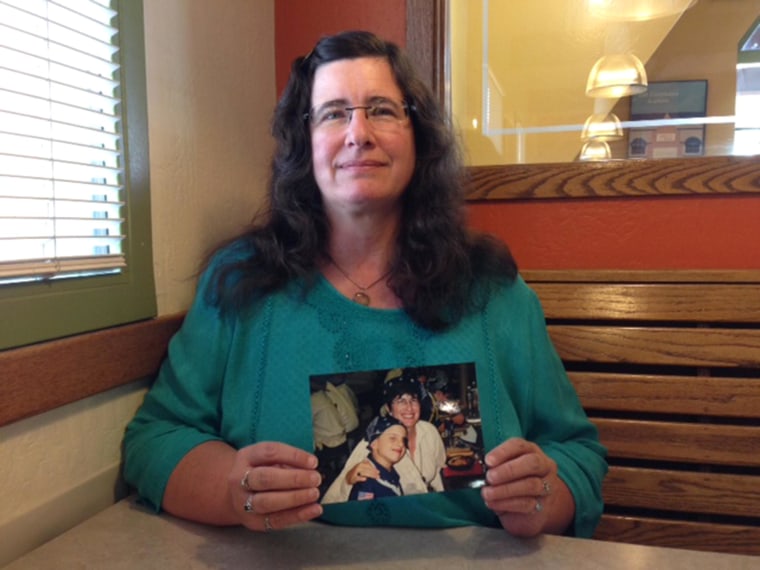 Bryant, who told his mom and some friends last fall that he was gay, said he rejected his sexual orientation for years. "I was denying it and not just to everyone around me, but primarily myself," he said. "I hated myself for it."
But once he came out, "he was so happy," his mother said.
"He felt like he could be himself, finally. But he still felt like he had to hide it from the Scouts, because he still wanted to be able to work at camp," she added. "He loves it."
This summer, Bryant may miss hiking along Camp Geronimo's famed Mogollon Rim – a long, sloping cliff of volcanic and sedimentary rock - as well as seeing his old friends from Scouting, who he said were like family.
But he has set his sights on a new challenge: opening Scouting to gay adults. Bryant and his mom have started a branch of Scouts for Equality.
"I was fully willing to keep my sexuality hidden from the BSA to stay involved," Bryant said. "They wanted to make this an issue. Now, because of that, I will continue to make it an issue."
Are you a gay youth in Scouting? Have you come out to your troop since the change in membership policy on Jan. 1? If you want to share your story or have a general comment about the article? Email the reporter at miranda.leitsinger@nbcuni.com