The boy who broke America's heart after an Ohio town posted a photo of him in the back of an SUV — while his grandmother and her friend sat passed out from apparent heroin overdoses in the front seats — has found a new home.
The 4-year-old is going to live with his great-aunt and great-uncle in South Carolina, Columbiana County Court Administrator Dane Walton confirmed Tuesday.
Meanwhile, his grandmother, 50-year-old Rhonda Pasek, is in jail awaiting trial on charges of endangering a child and public intoxication, Walton said.
Pasek was granted custody of the boy just six weeks before she and 47-year-old James Lee Acord were arrested last Wednesday by police in East Liverpool, Ohio — and the city decided to make an example of them by posting the now-infamous photo of the couple with the 4-year-old online to graphically illustrate the dangers of "the poison known as heroin."
"The city of East Liverpool humiliated my family and humiliated that little boy," Pasek's sister, who asked not to be identified, told NBC News.
"They could have blurred his face and they didn't. And now they're taking him away from my sister. I'm not condoning what Rhonda done, but what they did to her and what they're doing to her grandson is too much," she said.
Brian Allen, the city's director of public services and safety, made no apology for putting the photo on the city's Facebook page. He said heroin abuse is an Ohio and a national problem and the public needs to see the damage this drug does to abusers and to their families.
"As a public official I can't blur public records and this photo is a public record," he told NBC News. "It's all or nothing for us. We're a government agency posting it. It's not like we can willy-nilly do what we want."
Related: City Posts Shocking Photo to Show Effects of 'Poison Known as Heroin'
Asked what kind of feedback they've gotten for their controversial decision to post the photo online, Allen said, "I'd say ninety percent positive, ten percent negative."
NBC News has not identified the boy and has blurred his image in the photo provided by the city of East Liverpool.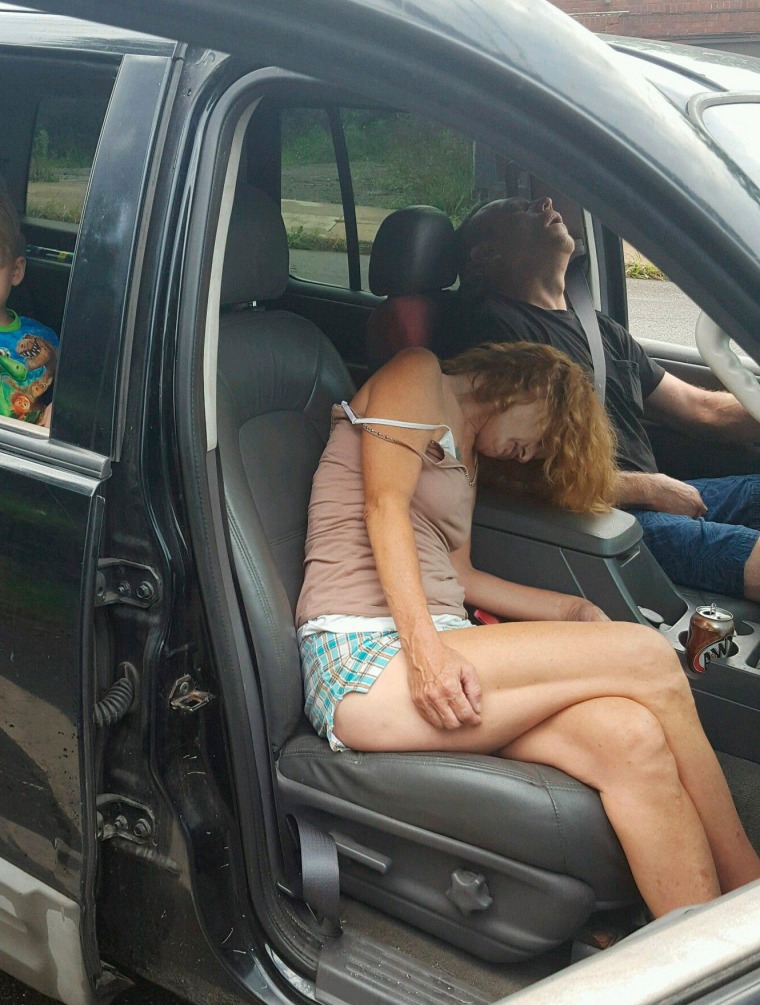 Brian Macala, an attorney who represents the 4-year-old's maternal great-grandparents, told NBC News the boy is now with his great aunt and uncle, Lori and Terry Lane, who live in Myrtle Beach, S.C.
Pasek's sister, who lives in Delaware, told NBC News she has custody of the 4-year-old's brother, who is 3. She said the reason she and Pasek were raising the boys is because Pasek's troubled son and his girlfriend couldn't manage.
"It's the old story," she said. "No education. No jobs. My sister has fought for two years straight to get this child."
During the custody battle with the Lanes, Pasek's struggles with alcohol and brushes with the law — a 2008 conviction for public intoxication, a 2007 conviction for resisting arrest and disorderly conduct — were brought up in court, Walton and Pasek's sister both said.
"But I didn't know anything about heroin," Pasek's sister said. "I met Acord and he seemed alright. I talked to Rhonda by phone the day she got arrested and she seemed fine."
Related: Overdose Deaths Overwhelm Coroners
In an interview with The Review, the local newspaper in East Liverpool, the judge who awarded custody of the boy to Pasek on July 25 said "there was never any indication she was involved in drugs." He noted that Pasek has been a constant presence in the boy's life
"Had I known (Pasek) was unreliable, I certainly wouldn't have given her the child," Juvenile/Probate Court Judge Thomas Baronzzi told The Review.
Pasek was arrested after an East Liverpool police officer spotted the SUV driving erratically and went to investigate. The couple passed out while the officer was questioning them and they were given drugs to prevent them from overdosing before they were rushed to a hospital.
The case is being treated as a "suspected heroin overdose" while police await the results of an analysis of a substance recovered from the SUV.
Related: Opioids 101: The Deadly Epidemic
"Here in Ohio, it takes 60 to 90 days," Allen said of the substance analysis. "But it was definitely an opiate overdose. We know because (Pasek and Acord) were given Narcan, which is what brought them back."
Narcan is an emergency overdose treatment.
Acord has already pleaded no contest to a charge of operating a vehicle while intoxicated and endangering children and is serving 360 days in jail.