Brad Pitt's Make It Right Foundation was sued on Friday by two residents of the Lower Ninth Ward of New Orleans who charged that Pitt's charity sold them "defectively and improperly constructed homes," according to the lawsuit.
The proposed class-action lawsuit, filed in Orleans Parish Civil District Court, accuses Make It Right, formed by Pitt in 2007 to help Lower Ninth Ward residents return home after Hurricane Katrina in 2005, of unfair trade practices, breach of contract and fraud.
According to the complaint, Make It Right had identified a number of issues related to the building materials and the homes' design which required significant repair, but the organization never alerted homeowners. This "fraudulently deprived homeowners of their right to pursue legal actions under Louisiana's New Home Warranty Act," the lawsuit alleges.
A representative for Pitt did not immediately comment. Make It Right did not immediately respond to a request for comment.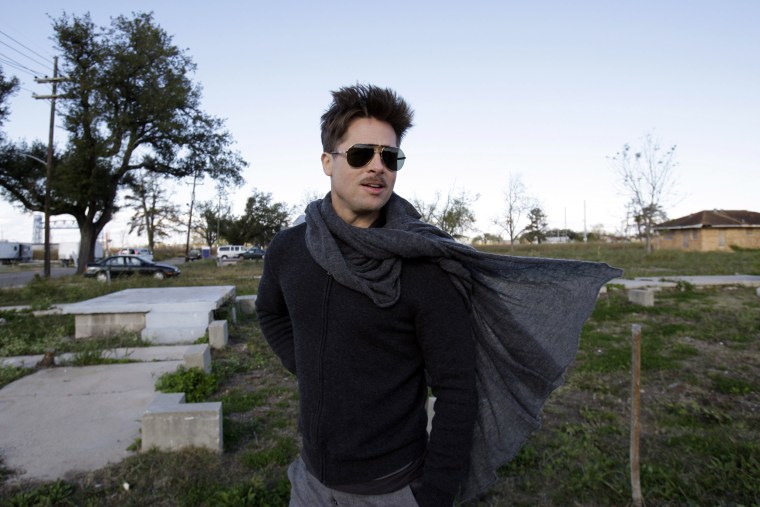 Make It Right's mission was to build 150 well-designed, energy-efficient and affordable homes in the Lower Ninth Ward, the area hardest hit by the storm. As of 2016, the group reported spending $26.8 million building 109 homes, fueling the most visible recovery effort in an area still reeling from the storm.
"While the citizens of the 9th Ward are grateful to Brad Pitt they were forced to file this lawsuit because the Make It Right Foundation built substandard homes, that are deteriorating at a rapid pace while the homeowners are stuck with mortgages on properties that have diminished values," Ron Austin, the attorney representing the Lower Ninth Ward residents, said in a statement to NBC News. "We have filed to make Make It Right make it right."
Make It Right has been the subject of news coverage in New Orleans over the last few months that showed some of the recently built homes in disrepair. One home had to be demolished in June, according to residents and reports.
The lawsuit, filed on behalf of Lloyd Francis and Jennifer Decuir, claims the plaintiffs' homes were "deficiently constructed and built" with "defective products" that caused damage including the growth of mold, air quality problems from improper ventilation, structural problems, electrical problems, plumbing problems and rotten wood.
Between 2016 and 2018, the complaint says, Make It Right arranged for a number of homes in the Lower Ninth Ward to be inspected by engineers, "allegedly brought in specifically to render a report on the state of the Make It Right homes."
Homeowners who requested those reports were told they were not ready or their requests were ignored, according to the complaint. The lawsuit asserts that these engineers discovered many issues in the homes, but Make It Right failed to inform homeowners of the extent of the problems even though they were aware or should have been aware that the time under which their houses were warrantied would soon be up.
The lawsuit includes portions of Make It Right's 2013 tax filings, in which it accounted for $4.3 million in "warranty and repair liabilities."
The lawsuit goes on to allege that Make It Right presented homeowners with nondisclosure agreements and documents binding them to arbitration before agreeing to make repairs. Make It Right failed to explain these documents to the homeowners, according to the complaint, thereby "fraudulently" obtaining signatures "on agreements that would deprive homeowners of important legal rights while the homeowners are under duress." The lawsuit alleges that the nondisclosure forms were required after a spate of negative news coverage.
While homeowners were aware of the problems with their homes as early as 2013, they relied on assurances from Make It Right that the organization would make repairs, the complaint says.
"The homeowners are gravely concerned that their homes, which suffer serious structural problems, will not last as long as their mortgages," the complaint states.