A whistle blows and a young woman in a white robe and a black belt jabs a one-two punch and shouts "Hiyah!" The sound echoes throughout the gym.
"Keep your hands up!" her coach commands from the sideline. Her bare feet bounce back and forth on the hardwood floor. Her right foot in front of the left, she strikes a high kick in the air.
Aprar Hassan, 17, stands strong at 5 feet 2 inches. She's won national championships in karate for two consecutive years. In her bright red hijab, Hassan is also a trailblazer: the first Muslim girl to compete on the Amateur Athletic Union's USA National Karate Team. She most recently competed in the girls 15 to 17 division.
The World Karate Federation (WKF) only approved the use of hijabs in competitions within the last five years — before that, girls could not compete wearing a head covering.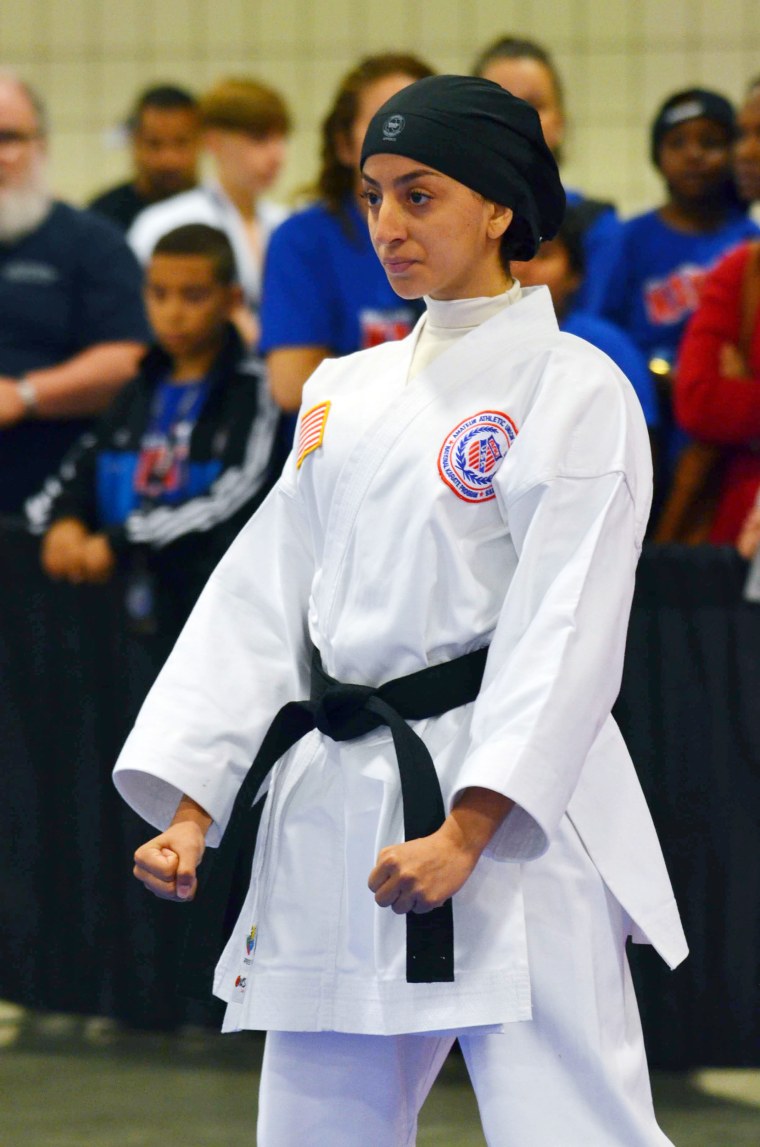 The only girl among three brothers, Hassan grew up in Brooklyn, New York. Her father immigrated in 1996 from Egypt, where he had competed with the Egyptian national karate team. She tried her first karate class at the Muslim American Society (MAS) Youth Center when she was 3. By age 5, she was already competing in the U.S. national championships for karate. Ten years later, in 2017, Hassan won her first national title.
"I was so nervous because I was like, wait what if I don't place, what if I don't do good, what if I mess up?" Hassan told NBC News. Yet as soon as she stepped on the mat, she said, all of her doubts disappeared, and her lifetime of training kicked in.
Karate competitors can score points throughout a round, until someone reaches six points. Hassan won her final championship round 6-5, knocking her opponent to the ground after just two minutes and 30 seconds.
"It's an awesome thing to have a daughter and a student wearing a hijab and being part of the national team," Hassan's father, Yasser Salama, said. Hassan credits her dad with teaching her everything she knows. Salama is a full time karate sensei, or teacher, with his own dojo.
Salama coached all four of his children in karate, sometimes finding it more challenging than teaching others. One might tell him: "Dad, stop right there! You can't make me do 100 pushups," he said. "Sometimes when you push them, they don't look at you as a coach, they look at you as a dad."
Hassan credits her success with hard work despite some critics saying she's only gone this far because of her father's influence. "I say no. It's 'cause I work hard and I go for it."
She doesn't sweat the strange looks she sometimes gets from her opponents, who haven't encountered a girl wearing a hijab before. In competitions, she wears an athletic cap and a white turtleneck underneath her robe.
"I don't really care how people see me," she said. "It's more like I care how I see myself."
The onus is often on Hassan to educate judges and fellow competitors about her religion and her need to wear additional clothing while competing. At the World Karate Championships in Scotland, she said a judge nearly disqualified her after saying, "You know you're not allowed to wear a white shirt under."
Luckily, she was able to resolve the problem after she explained that her modified attire was for religious purposes.
While Hassan was ultimately allowed to compete, other Muslim female athletes have been deprived of that opportunity. Last month, 16-year-old Noor Abukaram was disqualified from a track meet because she competed in her hijab without getting prior approval from the Ohio High School Athletic Association (OHSAA).
"I should not have to get a waiver signed and approved by OHSAA to allow me to race due to my religious head covering," Abukaram shared in a Facebook post.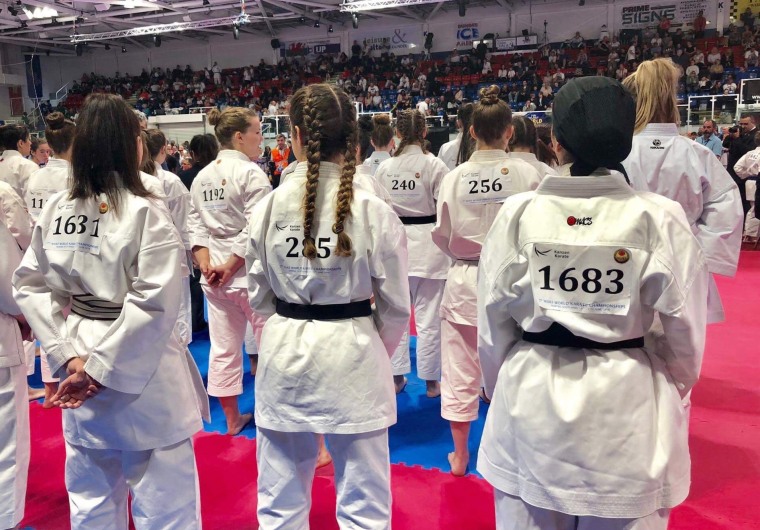 On a competition level, karate will make its Olympic debut at the 2020 summer games in Tokyo. Hassan has her sights set on qualifying for the 2024 Olympics after she's gained more experience in international competitions.
She hopes to break down bias barriers for other Muslim women who aspire to rise through the ranks of competitive karate.
Especially when some Muslim parents can be protective of their daughters continuing to play sports when they reach their teenage years.
"When they see their kids, especially girls, reach age 13 or 14 or 15 years old, they say, 'Okay guys, that's it. You're going to stop. Focus on your studies or you're going to be staying home,'" Salama said.
But Salama reminds concerned parents that wearing a hijab does not prevent their daughters from playing sports. He can offer his daughter as the perfect example.
Another Muslim woman who has competed in karate competitions while wearing a hijab said she uses the platform as a teaching moment. Nisma Zakria, 23, is a second-degree black belt from Staten Island, New York and said she gets curious looks when she comes out wearing a hijab.
"People look at you different. They are curious about you," she said. Zakria uses this curiosity as a teaching moment: "I'm spreading the message of Islam without actually saying anything."
Khadijeh Jaber, 18, trains at the Amerikick dojo in Staten Island where she is also the only girl training in a hijab. "At first, it's weird," she said. "But later on, when you get used to it, I feel comfortable."
In addition to women taking up the sport competitively, there's a growing interest in martial arts by Muslim women looking for "empowerment." An increase in anti-Muslim hate incidents in the U.S. has been responsible for a growing number of Muslim women taking up fighting sports such as boxing, wrestling and karate, said Gertrud Pfister, a professor at the University of Copenhagen in Demark, who specializes in exercise and sport sciences.
"It's about empowerment," says Pfister, who has also co-authored the book "Muslim Women and Sport." "They feel that they are not defenseless."
There has been over 750 anti-Muslim bias incidents in the U.S. during the first half of 2019, according to a report by the Council on American-Islamic Relations. Experts believe that this figure could be even higher because many incidents go unreported.
Salama said he's also seen an increase in interest in karate by girls in the Brooklyn Muslim community who are looking to learn how to protect themselves.
"Most of the parents when they come to us and talk about their daughters joining a karate class, it's more for self-defense," he said. "If they are in a situation, they want to make sure they are able to handle it, by using their skills in martial arts."
Some mothers have even enrolled in his karate classes. One woman who practices karate alongside her 12-year-old daughter once a week came to the sport after she was followed and physically harassed by strangers while walking down the street.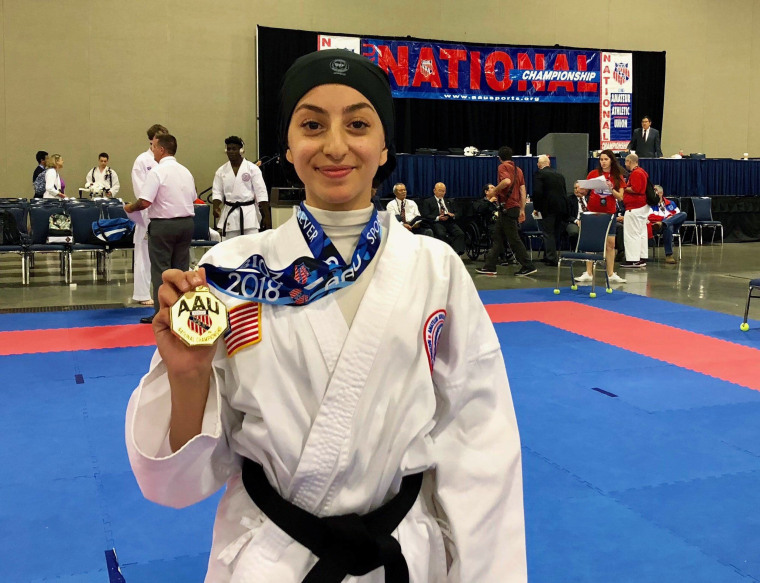 In addition to her Olympic aspirations, Hassan would like to be the first Muslim woman to represent Nike's Pro Hijab in karate.
The company said it spent a year developing and testing the product with the help of female Muslim athletes. Nike said it hopes to inspire more women and girls "who still face barriers and limited access to sport."
U.S. Olympic fencer Ibtihaj Muhammad and five-time Berlin boxing champion Zeina Nassar are the faces of Nike's ad campaign but Hassan has written the sportswear company asking it to sponsor her at the next year's Karate World Championships.
In the meantime, Hassan plans to apply for college this year and will continue coaching other children in karate at the MAS Youth Center, the same place where she began.