Persistent rainstorms flooded large areas of Texas on Tuesday, causing a bridge collapse and prompting several rescues by state and local authorities.
Central Texas has been inundated with rain for days and the National Weather Service issued warnings for days about the risk of flash floods caused by cresting rivers. Authorities reported section of the 2900 bridge collapsed over Lake LBJ in Kingsland on Tuesday morning.
Gov. Greg Abbott ordered the Texas State Operations Center to increase its readiness level on Tuesday and prepare to assist local offices in response efforts.
"When severe weather strikes, Texas will ensure our responders and local officials have what they need to respond and protect those in harm's way," Abbott said in a released statement. "I also urge all Texans to take their safety into their own hands by closely monitor changing weather conditions and heeding warnings from local officials."
Inflows from Lake Marble Falls, which is 100 percent full according to Water Data for Texas, have been diverted to the Starcke Dam with all 10 of the floodgates open, NBC affliate KXAN reported Tuesday.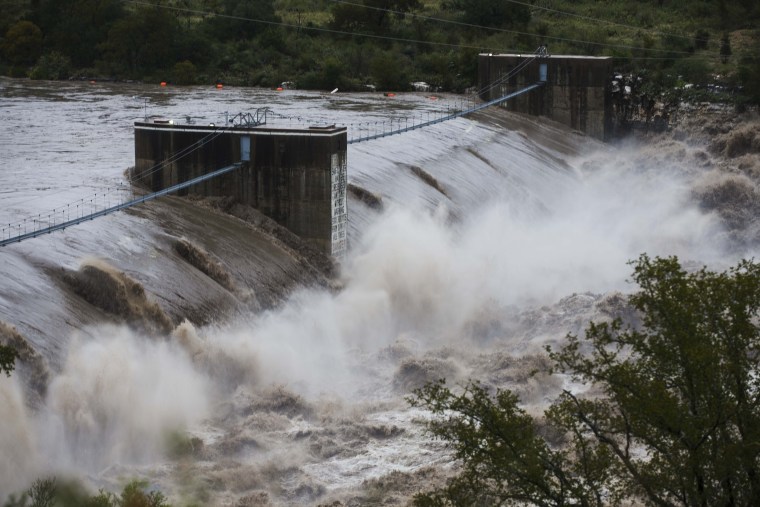 The Dallas Water Utilities reported Tuesday its experienced sewer overflows of diluted wastewater throughout the city, in at least five major drainage basins. The company said there was no risk to the city's water supply and warned residents to avoid contact with any wastewater.
Residents living within a quarter mile of the Llano river were asked to evacuate to higher ground as it hit historic flood levels. The Llano County Office of Emergency Management used social media Tuesday to warn residents not at risk to stay inside and be ready to move quickly if their situation changes.
A woman was rescued Monday by the Cleburne Fire Department in Johnson County from the rooftop of her car after her vehicle was swept by a fast-moving current, NBC affiliate KXAS reported.
The Centers for Disease Control and Prevention report that more than half of flood-related drownings happen when a vehicle is driven into flood water.