Two of New Jersey Gov. Chris Christie's former key allies were found guilty Friday on all counts for their roles in the George Washington Bridge lane closure scandal, capping a case that roiled state politics and captured national attention.
Christie's ex-deputy chief of staff, Bridget Anne Kelly, and his former top Port Authority official, Bill Baroni, had faced nine counts of conspiracy and fraud stemming from the scheme to block access to the George Washington Bridge as a means to punish Democratic Fort Lee Mayor Mark Sokolich for not endorsing Christie's re-election bid.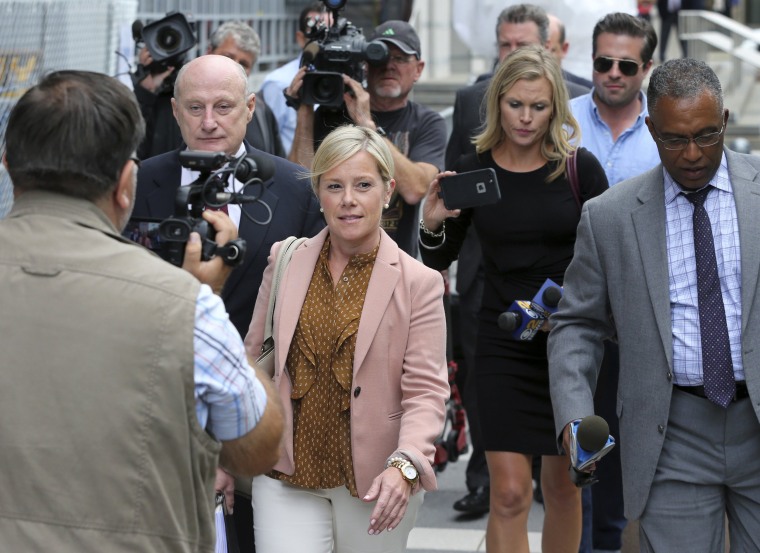 The jury's verdict comes after six weeks of dramatic testimony in which prosecutors argued the two spearheaded the plan in September 2013. Although Christie has maintained he had no knowledge or involvement in the lane closures, the so-called "Bridgegate" scandal has dogged the Republican for three years and undercut his failed presidential bid before it even began. Christie is a top Donald Trump surrogate and is currently planning the Republican nominee's transition team if he wins the presidency.
In reacting to the verdict, Christie reiterated that he didn't know about the plot, even as several witnesses said during the trial that he was aware of the plan before, during and after. Christie is currently scheduled to campaign for Trump in New Hampshire and Pennsylvania this weekend.
"Like so many people in New Jersey, I'm saddened by this case and I'm saddened about the choices made by Bill Baroni, Bridget Kelly and David Wildstein. Today's verdict does not change this for me," Christie said in a statement. "But let me be clear once again, I had no knowledge prior to or during these lane realignments, and had no role in authorizing them. No believable evidence was presented to contradict that fact. Anything said to the contrary over the past six weeks in court is simply untrue."
Kelly cried as the verdict was read while Baroni remained stoic, as he has throughout the trial. The two each face a maximum sentence of 86 years. The jury, comprised of five men and seven women, had begun deliberations on Monday.
The two are scheduled to be sentenced on Feb. 21.
Outside of the Newark federal courthouse, Kelly defense attorney Michael Critchley said he was "surprised and disappointed" by the verdict but would appeal the decision. With his arm around a tearful Kelly, Critchley said, "This is the first step in a process...This is not over."
"I am innocent of these charges and I am very, very looking forward to this appeal," said Baroni.
Prosecutors primarily relied on their star witness, David Wildstein, another former Christie former ally and a Port Authority official who has already pleaded guilty. Wildstein went as far as to say that top Christie allies used the Port Authority, which controls the George Washington Bridge, as a "goody bag" to sway local Democratic politicians to endorse Christie's re-election bid in 2013.
Wildstein also painted Kelly — who wrote the now-infamous Aug. 13, 2013 email in which she declared, "Time for some traffic problems in Fort Lee" — as a mastermind of the plan. Wildstein had described in great detail a 9/11 memorial ceremony at Ground Zero in 2013, when Wildstein and Baroni spoke to the governor about the plan.
Baroni and Kelly have maintained that they believed the lane closures were for a traffic study and not a political retribution plot.
U.S. Attorney Paul Fishman said outside of the court, "We are gratified that the jury saw the evidence the same way we did" but he was also peppered with questions from reporters about why Christie was never charged. Fishman seemed to suggest that there was not enough evidence. "I'm not gonna answer the question why I did or didn't pursue anybody in particular," he said. "What I will say is exactly what I said at the news conference that we had when the indictment was returned in May of 2015. Which is at the time, we indicted people-- only the people who we believed we had evidence beyond a reasonable doubt, which as you know is the constitutional standard, evidence beyond a reasonable doubt to convict in this courthouse."
Democratic Assemblyman John S. Wisniewski, who previously co-chaired a state legislative panelinvestigating the scandal, called on lawmakers to once again look into Gov. Christie's actions in the aftermath of Friday's verdict.
"With two of the highest ranking members of the Christie administration found guilty of criminal conduct, it is time to find out what the governor knew, when he knew it, and what actions he took in relation to the shutdown of the lanes on the George Washington Bridge. During the trial, numerous witnesses offered testimony under oath that directly contradicts Governor Christie's public statements," said Wisniewski, who is considering a bid for governor. He added that Christie "will not tell the truth unless compelled under oath."
Mayor Sokolich, meanwhile, called for political reform. "It is now proven this was retribution aimed at me. There was a complete disregard for thousands of others put in harm's way. This can never happen again. This trial shed a very bright light on a sad set of circumstances in NJ. If reform does not come from this, we should all be ashamed."