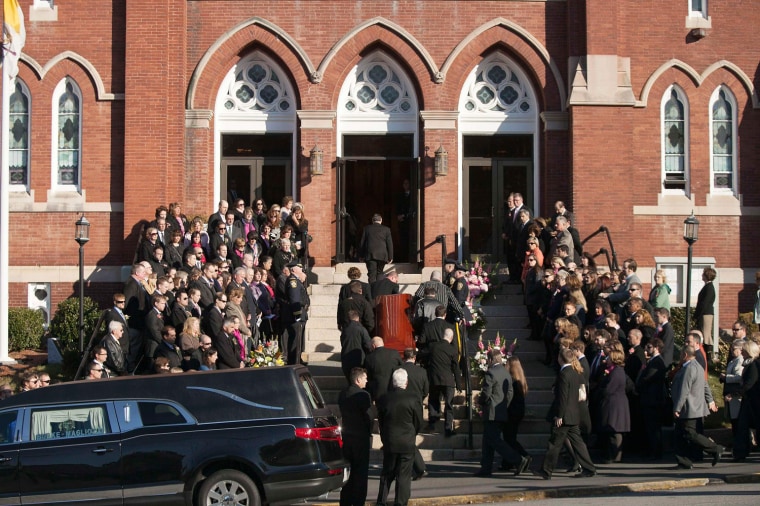 The 24-year-old Massachusetts math teacher allegedly murdered by one of her charges in a school bathroom was laid to rest Monday in a funeral service in her hometown of Andover.
An estimated 1,000 people — including some 400 students — crowded into St. Augustine Church just after 10 a.m. Monday to pay their respects to Danvers High School teacher Colleen Ritzer, whom family and friends alike described as vivacious and enthusiastic, the Boston Globe newspaper reported. 
Gina McDaniel, Ritzer's cousin, delivered a prepared eulogy in which she praised Ritzer for inspiring her students. She said Ritzer fostered confidence in pupils.
"Colleen's passion in life was to be a teacher,'' McDaniel wrote in her remarks, which were given to the Boston Globe by a Ritzer family spokesman. Ritzer was a "bright light in our lives who just wanted to make this world a better place by focusing on the adults of the future.''
A post on Ritzer's Twitter account was printed on the front of the funeral service program, according to the newspaper.
"No matter what happens in life, be good to people," Ritzer tweeted Aug. 11. "Being good is a wonderful legacy to leave behind."
A law enforcement source told NBC News on Friday that Ritzer's throat was slit from the back with a box-cutter in a second-floor bathroom at the school. Her body was wheeled out of the school in a recycling bin, dumped in the woods and covered with leaves, the source said.
Philip Chism, a freshman, was charged as an adult with first-degree murder and has been ordered held without bail. A surveillance camera caught the suspect following Ritzer into the bathroom and then leaving, covered in blood, the source said.
Ritzer's family has set up a memorial scholarship fund to benefit Andover High School graduates who also pursue teaching careers, according to the AP.
In a homily at Monday's service, the Rev. Peter G. Gori called Ritzer's death "a great tragedy'' that has "shocked and horrified'' Danvers and the surrounding community.
In his remarks, which were provided to the Globe, Gori said: "We are naturally inclined to ask, 'Why?' It is immensely frustrating when, like now, there is no satisfactory answer to that question."
"We have names for a death like Colleen's, words that burn our lips. Yet, no amount of evidence or facts can ever justify it, or explain it, and that too hurts.''
The funeral service followed a Sunday wake at the same church.
NBC News' Erin McClam and the Associated Press contributed to this report.