Brock Turner walked free from a California jail early Friday after serving three months of his six-month sentence in a rape case that has drawn outcry over how certain sexual assault offenders are sentenced.
The ex-Stanford swimmer left the Santa Clara County Jail alone just after 6 a.m. local time, carrying a brown paper bag and his jacket tucked underneath his arm. He did not speak to reporters and was whisked away by a waiting car.
Related: Brock Turner, Convicted of Sexual Assault, Set for Early Release
Upon Turner's release, he must register as a sex offender for the rest of his life, complete a sex offender management program and submit to random drug and alcohol tests. He is expected to return to his native Ohio while he completes a three-year probation.
His release comes as new photos provided exclusively to NBC News surfaced from when he was arrested in January 2015, just after police said he sexually assaulted a woman.
The images show him disheveled, apparently bruised and with a torn shirt. They were used as evidence in his trial in March.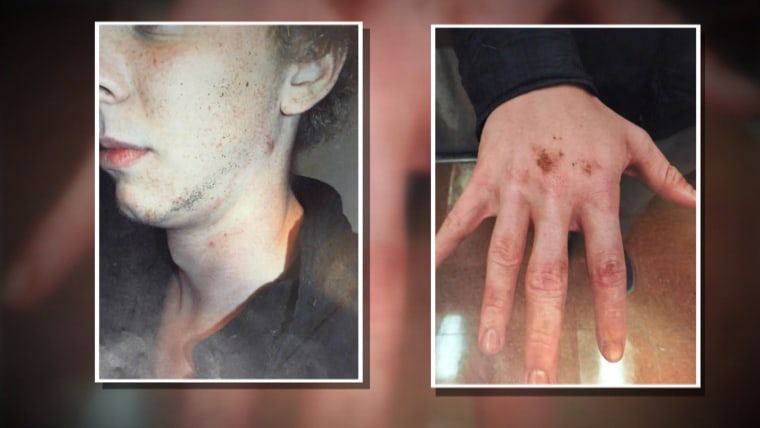 But the judge's sentence was blasted by critics as too lenient, especially when the first-time offender faced a maximum of 14 years behind bars. He was released early based on good behavior.
Turner, who has since been banned from Stanford University and the sport of swimming, was tackled by two other college students who witnessed the assault behind a dumpster outside of a fraternity house. He later told police he was too intoxicated to know what was happening — a defense used in court to account for his behavior.
In an interrogation video seen by NBC News, a detective asked Turner if he would recognize the woman if he saw her again.
"Uh, probably not," the then-19-year-old responded.
He also told the detective that he didn't set out to sexually assault anyone.
"My intentions were not to rape a girl without her consent ... I was just trying to hook up with a girl," he said.
"We were so drunk," Turner continued, "we didn't even know what we were on or what we were by."
At his sentencing in June, the victim read a letter to Turner that went viral when it was published online.
"You have been convicted of violating me, intentionally, forcibly, sexually, with malicious intent, and all you can admit to is consuming alcohol," she wrote. "Do not talk about the sad way your life was upturned because alcohol made you do bad things. Figure out how to take responsibility for your own conduct."
Santa Clara County Superior Court Judge Aaron Persky, however, agreed with letters from family members and supporters that Turner's future would suffer if given the harshest penalties — prompting an outcry from groups supporting sexual assault victims.
Others are also launching a recall campaign against Persky, who was re-elected to a six-year term in June. The judge is fighting back with his own anti-recall effort.
Related: Stanford Rapist Brock Turner Faces Extra Probation Requirements
"I believe strongly in judicial independence. I took an oath to uphold the Constitution, not to appease politicians or ideologues," Persky said in a statement this week.
Meanwhile, the controversial sentencing has led California lawmakers to take their own action.
A bill that passed the state Assembly this week would require courts to treat punishment for those convicted of a sexual assault against someone who's unconscious or too intoxicated to give consent the same as if the victim were conscious. There's no indication if the governor will sign AB 2888.
Following Turner's release Friday, the Santa Clara County District Attorney's Office said he should have served a longer sentence in prison, as opposed to a three-month stint in jail.
"Our focus today is on a bill that will require a state prison sentence, not probation, for anyone convicted of sexually assaulting an unconscious person," the prosecutors said in a statement. "With the Governor's signature, the next Brock Turner will go to prison."