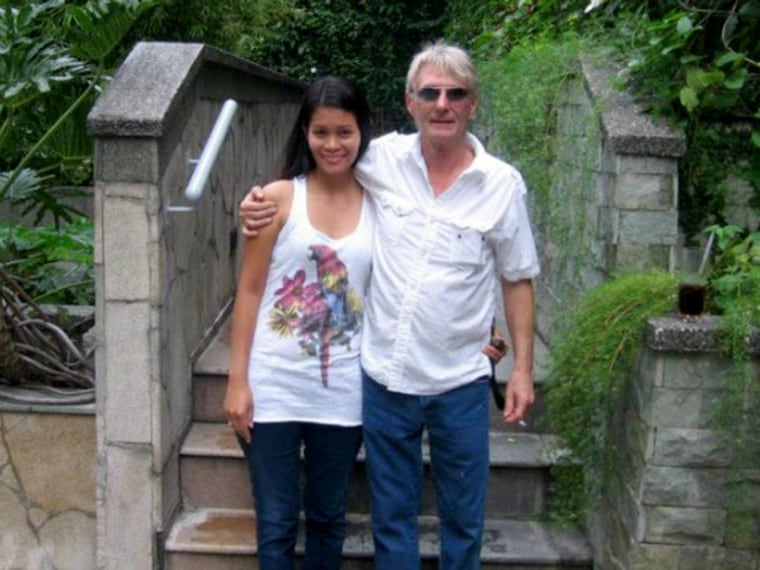 The parents of an American man who was with his Filipina fiancée in the Philippines when Typhoon Haiyan hit have been sending out emails to aid groups looking for the pair, filling out missing person forms and trying to do busy work to avoid thinking about the worst-case scenario. 
But days after Typhoon Haiyan blew across the on the Pacific island nation, ravaging Leyte province where their son, Phil Burgay, was visiting his bride-to-be, his stepfather fears he might not be coming back.
There has been no word from Burgay, a 57-year-old instrument technician from Baytown, Texas, nor his fiancée, Ritzchelle Garrido, since before the storm.
The town of Palo, where the pair was staying, was flattened, said Harry Davis, Burgay's stepdad.
"Today my heart is real heavy, like pains in the middle of your chest," Davis, 77, told NBC News by phone from his Houston, Texas, home. "It's a broken heart."
Davis and his wife Deloris are one of many families in the U.S. desperately searching for their loved ones after Haiyan left some 1,800 people dead in its wake. The death toll, which includes two Americans, could jump to 7,500 or 8,000, President Benigno Aquino told CNN on Tuesday.
With cell phones down throughout the disaster zone, many families with loved ones in the region have taken to social media, pleading for information.
Some say they've scoured every photo they could find of survivors to see if they can spot a recognizable face. Others have reached out to aid groups on the ground in hopes that they can keep an eye out for their beloved.
The Red Cross, which offers help through its "Restoring Family Links" program, said families can call their local chapter to initiate a tracing case. The file is sent to the Philippines Red Cross, whose volunteers will visit evacuation centers and use other information – such as last known address -- to try and find the missing person. The Red Cross didn't have data Tuesday on how many such cases have been filed.
"It can be a slow process," said Jana Sweeney, a Red Cross spokeswoman. "This is just the heart-wrenching part of this work, when people can't find their loved ones."
The U.S. State Department said consular officials were checking on Americans who had previously registered with the embassy or whose loved ones had contacted them. A team of Embassy officials will travel to Tacloban on Nov. 13 to assist U.S. citizens, and families can contact the department by email (acsinfomanila@state.gov) or phone (1-888-407-4747). The department could not say how many such inquiries it had received.
Geronica Higgins, a Filipina-American, had been searching Facebook, Twitter, YouTube — all over the internet — for signs of life of her niece, Shiena Marie Vista, the young woman's husband, Mel Glenn Vista, and their six-month-old son, Kyle. The family has been living in Abuyog, about 50 miles south of the heavily-damaged provincial capital of Tacloban on the east coast.
Higgins helped to raise Shiena before she moved to the U.S. in 1994 and considers her like a daughter. She tried calling her many times to no avail and had hardly slept in days wracked with worry. Pictures of the area where they lived show "it's all like ground zero. It's wiped out," said Higgins, 46, of Niceville, Fla.
Shiena's mom headed to Abuyog by boat to search for them, and Higgins finally got the call that she had been waiting for overnight Tuesday: "They're alive!" she said, sharing the news a relative in France told her (Higgins was having difficulty reaching Shiena's mom in the disaster area).
"The little boy is not very healthy," Higgins said. "They didn't eat. They just survived drinking dirty water."
The group will try to make it back to Negros, an island west of Cebu, where Shiena's mom and other relatives live. Higgins hopes to Skype with her niece soon.
"This is heaven," she said Wednesday. "Just all the questions and prayers have been answered."
Another Filipino-American family that has gotten some hopeful news is the Flandez. They had been searching for relatives in Tacloban and Bay Bay, a town about 60 miles south of there on the west coast.
Text and Facebook messages from nieces and nephews in Manila on Monday night reassured Lolita Loreto Flandez that her sister, who clung to her corrugated metal roof to survive the storm, and her 82-year-old mother, who was released from the hospital before Haiyan struck following a bout with pneumonia, were alive.
Two relatives were traveling by boat from the nearby island of Cebu to check on Flandez's mother.
"How many times I have called them, probably my fingers were already numb dialing their phone – whatever phone I could dial," Flandez, 57, a nurse in West Orange, N.J., said of her bid to reach her family. "I have my sanity back. I was so happy to hear that one word from my niece: alive. 'Aunty, don't worry everyone is alive.'"
That is the word Harry and Deloris Davis are so hoping to hear. Phil had bought a home last year in Texas that he intended to bring his fiancée Garrido and her adolescent daughter to by March of next year. The pair had been engaged since 2011.
Deloris said she sits on the side of the bed at night, praying and crying. Meanwhile Harry sends out the email missives looking for the couple, entitled: "Our missing son and future daughter-in-law."
"They're saying there are so many dead in Palo itself that they are going to have a mass burial, and if Phil is one of those people, I may not ever know," he said. "It's kind of like I'm beating my head against a wall. There's nothing I can do but sit here and cry."
Are you searching for a relative in the Philippines? Email reporter Miranda Leitsinger at miranda.leitsinger@nbcuni.com
Related: