A Brooklyn house fire likely sparked by a hot plate — killing seven siblings trapped inside the home — is an "unbelievable tragedy," New York City Mayor Bill de Blasio said Saturday. The children's mother and another sibling managed to escape the flames, which gutted the home hours earlier and sent smoke billowing through the Midwood neighborhood as witnesses heard their desperate cries for help.
"It it unimaginable what you see in there," de Blasio said. "You can literally see what was a home for a large and strong family, and now it is wiped out. Every room empty and burned and charred."
All seven children, ages 5 to 16, died at a local hospital. Their mother and a 14-year-old daughter fled through second-floor windows and were in critical condition, suffering from burns and smoke inhalation; their father was out of town at a conference, officials said.
"You can only imagine this beautiful, vibrant family 24 hours ago alive, intact, and now so many lost and two clinging to life," de Blasio said.
Police named the children who died as Yaakob Sassoon, 5; Sara Sassoon, 6; Moshe Sassoon, 8; Yeshua Sassoon, 10; David Sassoon, 12; Rivkah Sassoon, 11; and Eliane Sassoon, 16. Their mother, 45, and surviving sister were not identified.
Midwood is an ethnically diverse community with a large population of Orthodox Jews. FDNY Commissioner Daniel Nigro said a hot plate was likely being used for the Jewish Sabbath.
"People keep food warm that way — they don't have to operate a stove," Nigro told reporters at a news conference earlier Saturday morning.
Firefighters were called at 12:23 a.m. ET and arrived in just under three and a half minutes, the FDNY said. But by then, the fire had already raced up an open staircase from the kitchen and into the second floor.
"It is very difficult for the firefighters who bravely fought their way in and put this fire out quickly," Nigro said. "Even with their best efforts, they could not save the members of this family."
There was a smoke detector in the basement, but none on the first and second floors of the house. Since smoke rises, by the time the one in the basement went off, it was likely too late to alert the family of the danger, Nigro said.
"This is the largest tragedy by fire that this city has had in seven years," Nigro said. "It's a tragedy for this family, it's a tragedy for this community, it's a tragedy for the city."
De Blasio said the firefighters who responded, many of whom have families themselves, were distraught. "This is very, very painful for them because they came here to save people, and so many were lost already," he said.
Nigro said the mother was "badly burned" and that it would have been impossible for her to get to her children, who were in bedrooms in the back of the home.
Neighbor Karen Rosenblatt said her husband dialed 911 when he saw the flames.
"The smoke was so thick, you could barely see anything," she said.
Another neighbor, Nate Weber, told the New York Post that he saw children being wheeled away on stretchers. "I turned away. I didn't even want to look," he said.
Weber said he heard the children's mother screaming for help. "I heard a woman yelling: 'My kids are in there. Get them out. Get them out!"' he told the Post.
The fire is believed to be the city's deadliest since March 2007, when seven children and their mother were killed inside their Bronx home. An eighth child later died at the hospital.
"Every New Yorker is feeling this pain right now," de Blasio said. "I look at this as a parent ... I can only imagine what the father is going through right now."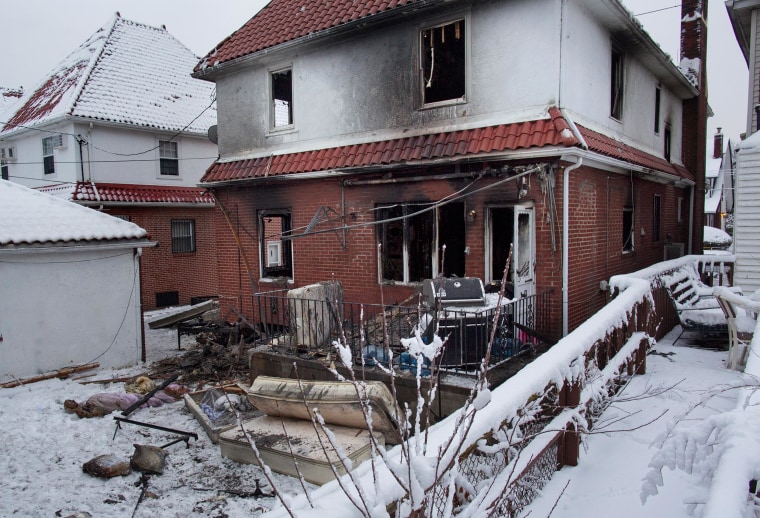 — With Andrew Rudansky