A 14-year-old has been accused of murder in the fatal beating of a 73-year-old man with a traffic cone in Philadelphia, authorities said Tuesday.
He is set to be charged with criminal conspiracy in the death last month of James Lambert, the Philadelphia Police Department said in a statement.
It wasn't immediately clear if the 14-year-old was the same teen who surrendered to authorities Monday with his 10-year-old brother. A police spokeswoman declined to comment.
It also wasn't clear if the 10-year-old was still in custody or if the 14-year-old has a lawyer to speak on his behalf.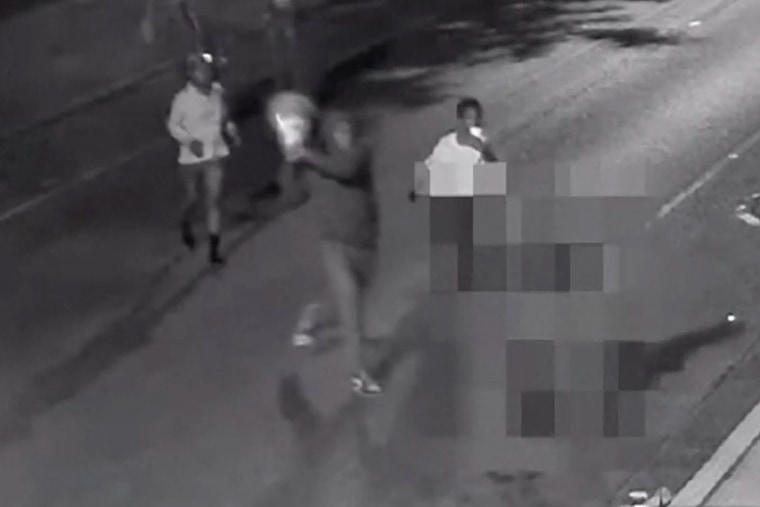 The arrest came after authorities released security video last week showing a group of people who appeared to be in their early to mid-teens assaulting Lambert shortly before 3 a.m. on June 24 with the cone.
Lambert died the following day, authorities said. He fell to the ground after being struck and died from his injuries, the department said in a statement.
In the video, what appears to be a teenage boy and girl can be seen hurling a traffic cone at Lambert three times. Several others can be seen watching the incident.
Lambert appears blurred in the recording.
"How could you do that to a person?" Elsie Stephens, Lambert's older sister, told NBC Philadelphia. "You have a mother and a father, how could you just beat a man until you take off half of his skull?"
The Philadelphia Police Department last week offered a $20,000 reward for information leading to a conviction in the killing. The department released images of seven people seen in the security video.