A Kansas man who spent 15 years in prison for the murder of his 14-year-old sister-in-law is now free after his brother confessed to the brutal rape and killing in a suicide note last month.
"It's been a long time," Floyd Bledsoe, 39, said after Kansas 2nd District Chief Judge Gary Nafziger vacated his convictions Tuesday in Oskaloosa, in Jefferson County. "I just want to take everything slow and take it all in."
Bledsoe was convicted in 2000 of first-degree murder, aggravated kidnapping and aggravated indecent liberties in the shooting death of Camille Arfmann, who was found with four gunshot wounds in her body under a pile of trash on Nov. 8, 1999.
Bledsoe was convicted — and the convictions were withheld on appeals — even though his brother, Tom, confessed to the murder even before Camille's body was found.
But according to court documents, he later recanted and testified against his brother, telling jurors that Floyd Bledsoe had threatened to disclose unpleasant information about his past if he didn't take the fall.
Then, two months ago, attorneys with the Project for Innocence and Post-Conviction Remedies at the University of Kansas Law School, which has sought a retrial for Bledsoe for more than 10 years, released DNA evidence showing that semen in Camille's body most likely came from Tom Bledsoe — not Floyd.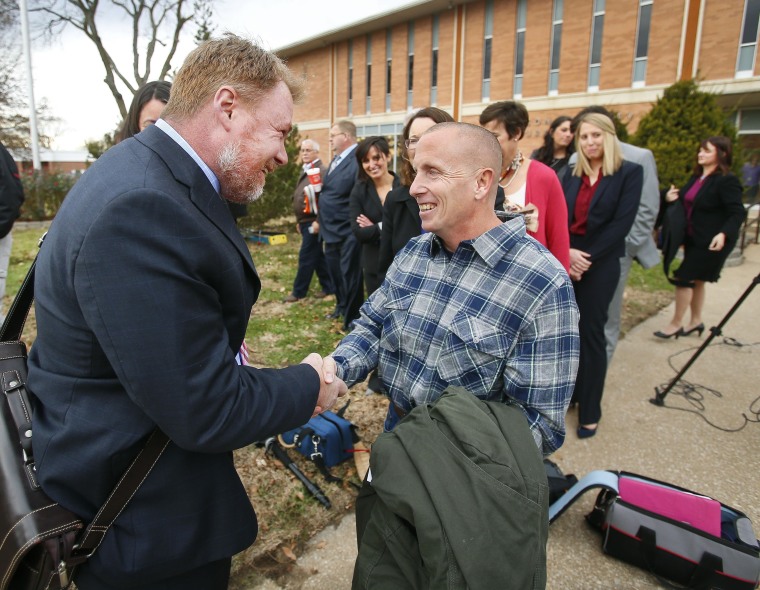 Tom Bledsoe, 41, committed suicide in early November, and in one of three notes he left behind, he confessed that "I had sex with her, and killed her," Jefferson County sheriff's Captain of Detectives Kirk Vernon testified Tuesday.
A second note, read in court by Vernon, said, "Floyd is innocent," and a third gave details of the killing that investigators said only the killer could have known.
"I found out she is 14 and I freaked out," Bledsoe wrote in one of the letters, according to Vernon.
The decision means that Camille's death is officially unsolved and that Bledsoe technically could be retried, but lawyers said that was highly unlikely given his brother's written confessions.
"It was one of the most emotional days of my life," said Kaiti Smith, one of almost a dozen lawyers and law students who worked on Bledsoe's case for the Kansas University project.
"Floyd turned around and gave me a big hug, and we both just started bawling," said Smith, who is now a public defender in Kentucky.