Bruno Sammartino, the charismatic, muscular wrestler who was world champion of the World Wide Wrestling Federation through the terms of five U.S. presidents, has died at age 82, World Wrestling Entertainment Inc. said Wednesday.
Sammartino's popularity was such that for decades, his nickname was "the Living Legend."
Sammartino died Wednesday, according to NBC affiliate WPXI of Pittsburgh, where he had lived since 1950. The station said Sammartino helped build its original studios as a laborer after he emigrated from Italy but before he went into professional wrestling.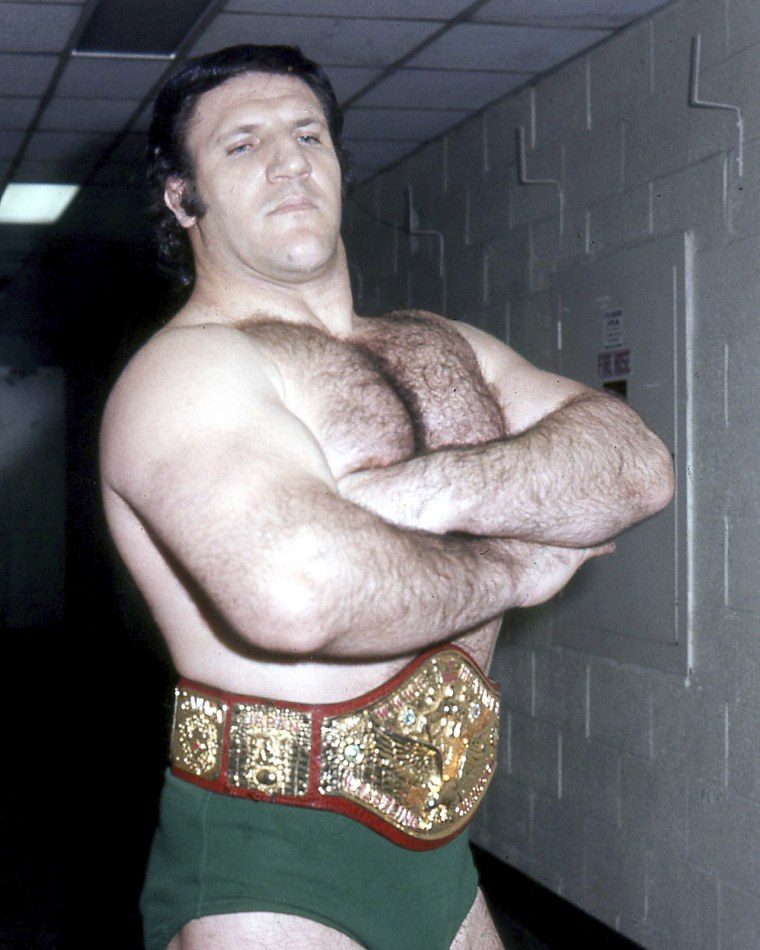 Born in 1935 in the tiny town of Pizzoferrato in the central Italian region of Abbruzzo, Sammartino moved to the United States as a teenager and soon took up weightlifting, sculpting the bodybuilder's six-pack abs he sported years before the term was invented.
He went into professional wrestling around 1960 as a clean-cut good guy — a "face" in wrestling parlance — and rapidly became one of the superstars who fueled the explosive growth of the sport as popular entertainment through the 1960s and the 1970s.
In 1960, Sammartino joined Vince McMahon Sr.'s Capital Wrestling Corporation, which grew to widespread popularity as the World Wide Wrestling Federation. Now called World Wrestling Entertainment, the company is the dominant player in professional wrestling under the leadership of McMahon's son Vince Jr.
McMahon on Wednesday called Sammartino "one of the finest men I knew, in life and in business."
"Bruno Sammartino proved that hard work can overcome even the most difficult of circumstances," said McMahon, who welcomed Sammartino back into the WWE fold in 2013 by inducting him into the company's Hall of Fame.
The induction healed a 15-year split between the two, which began in 1988 when Sammartino walked out over fellow wrestlers' use of steroids and WWE's outrageously over-the-top story lines. He was presented for induction by Arnold Schwarzenegger, who hailed him on Wednesday as "the American Dream personified."
"From his childhood in Italy hiding from Nazis to selling out Madison Square Garden 188 times as the biggest star of professional wrestling, he was a hero in every stage of his life," Schwarzenegger said in a statement.
The Garden, for its part, called Sammartino "one of the biggest stars in the long and storied history of Madison Square Garden, a legend in every way."
Sammartino first won the WWWF world championship in May 1963 and held it for almost eight years until January 1971, the longest reign ever, according to WWE. He won it back in December 1973 and kept it until April 1977. Overall, his time as champion spanned the presidencies of John F. Kennedy, Lyndon B. Johnson, Richard Nixon, Gerald R. Ford and Jimmy Carter.
He survived a broken neck that he sustained in a 1976 match when Stan Hansen slammed him to the canvas. Doctors advised him never to wrestle again, but he trained strenuously and was back in the ring in four months, The Pittsburgh Press reported at the time.
Sammartino retired as an active wrestler in 1981 and became a prominent and popular ringside analyst. He is survived by his wife of 59 years, Carol, and three sons.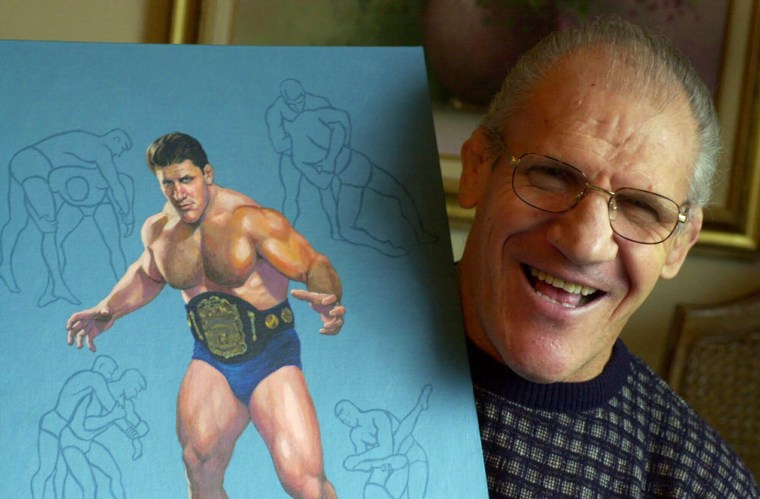 Sammartino was than just a beloved figure in Pittsburgh, Mayor Bill Peduto said Wednesday.
"Bruno Sammartino was one of the greatest ambassadors the city of Pittsburgh ever had," Peduto said in a statement. "Like so many of us, his immigrant family moved here to build a new life, and through his uncommon strength and surprising grace he embodied the spirit of Pittsburgh on the world stage."
Upon learning the news of Sammartino's death, Dave Meltzer, editor of the Wrestling Observer Newsletter, wrote Wednesday on Twitter:
"There's a saying about being careful to meet your heroes because you end up disappointed. Millions grew up with Bruno Sammartino, and the ones who got to know him, they were not disappointed."