A lawsuit popped open this week in Chicago accuses the popular sparkling water brand LaCroix of lying about its "all-natural" ingredients.
The filing in Cook County, Illinois, circuit court, on Monday against the National Beverage Corporation, LaCroix's parent company, by the law firm Beaumont Costales LLC on behalf of plaintiff Lenora Rice.
"Much of LaCroix's popularity stems from the American consumer's perception that LaCroix water is 'all natural,' or otherwise comprised entirely of natural substances," reads a copy of the complaint obtained by NBC News. "Unfortunately for all parties involved, Defendant's representations regarding the naturalness of LaCroix water are false."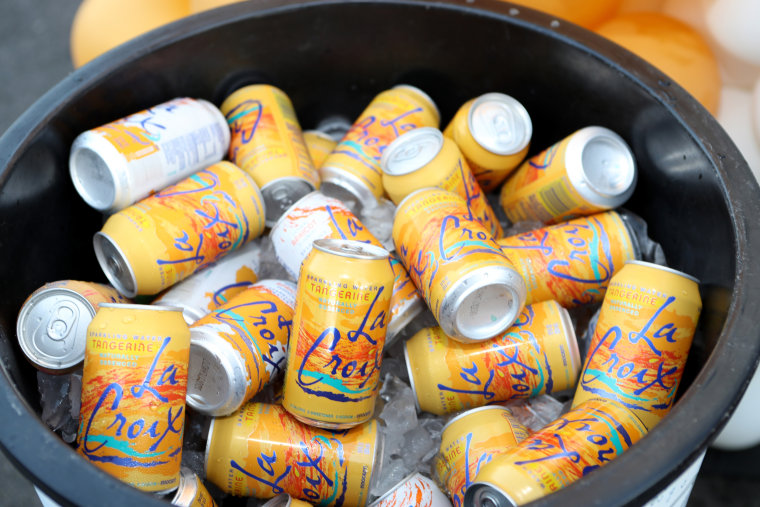 The lawsuit claims LaCroix uses a number of synthetic ingredients, including ethyl butanoate, limonene, and linalool propionate.
The lawsuit then goes on to claim that the company has not only mislabeled its products, but contains ingredients that are used for other purposes like linalool, which the suit claims is used in insecticides.
All three ingredients are in fact naturally occurring in fruit. Ethyl butanoate is found in natural fruits, including apples and tangerines, according to the chemistry database PubChem maintained by the National Institutes of Health. Linalool and limonene also occur naturally in fruit. They help give citrus peels their distinctive aroma.
In a statement published online, the law firm says it wants LaCroix to relabel its packaging and award damages to customers who bought the beverages thinking it was "all-natural."
The National Beverage Corporation strongly refuted these allegations in a statement saying they were made "without basis in fact or law."
"Natural flavors in LaCroix are derived from the natural essence oils from the named fruit used in each of the flavors," the company wrote, citing the United States Food and Drug Administration's definition of "natural."
"There are no sugars or artificial ingredients contained in, nor added to, those extracted flavors," seltzer the company said.
The company said it will be seeking damages resulting from the publication of the lawsuit's allegations.