In his second year of pro football, Damar Hamlin had just come into his own with the Super Bowl-contending Buffalo Bills before he was rushed to a Cincinnati hospital.
Hamlin, 24, a University of Pittsburgh alum and a starting safety for Buffalo, collapsed after a first-quarter play at Cincinnati's Paycor Stadium on Monday night, bringing a rare halt to an NFL game.
The Bills said in a statement early Tuesday that Hamlin "suffered a cardiac arrest following a hit" and "his heartbeat was restored on the field." Hamlin was sedated and in critical condition at a hospital.
Hamlin played sparingly last year as a rookie, recording two tackles in 14 games.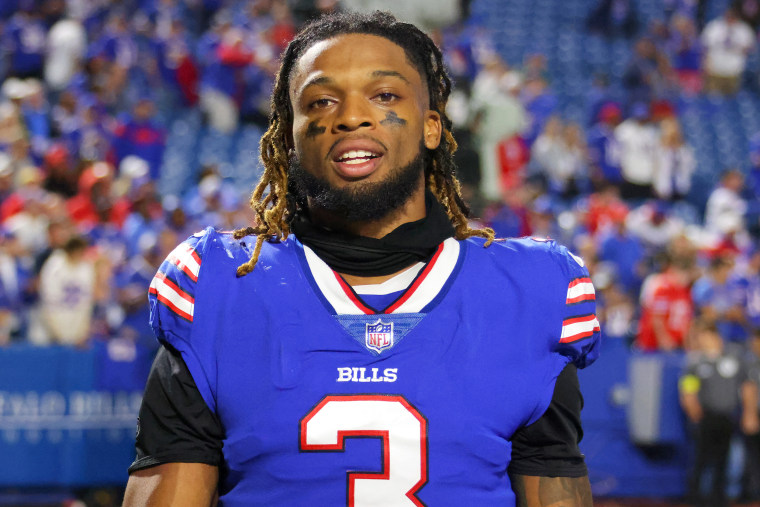 But this season, he had taken a much more significant role on his first-place team, playing in all 15 games before Monday and making 91 tackles, 63 of them solo.
He was a sixth-round pick from Pitt last year, and he took a starting role for Buffalo after Micah Hyde suffered a neck injury.
New York Gov. Kathy Hochul, a Buffalo native, tweeted: "Praying for Damar Hamlin. Our hearts are with his family, loved ones, and the entire @BuffaloBills."
Hamlin grew up in the western Pennsylvania football hotbed of McKees Rocks before we went on to Pitt.
He was a second-team all-Atlantic Coast Conference honoree in 2020, just a few months before the Bills called his name at the NFL Draft. His 67 tackles and 7 pass breakups were team highs for the Pitt Panthers in 2020.
Incoming Pennsylvania Gov. Josh Shapiro said in a statement: "Praying for Damar Hamlin and his family."
Pitt's football program changed its Twitter profile's header late Monday night to a picture of Hamlin in his No. 3 Panthers jersey, and added: "Damar Hamlin is the best of us. We love you, 3. Praying for you."
As Hamlin's college football career came to an end in late 2020, he organized a charitable foundation and toy drive — with hopes of raising $2,500. By 4:30 a.m. ET, that total had topped $3 million.
The football community rallied around Hamlin and called on fans to ask for divine intervention on behalf of the Bills safety.
"Sending prayers to Damar Hamlin and his family right now," Houston Texans cornerback Derek Stingley Jr. tweeted.
Stingley is the grandson of late NFL wide receiver Darryl Stingley, who was paralyzed after he was hit by the Oakland Raiders' Jack Tatum during a 1978 preseason game.