Two men died in western New York as a major winter storm smothered the Buffalo area and other parts of the state with feet of snow, officials said.
Snow kept falling Friday, and a lake-effect snow warning remained in effect until 1 p.m. Sunday. In Orchard Park, southeast of Buffalo, 5 1/2 feet of snow had fallen by 8 p.m., the National Weather Service said.
The two deaths were "cardiac events related to exertion during shoveling/snow blowing," Erie County Executive Mark Poloncarz said in a statement.
The snow was falling fast at times, with rates of 1 to 3 inches an hour, the weather agency said.
"The reports we just had is, it's some of the worst conditions that our public works department and sheriff's deputies have ever faced in a storm," Poloncarz said.
Travel bans were in place for some areas, including in south Buffalo, which Mayor Mayor Byron Brown said was "incredibly hard hit."
East Aurora saw 43 inches of snow, and in Hamburg the roof of a Cape Cod-style house collapsed due to the weight of the heavy, wet snow, Poloncarz said. One person was rescued but was not injured.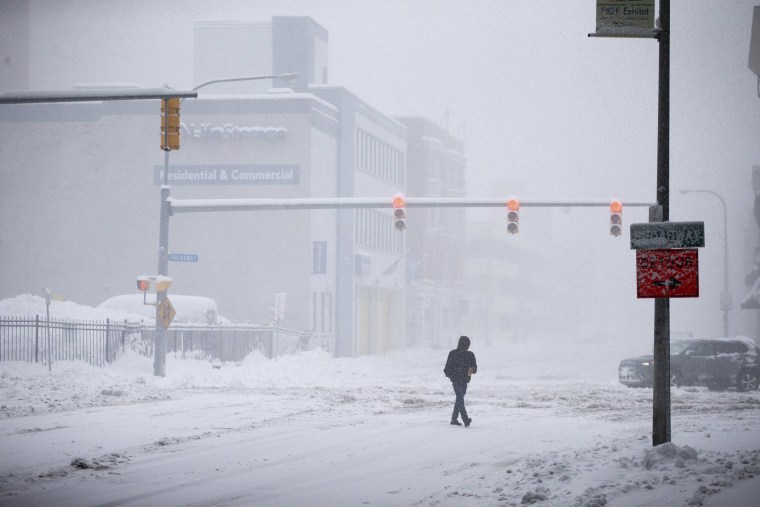 The winter storm is bringing lake-effect snow, which occurs when arctic air races across the relatively milder waters of the Great Lakes.
The lake-effect snow off of Lake Erie was extreme Friday, with snowfall rates of 2 to 3 inches an hour and prolific "thundersnow," which happens when there's thunder along with snowfall.
Christine Scheck, who was driving through Blasdell, located about 30 minutes south of Buffalo, told NBC News the snow in some areas are up to her hips and higher.
"It's terrible out here, there's cars stuck everywhere," Scheck said. "And no one can get anywhere. They're just getting stuck."
"There's an ambulance stuck in the middle of the intersection. And there was a tow truck trying to get them out there, tying ropes underneath it, pulling them and they can't get it out because it's still stuck in the middle of the intersection with the snow," she said.
Buffalo has declared a state of emergency, while Gov. Kathy Hochul did the same for 11 counties in the western and the northwestern parts of the state near Lake Erie and Lake Ontario.
Erie County sheriff's deputies have been "absolutely inundated" with calls about stranded motorists or abandoned cars, Sheriff John Garcia said.
Twelve people were rescued by fire officials from their vehicles, he said, and in Hamburg a lost motorist who got stuck was rescued and recovering at a hospital.
More than 300 tickets have been written for violating driving bans, Poloncarz said, and in one case a vehicle that was stuck in the snow was hit by a slow-moving train. There were no injuries.
Brown, the mayor of Buffalo, also implored residents to stay off streets in the southern part of the city.
"We want no driving whatsoever in that area of the city so the plows can do their work," he said. "We have now upwards of 55 plows in south Buffalo that are working to clear residential streets."
Commercial traffic was banned on part of the New York State Thruway, also known as Interstate 90. Sunday's NFL game between the home team Buffalo Bills and the Cleveland Browns was moved to Detroit.
The Bills showed what conditions were like at Highmark Stadium in Orchard Park, posting a video with the words "SO MUCH SNOW."
The University of Buffalo canceled all classes and activities scheduled for Saturday across all three campuses, including a women's basketball game versus Princeton University. A football game also scheduled for Saturday against the University of Akron has been postponed and may take place on Sunday "should weather and travel conditions permit."
"The university expects to resume normal operations on Sunday, Nov. 20," the university said in a statement. "Classes and activities will be held as scheduled on Monday, Nov. 21."
As the planet has warmed from the increase in greenhouse gases, so have the lakes, meaning more evaporation into the atmosphere during the winter. This has led to an increase in lake-effect snow, but that trend is not expected to last.
A recent study used a regional climate model to investigate these changes in lake-effect snow if the current rate of greenhouse gas emissions continues. By midcentury, the amount of seasonal lake-effect snow is projected to increase modestly, as the Great Lakes will remain ice-free longer into the winter. 
However, as the air warms, the amount of snow during the transitional seasons of late fall and early spring is expected to decrease, with more of the precipitation falling as rain. By the late century, the frequency of extreme cold over the Great Lakes is expected to decrease substantially. Similarly, lake temperatures are projected to increase further, with the warming environment implying an increase in rain at the expense of snow during the winter. 
Lake-effect snow warnings were in effect early Friday for the Buffalo area and downwind areas of Lake Ontario, the weather service said.