The 18-year-old man accused of storming a Buffalo, New York, supermarket Saturday, killing 10 people and injuring three others, planned to continue his bloody rampage down the street before he was stopped, police said.
Police said the suspect, Payton Gendron, livestreamed the moment he opened fire in the parking lot of Tops Friendly Market around 2:30 p.m. and continued shooting inside while dressed in tactical gear.
He was arrested at the scene.
The man's parents have been cooperative with investigators, saying they are in complete and utter shock that their son could have carried out the attack, a law enforcement official said.
While Gendron's parents knew their son had purchased weapons, they were not aware of any hate or rage issues, the official said.
Law enforcement officials are calling the attack a hate crime, as 11 of 13 people who were shot were Black.
"It appeared that his plans were to drive out of here and continue driving down Jefferson Avenue looking to shoot more Black people as he could and possibly go to another store location," Buffalo Police Commissioner Joseph Gramaglia said on ABC's "Good Morning America."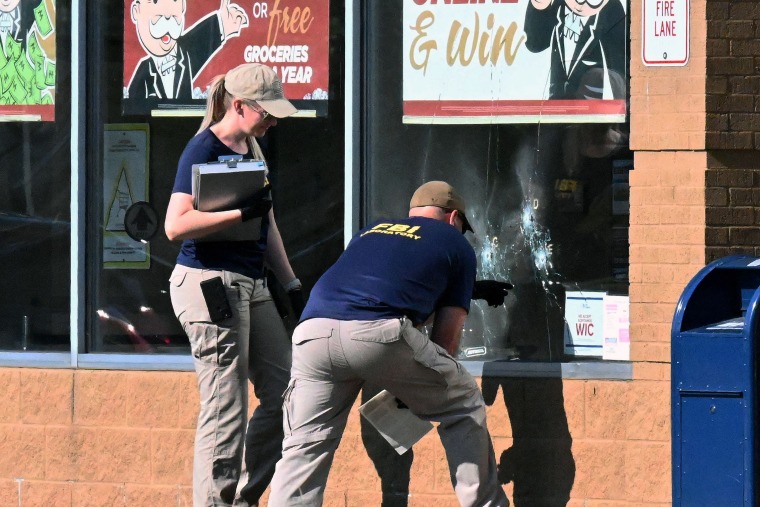 Police said at a news conference Sunday that the suspect "did some reconnaissance on the area and in the store" before the shooting. 
In a statement Monday, FBI Director Christopher Wray called the rampage a "targeted attack, a hate crime, and an act of racially motivated extremism."
"While there remain a lot of unknowns, as there always do in an investigation at this stage, what is absolutely certain is that we at the FBI are committed to comprehensively and aggressively investigating Saturday's attack," he said.
The suspect also appeared to post extremist views and to be active in online gun communities. Senior law enforcement officials said they believe he wrote a 180-page "manifesto" posted online that cites a racist conspiracy theory frequently promoted by white supremacists.
The document claims the suspect chose Buffalo because it was the city with the highest number of Black people in his vicinity.
New York State Police investigated Gendron last year for making a threatening statement in June about wanting to carry out a shooting, a senior law enforcement official said.
The suspect was a minor at the time, the official said. He was transported to a hospital for a mental health evaluation and was not charged with a crime. 
When authorities interviewed Gendron, he claimed to be kidding around, law enforcement sources said.
His parents considered the incident a typical bump in the road for a teen and did not think their son had violent tendencies, a law enforcement official said.
The parents said they support gun ownership and Second Amendment protections.
The suspect's father bought a gun used in the assault in Pennsylvania as a gift for his 16th birthday, a senior law enforcement official said.
Investigators with the FBI; the Bureau of Alcohol, Tobacco, Firearms and Explosives; and local police are trying to find out where the gunman bought multiple 30-round clips of ammunition, the law enforcement source said.
Speaking about the previous violent threat, Gramaglia said Sunday, "Nothing picked up on the state police intelligence, nothing picked up on the FBI intelligence."
Gramaglia said the supermarket attack was a hate crime. 
"The evidence we uncovered so far makes no mistake that this is an absolute racist hate crime," Gramaglia said. "It will be prosecuted as a hate crime. This is someone who has hate in their heart, soul and mind."
At a vigil Sunday, Senate Majority Leader Chuck Schumer, D-N.Y., spoke by video link and recalled how the Tops Friendly Market had "become a neighborhood hub and gathering place."
He called the store a "much-needed oasis" in a food desert.
President Joe Biden and his wife, Jill Biden, will visit a memorial at the store Tuesday to pay respects to the six women and four men who were fatally shot there, a White House official said Monday.
In remarks at a local community center, Biden will call on Congress to "take action to keep weapons of war off our streets" and limit access to guns for people with serious mental illness, the official said.
The victims were ages 32 to 86, officials said. A community leader and a retired Buffalo police officer were among those whose lives were lost.
Several weapons were taken from the scene, one appearing to have disturbing writing on it with "the N-word written or etched," law enforcement sources said. One firearm also referred to reparations, according to photos of the weapons that a law enforcement source confirmed belonged to the suspect. 
The assault-style rifle used in the attack was legally purchased in New York, a senior law enforcement official said. A hunting rifle and a shotgun were also found at the scene.
In addition to the guns, the suspect had multiple 30-round magazines on him, the official said. Such magazines are illegal in New York state.
The sources said he wore body armor and a helmet with a GoPro camera attached. Gendron appeared to have broadcast parts of the attack for less than two minutes on the platform Twitch.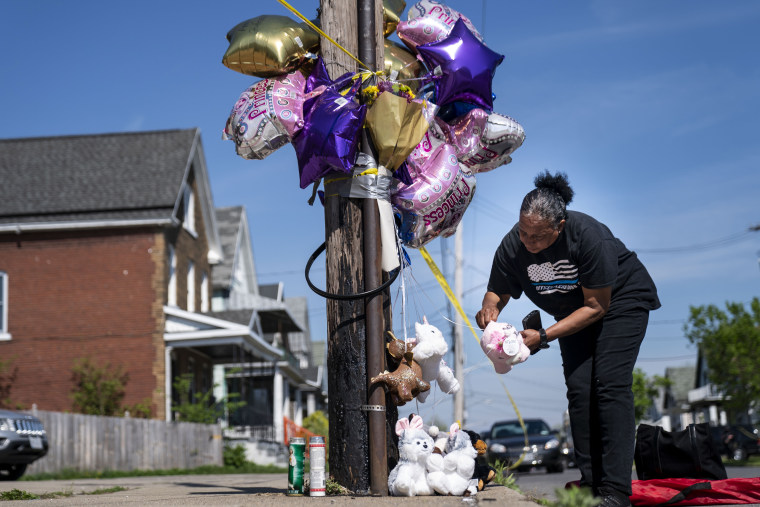 Gendron, of Conklin, New York, was arraigned Saturday evening in Buffalo City Court on one count of first-degree murder, the Erie County District Attorney's Office said.
He was remanded without bail, and a felony hearing was scheduled for Thursday morning, according to the office.
Erie County Sheriff John Garcia said the suspect was being monitored on suicide watch and will be given mental health services as needed.
Saturday's shooting sparked at least one copycat threat, authorities said.
A 52-year-old Buffalo man was arrested and accused of making threatening calls to a local pizzeria and brewery Sunday, "referencing what happened at Tops," Erie County District Attorney John Flynn said.
The man could face seven years behind bars if he is convicted of making a terrorist threat, Flynn said.
"This is what's going to happen if you make threats," Flynn said Monday. "You are going to get arrested, and then I am going to prosecute you. So let this case send a message out there to any tough guy or anyone who wants to be cute out there."