An explosion sent eight people to hospitals and caused the collapse of a nearby building in Chicago on Tuesday, officials said.
The collapse occurred just before 9:30 a.m. at West Washington Boulevard and North Central Avenue, the Chicago Fire Department tweeted.
"There was an explosion at Central & West End," it said in another tweet. "Adjacent building is being evacuated. There are a number of transports."
Eight people were hospitalized, Deputy Fire Commissioner Marc Ferman said. One person who was hospitalized was across the street during the chaos, he said. The eight people who were hospitalized had burns to traumatic injuries, Ferman said.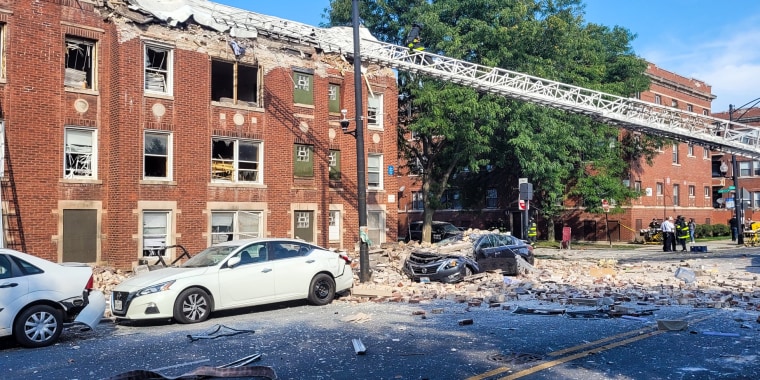 Firefighters believe that they got everyone out of the collapsed building and that no one was trapped or injured inside, Ferman said.
"We don't know what cause this incident. It's still under investigation," he said.
The building had about 35 units. It was unclear, Ferman said, how many residents were displaced.
The cause of the explosion and the collapse remain under investigation, officials said.
Aerial video of the building showed debris from the collapse strewn over the sidewalk and the street and on top of a parked car. The fourth floor appeared to have partly caved in.
The Bureau of Alcohol, Tobacco, Firearms and Explosives and the Chicago Police Department's bomb unit were on the scene.
In a statement on Twitter, Mayor Lori E. Lightfoot said her "thoughts are with those who were injured and displaced in the building collapse in the Austin neighborhood."
"We must also thank the brave men and women of the Chicago Fire Department who are working to abate the dangerous conditions," she added.