No Oakland building code enforcement inspector had looked at the inside of the converted warehouse that was the scene of last week's deadly fire in three decades, a city official said Wednesday.
The revelation in the wake of the fire at the "Ghost Ship" artists' collective that left 36 people dead raises questions about city inspection policies and how officials could have missed a commercial building converted to living space that's been described as a "labyrinth" and firetrap.
But it was still unclear when, or if, a fire inspector had been inside the warehouse, which had no fire alarms or sprinklers installed. The building had no permits for residences or events but had been converted to living and work spaces.
Interim Planning and Building Director Darin Ranelletti said building inspectors would only have had reason to enter the warehouse if someone applied for building permits, or if complaints were made alleging problems inside the building, and no one did, he said.
Related: Oakland Warehouse Fire Victims Had No Warning of Inferno
In 2014 a complaint was made alleging that an illegal house was being built at the address of the warehouse, records show, but Ranelletti said the inspector found no house there. The inspector wrote at the time, "structure was removed before inspection." It is not clear whether he was referring to the address of the warehouse or a separate vacant lot next door, which has also been subject of complaints.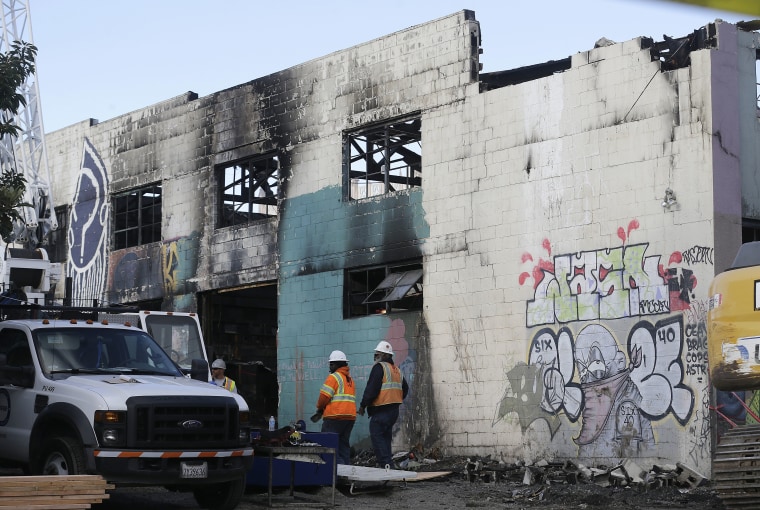 "All we know at this point is what's in the record, and what our procedures are, and the inspector followed the protocol to look for a new house and he did not see a new house so he closed the case," he said.
Oakland Mayor Libby Schaaf told reporters she did not yet know when a fire inspector last visited the property and said the city was working to get those records.
Related: Complaints Over 'Ghost Ship' Go Back Years
NBC Bay Area reported that there is no record of a fire inspection at the building — which officials said lacked permits for residences or events, and had no fire alarms or sprinklers installed — since a city database was created in 2006.
The fire broke out at the "Ghost Ship" late Dec. 2 as a party was being held on the second floor.
An ATF official said Tuesday that the fire was heavily involved before those on the second floor realized they were in trouble, and smoke belching from two staircases likely overwhelmed party-goers.
"We are looking for every possible source of ignition," said Jill Snyder, special agent in charge of the ATF's San Francisco Field Division. There is no evidence of arson, she said.
Other officials entered the converted warehouse over the past year, but alarms were apparently not raised. Oakland police entered the property in October, and Child Protective Services went there last year, according to video and warehouse manager Derick Almena.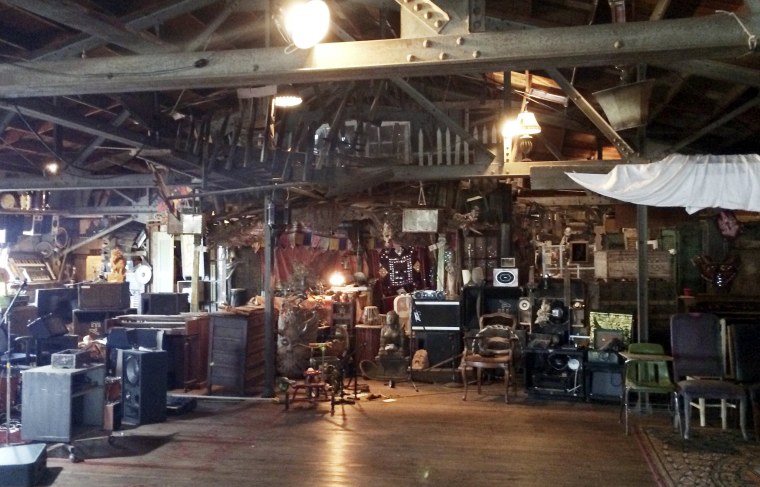 In other instances where the building department was called to the "Ghost Ship" and lot, inspectors saw no obvious reason to enter the warehouse, Ranelletti said.
Complaints in November that listed the address of the vacant lot said "the main building was remodel [sic] for residential" and alleged an "illegal interior building structure," according to records.
Ranelletti said an inspector visited on Nov. 17 and 18 but a fence blocked his view, and while there was clearly some debris behind the fence, the inspector couldn't tell if there were makeshift buildings there or not. A new inspection was scheduled for Jan. 16.
"As you've seen, as that debris has been removed from that lot, there was a significant amount of debris and structures on that lot that could have been used for residential use," he said.
"If we have an inspector that's looking at a particular property for which the complaint has been registered, he or she is not going to investigate adjacent properties on the street unless there's a physical obvious violation," Ranelletti said. "And at that time, that inspector did not see a physical, obvious violation at the warehouse."
Some have pointed to high rents in Oakland as motivating artists and musicians to live in converted warehouses and other spaces. Assistant City Administrator Claudia Cappio said that with converted warehouses becoming more common, the city should set up regular inspections.
A former tenant of the "Ghost Ship," Shelley Mack, told NBC Bay Area that she raised safety concerns to Almena, who lived there and collected rent from others. "Derick isn't a victim of the housing crisis," Mack told the station. "He is a predator of the housing crisis."
Schaaf, the mayor, said the city will create a task force made up of national fire experts and others to consider new regulations like more stringent exit requirements, smoke detectors in buildings like warehouses, and more fire inspections.
"We will learn from this tragedy to make Oakland safer," she said.