Only 75 days into office, and Donald Trump has already begun rolling back environmental protections. Now, his administration is rebranding one government website in a move that better reflects its commitment towards prioritizing coal in policy decisions.
The Bureau of Land Management, an agency within the Interior Department, recently quietly changed its homepage website photo to a large bed of coal.
The photo was first posted around 6 p.m. on March 31, agency spokeswoman Kristen Lenhardt told NBC News on Thursday.
Before the switch, the website showcased a picture of two people wearing backpacks while standing atop a grassy mountain.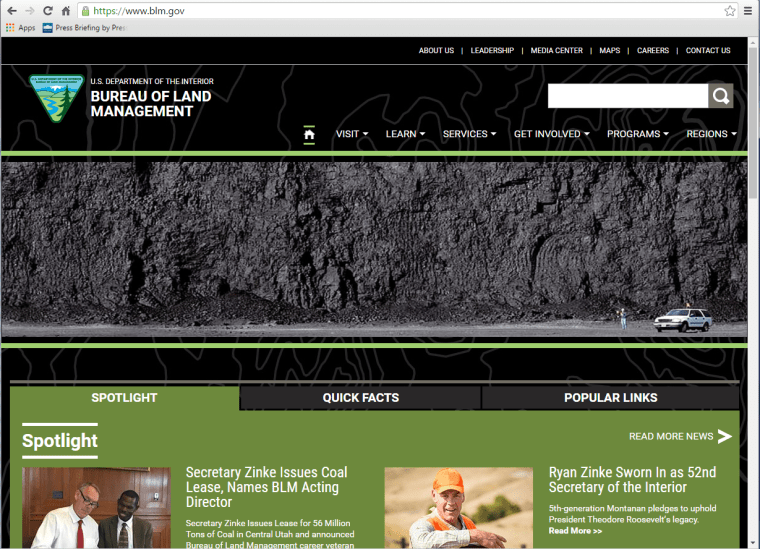 Lenhardt told NBC News in a statement that the new website design "reflects the many uses our public lands have to offer," including conservation, recreation and coal development.
"The coal photo posted last Friday started a weekly rotation of our website banner," she said. "Tomorrow, the second photo in our rotation will be posted, reflecting recreation on public lands."
The change comes a week after Interior Ryan Secretary Zinke signed an order lifting the government's ban on coal-mining leases on federal land, which was put in place under the Obama administration.
"The United States has more coal than any other nation on earth, and we are lucky to be at a time in our history that we have the technology available to responsibly mine coal and return our land to equal or better quality after," Zinke in a March statement.
In a statement to NBC News, Department of the Interior spokeswoman Heather Swift defended the change, and said alterations to the Bureau of Land Management website are made at the discretion of the agency's officials.
"Secretary Zinke has made it clear that he will manage our public lands in accordance with President Teddy Roosevelt's mixed use philosophy, where development of our natural resources is done in a way that balances conservation and public access," she said.
Trump signed an executive order last week directing agencies to review regulations that could "potentially burden the development or use" natural resources like coal.