Deputies on Wednesday arrested a burglary suspect who may be connected to a series of shootings that began two years go in Malibu, California, including one that killed a father sleeping in a tent with his children.
Investigators detained the man during an ongoing search for an armed prowler in eight burglaries in the Malibu and Calabasas areas dating back to October 2016. Los Angeles County Sheriff Jim McDonnell, speaking at an evening news conference, identified the suspect as 42-year-old Anthony Rauda.
He was booked based on a no-bail felony parole violationwarrant, McDonnell said.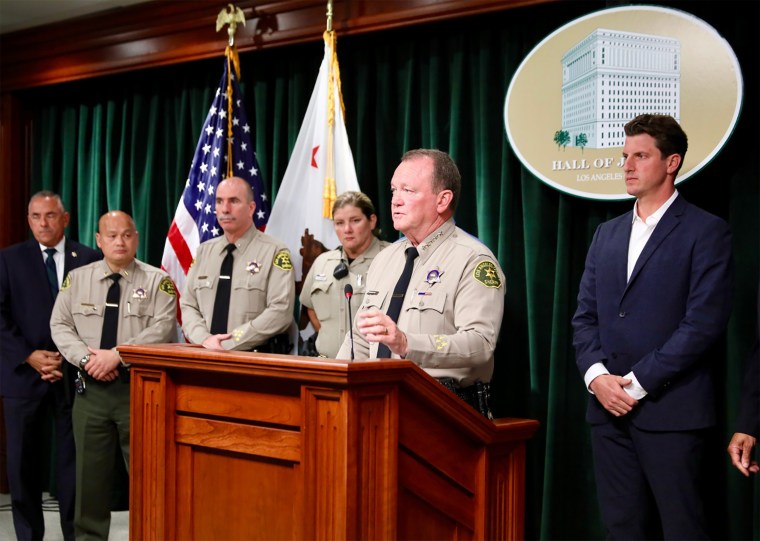 Rauda was arrested in a remote area of Malibu Creek State Park, multiple law enforcement sources familiar with the investigation said earlier in the day.
The sources stressed that the investigation was just beginning, and it was not immediately clear whether the man had a connection to a string of shootings in the state park earlier this year. Authorities recovered a rifle.
McDonnell said a large team of law enforcement officers embarked on a search about 10 a.m. Wednesday and after several hours came upon fresh boot tracks, heard rustling in the brush and cornered a man.
The suspect gave up "after a few tense moments," McDonnell said, later adding that it was a "very dangerous search, and thankfully it worked out as well as it did.'
Pharmaceutical scientist Tristan Beaudette, 35, was fatally shot in the chest in June while camping with his two young daughters at the state park. The chemist was shot once while sleeping in a tent, according to the Los Angeles County Sheriff's Department. No other injuries were reported.
Beaudette's death was a part of a string of shootings that began in 2016. One woman reported in June that her vehicle's tailgate had been pierced by a shotgun slug while she slept inside.
Asked if Rauda could be a suspect in the shootings, McDonnell said, "We can't say no at this point. Certainly that is part of the ongoing investigation."