Burning Man's estimated 70,000-plus attendees were isolated at the venue known as Black Rock City as rain returned Sunday and closed roads, muddy campgrounds, and one reported death darkened the day.
But the CEO of Burning Man Project, Marian Goodell, told NBC News interview Sunday, "There is no cause for panic."
"We're very pleased and surprised that there has been such a fuss over us," she said.
Organizers under the nonprofit project planned an orderly exit Monday, which is the last day of the event, and have so far turned down help from the Nevada National Guard, she said.
"We've made it really clear that we do not see this as an evacuation situation," Goodell said. "The water is drying up."
The crowd at the countercultural music and arts festival was first advised to "shelter in place" and conserve food and water on Friday, according to notices from organizers.
All inbound and outbound traffic was halted and remained so Sunday, and the shelter-in-place recommendation was still in place in the afternoon. Roads were essentially impassable, organizers said.
Saturday night, the party had seemed all but over as organizers said their main focus was getting people out. "Most Festival operations have been halted or significantly delayed," the Pershing County Sheriff's Office said in a statement.
But even with more rain falling, organizers on Sunday said the annual burning of a wooden man in effigy, which usually takes place on the last Saturday night of the party, will most likely happen Sunday at 9:30 p.m.
The reported death at the festival site is under investigation, local authorities said Saturday. It's not clear what the cause of death was at this time.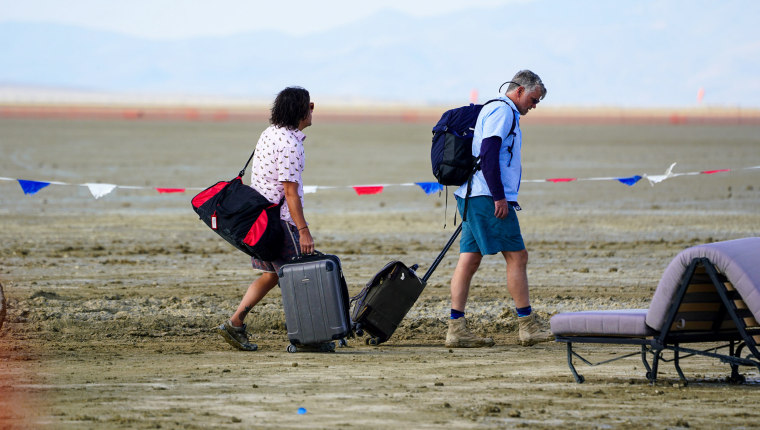 President Joe Biden was briefed on Burning Man on Sunday, a White House official said. Administration officials are monitoring the situation and are in touch with state and local authorities, the official said.
Heavy rain Friday and into Saturday flooded pathways and muddied the tents of campers as roads in and out of the festival were impassable for most vehicles and the weeklong event's main gate was closed.
Organizers on Sunday said only four-wheel-drive vehicles equipped with off-road tires have been able to exit successfully, and passenger vehicles and other cars, trucks and RVs have only made exit attempts worse by getting stuck and blocking others.
"Please do NOT drive at this time," organizers said Sunday on the festival's website.
DJ and producer Diplo, whose real name is Thomas Wesley Pentz Jr., said he hitched a ride out of Black Rock City in the back of a pick up truck with comedian Chris Rock on Saturday.
The 44-year-old musician documented his journey out of Black Rock City to Washington D.C., where he says he had a concert on Saturday night.
"I legit walked the side of the road for hours with my thumb out cuz i have a show in dc tonight and didnt want to let yall down," he captioned a post on his Instagram.
Videos posted to his Instagram story show Diplo walking through mud before hitchhiking to Gerlach and Reno, he said, to make a flight to D.C.
"I just got done DJ'ing for three hours, after walking f*****g for four hours out of the desert and taking a flight, mud still on my face," he said in a video posted to his Instagram story Saturday night.
Representatives for Diplo and Chris Rock did not immediately respond to requests for comment.
Lawyer Neal Katyal, who served as the federal government's top attorney as acting solicitor general, also said he hiked through mud to get out of Black Rock City on Saturday.
"It was an incredibly harrowing 6 mile hike at midnight through heavy and slippery mud, but I got safely out of Burning Man," Katyal, an MSNBC legal analyst, wrote on Twitter. "Never been before and it was fantastic (with brilliant art and fabulous music)…except the ending."
Katyal also posted some tips to others at Black Rock City who are trying to escape.
"No one should try this unless in good shape and part of a group," he warned. "It was quite hard, and will get harder if/when it rains more. Talk your friends out of the hike unless you really think they can do it safely. There are treacherous places where it is worse than walking on ice."
Another festival attendee, 22-year-old Kevin Schultz, was scheduled to leave Burning Man Friday so he could make his friend's wedding in Houston, Texas. (Note: Schultz is the cousin of Liz Kreutz, one of the authors of this article.)
What was supposed to be a few hours on a bus turned into a 20-hour escape from the desert.
He left prior to the festival's lockdown, when the weather was still clear, and his bus ended up being stuck in the mud as the storm rolled in.
"We ended up being sheltered on the bus, you know, pretty much like indefinitely as we wait for the ground and the area to dry out," Schultz told NBC News.
As what was thought to be just a short downpour of rain turned into a prolonged storm, Schultz and others were forced to spend the night on the bus. There was "no plan" to get back to camp or to the city, he said.
Going back to Burning Man seemed like a bad idea, Schultz decided, as he considered ongoing issues with sanitation and resource scarcity. So he and six other people decided to take a risk -- tie trash bags around their feet and walk to town when they woke up Saturday morning.
"It's slippery, the most slippery thing ever, where one moment it's like…it's suction, cupping your foot and the next moment you're sliding all about," Schultz said. "So it's super unpredictable but we were able to find, like, walk along with the little dry ridges and whatnot for the majority of the distance."
The group made it two miles out to the paved road, where they were able to hitchhike into the nearby town of Gerlach thanks to the kindness of a woman driving by in a farm truck. Schultz missed the wedding but made it home to California, where he says he is warm, safe and able to shower.
On Sunday morning, organizers said the roads are still "too wet and muddy" to officially be opened, and were encouraging attendees to continue sheltering in place, conserving food, water and fuel.
Under organizers' permit with the U.S. Bureau of Land Management, 33,000 vehicle permits are issued for the event. During normal "exodus" at the end of each year's party, a maximum of 800 vehicles per hour can exit the main gate, BLM states.
Those vehicles include law enforcement, organizers', and the festival's famous art cars.
The annual celebration of music, art and contemporary counterculture that started on the beach in San Francisco in 1986 is permitted through noon Tuesday. It started Aug. 27.
It's temporarily built each year atop lava beds, alkali flats and the flat bottom of the defunct Lake Lahontan in the federally protected Black Rock Desert near the town of Gerlach.
The Bureau of Land Management limits its capacity, including organizers and staff, to 80,000. Sgt. Nathan J. Carmichael of the Pershing County Sheriff's Office estimated the weekend crowd number at more than 70,000.
The National Weather Service said Sunday there was a 70 percent chance of more rain through the evening. A flood watch was in effect for an area north of Gerlach, on the edge of the venue.