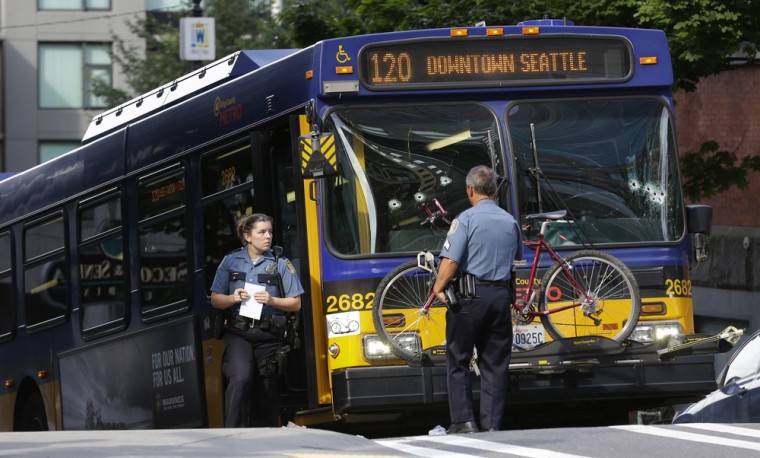 SEATTLE, Wash. -- When a 64-year-old transit bus driver saw three people board at the rear of his bus during the Monday morning rush hour in downtown Seattle, he asked them to come up front to pay. 
Two did. The third passenger paced back and forth, then hit the driver and shot him twice before running away, acting Seattle Police Chief Jim Pugel said. 
Witnesses ran to two off-duty police sergeants who were nearby and told them what had happened. One tended to the wounded driver while the other sergeant and three patrol officers chased the gunman. 
When the armed man ran onto another King County Metro bus carrying about 15 people, officers fired through the windows, fatally wounding him. 
It was all over in less than 10 minutes. 
The officers had to make a "life-and-death" decision about whether to shoot the suspect on the second bus, Seattle Assistant Police Chief Paul McDonagh said. 
"I believe they made the right choice," he said. 
The wounded driver, Deloy Dupuis, was treated at Harborview Medical Center and released, hospital spokeswoman Susan Gregg said. Police said the suspect died at the hospital. His name was not immediately released.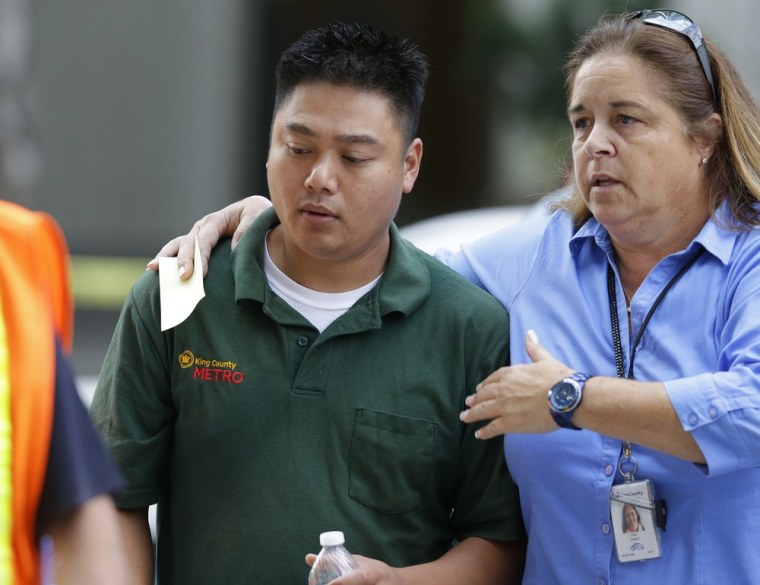 Two officers and several passengers on the second bus suffered minor injuries, including a woman who was bruised while leaving the vehicle. One officer suffered minor cuts and another was taken to Harborview for treatment of an unidentified medical condition. 
As officers chased the man, he repeatedly pointed his gun at them and tried unsuccessfully to carjack at least one vehicle before climbing aboard the parked bus, where he was shot, police said. 
Pugel praised both officers and citizens for helping end the incident less than 10 minutes after it began. 
"Officers were on the scene, they moved quickly, and they did their job," Seattle Mayor Mike McGinn said. 
Four officers have been placed on administrative leave with pay, which is standard procedure in officer-involved shootings. 
King County Executive Dow Constantine said he met with the injured bus driver shortly after the shooting and reported that Dupuis' first question was about the status of his riders. 
"He wasn't merely awake and alert. He was in good spirits and joking," Constantine said. 
The regional bus service, which carries about 400,000 people a day, falls under Constantine's responsibility. He said the shooting was an isolated incident that could have happened anywhere, and he commended both drivers for following procedures and keeping their passengers safe.