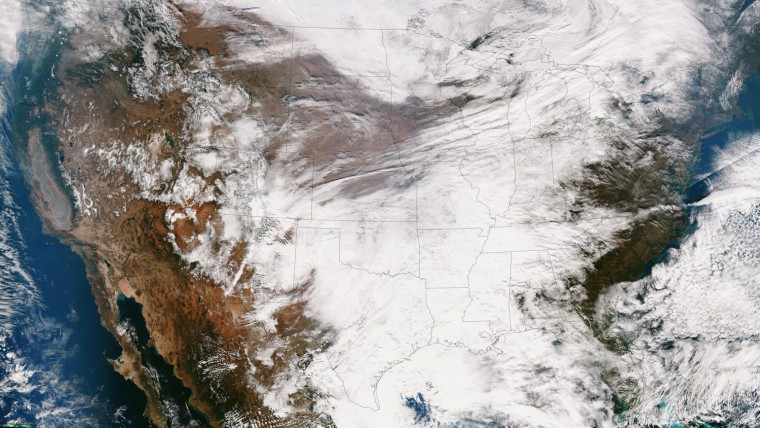 A vast storm system lumbering up the East Coast threatens to spoil Thanksgiving in all sorts of ways — ice to slick the roads, heavy rain to foul up the airports and wind so ferocious it could ground Spider-Man in the Macy's parade.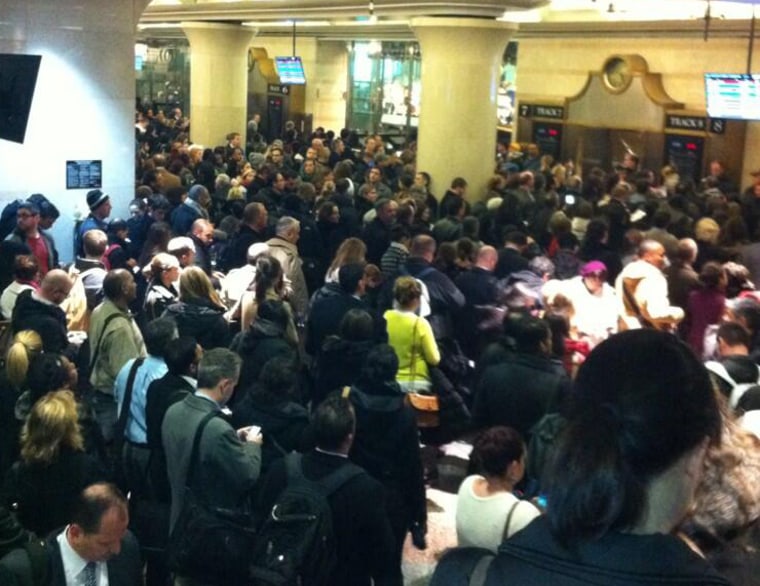 Two days ahead of the holiday, the system packed a band of snow from upstate New York through most of Pennsylvania and west to Kentucky. Heavy rain fell from Virginia through the Deep South, and a tornado was reported in the Florida panhandle.
But the worst was to come. The system was expected to pound the Northeast and Mid-Atlantic with snow, ice and rain on Wednesday, the busiest travel day of the year.
"For anyone wanting to travel in these areas the day before Thanksgiving, it will be pretty bad," said Kevin Roth, lead meteorologist at The Weather Channel. "People need to take very, very extreme precautions — tomorrow is going to be a bad travel situation."
The heaviest snow, up to a foot and a half, was expected in Pennsylvania and upstate New York, including Pittsburgh and Buffalo.
The city of Buffalo loaded trucks with salt and put plow crews on 12-hour shifts in anticipation of 6-8 inches of snow expected to hit western New York, NBC station WGRZ reported.
Strong wind and low clouds were triggering delays Tuesday at the three New York airports, plus in Boston, Washington and Baltimore. Wednesday wasn't expected to get any better.
The Federal Aviation Administration on Tuesday evening grounded some planes at LaGuardia and Newark in the New York City area as well as Charlotte Douglas Airport in North Carolina.  
Adding to the misery ahead of the worst of the storm, a disabled train was causing delays up to 40 minutes to trains in and out of New York City's Penn Station Tuesday evening, New Jersey Transit reported on its website. 
Dozens of flights were delayed Tuesday at the Atlanta airport, the world's busiest, according to a "Misery Map" compiled by the flight-tracking site FlightAware. An estimated 43 million Americans will travel for Thanksgiving, about 3 million by air.
New York has other problems to worry about. The wind on Thursday is expected at a sustained 15 to 20 mph, with gusts as high as 40. At 23 mph sustained and 34 mph gusts, the city grounds the biggest balloons in the Macy's Thanksgiving Day Parade.
Two sisters were cut and bruised in 2005 when tethers from an M&M's balloon tangled on a street lamp. And two people suffered severe head injuries in 1997 when the Cat in the Hat sheared the top off a lamppost.
A Macy's spokesman, Orlando Veras, said Tuesday that it was too early to make a determination about this year. He said that the decision is based on "real-time, on-the-scene weather data," not forecasts.
On Tuesday, there was already a high wind watch for New York. The National Weather Service warned that powerful winds from the south could topple trees and knock down tree limbs and power lines.
The tornado touched down about half an hour outside Tallahassee. There were no immediate reports of deaths or injuries.
Other parts of the Southeast, from roughly Sarasota, Fla., to Valdosta, Ga. were under a tornado watch Tuesday night, with severe thunderstorms possible, the Storm Prediction Center of the National Weather Service said. People in those areas were urged to be on the lookout threatening weather and monitor updates to conditions.
The storm system has already killed at least 14 people and caused hundreds of flight delays and cancellations in Texas.
The good news: Thanksgiving Day itself is expected to be clear along the East Coast, save for lake-effect snow around Buffalo and Cleveland.
Jeff Black of NBC News contributed to this report.
Related:
Is the weather affecting your Thanksgiving travel plans? Show us what you're by seeing and add #NBCNewsPics and #mytravelnightmare to your tweet or Instagram posts, or upload your pictures directly by clicking the box below.