As a wave of police reforms began sweeping the country five years ago, body cameras became an indispensable law enforcement tool, embraced for their power to document the truth behind disputed encounters between officers and the public.
But they don't do any good if they don't get turned on.
That is the tough lesson unfolding in South Bend, Indiana.
Last year, Mayor Pete Buttigieg ─ now a Democratic presidential candidate ─ implemented a body camera program in an effort to ease tensions with the city's African American community. The devices would make officers accountable for how they behaved on the job and build public trust, he said.
The program failed Sunday, when a white police sergeant shot to death a black man allegedly holding a knife. The sergeant's body camera never turned on. Guidelines for body cameras vary by city; they can be activated either automatically, as when an officer turns on a patrol car's lights, or manually, by an officer.
Instead of having video footage that could show whether the shooting was justified ─ and help the public understand what happened ─ South Bend may become a case study in the risks of inadequate guidelines on how body cameras should be used.
"The understandable anger over why our system of body-worn cameras did not lead to a clear picture of what happened Sunday is just a reminder of how much work has yet to be done, how much work it will take us to reinforce trust," Buttigieg said Wednesday at a ceremony for newly sworn police officers.
Buttigieg ─ whose strained relationship with African Americans in South Bend dates to his 2012 firing of the city's first black police chief ─ rushed home from the campaign trail after the shooting. On Tuesday night, he ordered police to activate their body cameras during all "work-related interactions with civilians."
The change was an attempt to correct flaws in the city's year-old policy and to assure the public that if police confront them, it will be recorded.
The shortcoming in the policy is in a line that says officers "should activate the recorder during all enforcement stops and field interview situations" and any other time the officer "reasonably believes" a recording would be useful.
That seems to leave it up to interpretation by an officer whether to turn his or her camera on in some situations. An officer may not see an encounter as meeting those parameters until it's too late. That's what officials have suggested happened Sunday morning, saying the sergeant intended only to check a man's identity, according to the South Bend Tribune.
Jim Bueermann, a former president of the National Police Foundation who advises local governments on body camera policies, said the South Bend policy was full of gaps that "I would find, if I was an officer, a bit confusing." That includes a lack of guidance on when exactly an officer should turn on a camera and how to deal with recording victims of sexual assault, he said.
Those deficiencies aren't uncommon at a time when police agencies are rushing to adopt body cameras with few laws governing how they are used, he said. That leaves police departments to develop their own guidelines.
About half of America's police departments have body cameras. While they have improved public transparency and helped with investigations of shootings and other use of force by officers, the devices have not fulfilled their full promise. A study published in March by researchers at George Mason University's Center for Evidence-Based Crime Policy said that the cameras haven't significantly changed officers' behavior and that it remained unclear whether they improve how citizens view police. Some smaller police departments have reportedly dropped their body camera programs, citing the cost of storing the videos.
While there are no national standards, a number of police associations and accrediting organizations have published recommendations on what agencies should include in their policies on body-worn cameras, or BWCs. They generally recommend being as specific as possible on when officers must turn them on, including during arrests, chases, searches, adversarial encounters and street stops.
"While BWCs can be useful tools, their utility is realized only when they are recording," a paper on the issue by the International Association of Chiefs of Police says.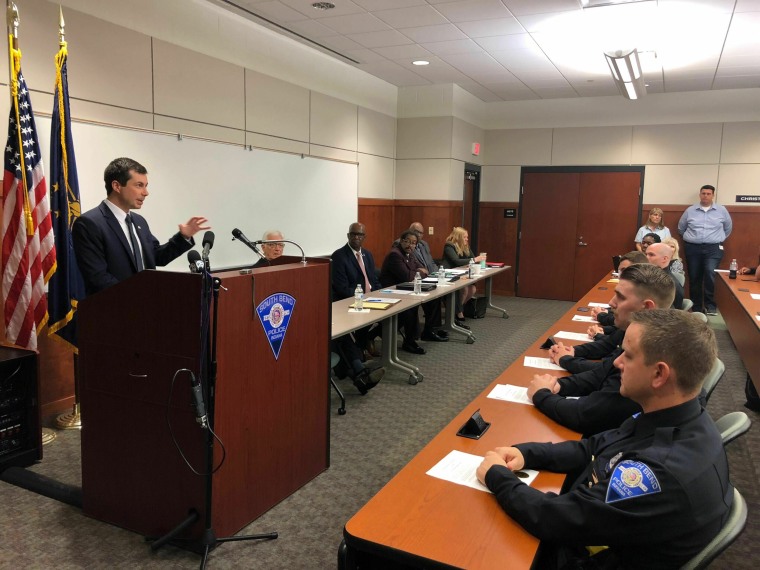 South Bend Police Chief Scott Ruszkowski declined a request for comment. The head of the city's Board of Public Safety, which adopted the body camera policy in March 2018, did not return a call.
When the city deployed its body cameras in the summer of 2018, it set them up to automatically activate whenever officers turned on their squad car lights or drove at a high speed, officials said. But neither of those conditions were met prior to the shooting Sunday.
According to the authorities, the encounter began with a complaint of someone in dark clothes looking into cars in a parking lot. Sgt. Ryan O'Neill responded and began slowly driving around the lot, eventually confronting a man who was halfway out of an SUV.
O'Neill approached him, and during the encounter the man raised a knife, police said. O'Neill ordered him to drop it, but the man instead raised it, at which point O'Neill fired, hitting the man in the abdomen, police said. The man, Eric Logan, in his 50s, later died at a hospital.
Relatives of Logan have questioned the police's story, telling reporters Logan didn't break into cars or carry a knife ─ although he did do drugs, they said. They have also said that the lack of body camera footage made them suspicious. "I am not trying to hear that the video camera didn't work," Tyree Bonds, Logan's brother, said Monday, "because if it didn't work, ya'll covering it up."
While automatic activation settings on body cameras are meant as fail-safes, they also can cause officers to be less vigilant about turning body cameras on themselves, Bueermann said.
What exactly happened Sunday remains under investigation.
"Hopefully other agencies will learn from South Bend's experience and take a look at their own policies and ask whether they need to tighten them up," Bueermann said.